Jaume Zurita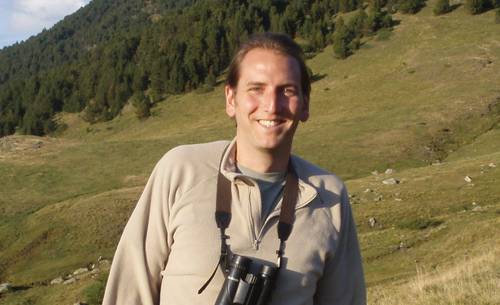 Jaume was born in Esparreguera, a town not far from Barcelona. He is an enthusiastic birder and naturalist and has been guiding birding and natural history groups since 2008, successfully leading many tours around his home country to destinations such as Catalonia, Extremadura, the Pyrenees, Ebro Plains, Ebro Delta, Coto Doñana and others. Educated as an environmentalist, he lends our tours a broad vision about many aspects of nature. Nothing escapes his interest: plants, butterflies, amphibians, reptiles, mammals (including bats) and of course, birds.
Jaume has undertaken several research projects in Spain related to the Ebro Steppes and the ecology of forest birds. Apart from working as a tour leader he also runs Dàurica, a local consultancy firm focused on the management and conservation of wildlife. He improved his English in Ireland where he worked as a field and research assistant in the Killarney National Park and in the UCD Dublin.
Jaume is patient and relaxed, as well as friendly and good fun, making time with him on tour memorable for all the right reasons. Jaume speaks English, Spanish, Catalan and a bit of French and he leads our annual tour to Catalonia.
Upcoming tours with Jaume Zurita...
Date
Tour
Availability
Sharing
Price