Jaime Culebras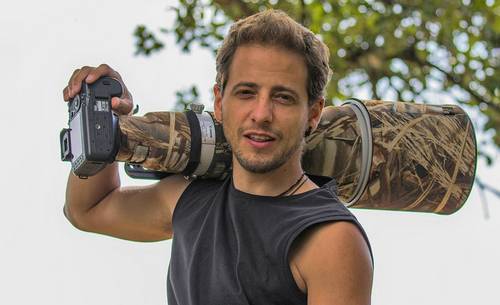 Jaime is a Spanish biologist and herpetologist with a MSc. in Environmental Education and MSc in Biodiversity and Conservation of Tropical Areas. He has lived in Ecuador for more than 9 years, where he works as a reptile and amphibian researcher and nature photographer.
His photographic work has been recognised by numerous photography and conservation awards; winning the Reptile and Amphibian category of the 2020 Wildlife Photographer of the Year, the German Society for Nature Photography European Wildlife Photographer of the Year and the Montphoto International Photography Contest for his amphibian projects. He was granted the "Montphoto Grant – WWF 2017" award to promote the conservation of reptiles and amphibians of Chocó in Ecuador, Colombia and Panama in addition to winning the 2018 Conservation Photographer Award for the Spanish Association of Nature Photographers, for their work in spreading Ecuador's biodiversity and its threats.
As a scientist, he works in expeditions to rescue threatened species as well as searching for amphibians and reptiles for natural history research. This work has led to the description of seven new species of frogs.
His greatest passion is to spread the importance of threatened species and their conservation, promoting love towards reptiles and amphibians, as well as aiding the fight against illegal trafficking of species and conflicts between humans and snakes. He is always researching new trips to prepare in order to photograph threatened species and the conservationists who work with the species.
As a Naturetrek tour leader, Jaime is excited to share his passion for reptiles and amphibians on our herping tours.
Upcoming tours with Jaime Culebras...
Date
Tour
Availability
Sharing
Price
Availability:

Only 4 left

Sharing:

N/A

Sharing is designed to help those who wish to pair up in order to avoid single occupancy surcharges. M = Male / F = Female / B = Both