Bob Eade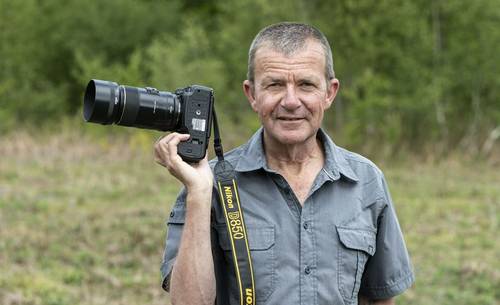 Bob has been interested in wildlife ever since he was just six years of age when he would watch the wildlife around him whilst he was fishing. When he was 12, he started photographing what he saw and some 50 years later he is still doing much the same, although fishing is a thing of the past now.
The usual break away from this was as he brought up his two sons, one of whom also got the wildlife bug and is now working full time for Naturetrek.
Bob's main wildlife interest now is in Lepidoptera, and he has had many photographs published over the years, mainly in magazines for the Wildlife Trusts and Butterfly Conservation, as well as several books.
Much of his time is spent studying the Wall Brown butterfly and he is the species champion for this species for the Sussex branch of Butterfly Conservation.
He also has a great interest in all other aspects of wildlife, particularly odonata, orchids, birds and Badgers.
Upcoming tours with Bob Eade...
Date
Tour
Availability
Sharing
Price
Sharing:

N/A

Sharing is designed to help those who wish to pair up in order to avoid single occupancy surcharges. M = Male / F = Female / B = Both

Availability:

Only 5 left

Sharing:

N/A

Sharing is designed to help those who wish to pair up in order to avoid single occupancy surcharges. M = Male / F = Female / B = Both

Availability:

Only 2 left

Sharing:

N/A

Sharing is designed to help those who wish to pair up in order to avoid single occupancy surcharges. M = Male / F = Female / B = Both

Availability:

Only 4 left

Sharing:

N/A

Sharing is designed to help those who wish to pair up in order to avoid single occupancy surcharges. M = Male / F = Female / B = Both

Availability:

Only 1 left

Sharing:

N/A

Sharing is designed to help those who wish to pair up in order to avoid single occupancy surcharges. M = Male / F = Female / B = Both