Sustainable Tourism
Ever since the early days of Naturetrek, we have been committed to operating our holidays in a responsible manner. Ours is a wildlife travel company run by naturalists, for naturalists. Every member of our office team and every one of our tour leaders has a passion for conservation, wildlife and wildlife tourism; the need to ensure the long-term protection of species and habitats is an important part of our lives. This commitment to protecting species and habitats, as well as to working with local communities and leaving a positive impact on the destinations we visit, has always been a fundamental part of our business. We were delighted to achieve AITO's top 5-star Sustainable Tourism accreditation, and now make a pledge annually as part of AITO's Project PROTECT.
Below, you can read more about our carbon-offsetting initiative with the World Land Trust and Fundacion EcoMinga in Ecuador, and our support of Butterfly Conservation. We also detail our core aims, our suggestions for responsible travel, and our contributions to wildlife conservation and other causes over the years.
Our Key Projects
Over the years we have supported all manner of projects; many of them are detailed below. Currently, we choose to channel our energy and financial support into two important projects:
The Naturetrek Reserve in Ecuador – Reducing the Carbon Emissions from our Flights
We have been encouraging our customers to offset their carbon emissions from flights since 2000, and since 2007 we have been making contributions at our own expense. We donate £15 for every long-haul return flight and £5 for every short-haul return flight booked by our customers to Fundacion EcoMinga, the Ecuadorian partner of the World Land Trust. To date, we have raised over £445,000 in this way.
EcoMinga uses our funds to purchase and protect critically endangered cloudforest in the Ecuadorian Andes. Over the years, we have slowly but surely built up our own 'Naturetrek Reserve', creating an invaluable forest corridor linking the Sangay and Llanganates National Parks. Currently, our protected area covers 1,389 acres … twice the size of the City of London! This threatened cloudforest corridor was classified by WWF as one of the 200 most important wildlife corridors in the world, due to its high levels of biodiversity. It is full of locally endemic plant species, and rich in Andean species such as Spectacled Bear, Mountain Tapir, Cock-of-the-Rock and Giant Antpitta. We are very excited that species new to science have been discovered within our reserve, including two new frogs! You can read more about our reserve on our dedicated webpage. 
We also encourage our clients to match our donation when they book their holiday, in order to further reduce the environmental impact of their trip. By matching our donation, you can help us to grow our 'Naturetrek Reserve', both locking up carbon that would otherwise be released into the atmosphere and preventing the National Parks from becoming isolated cloudforest islands, thereby protecting this valuable, extremely biodiverse habitat and its endangered wildlife.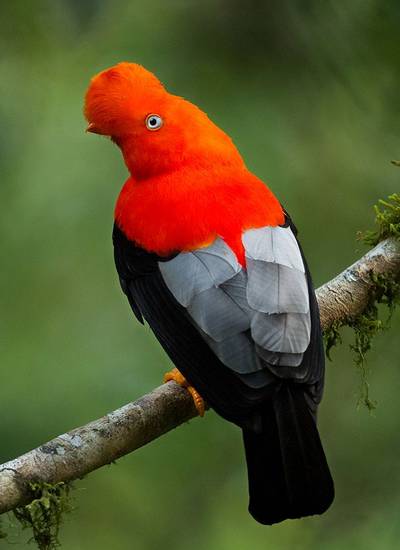 Andean Cock-of-the-Rock
Supporting Butterfly Conservation
Amongst the 600+ wildlife holidays that we operate around the world each year, around 25 focus on butterflies. Here in the UK and across the globe the habitats that these endearing insects need are becoming increasingly fragile, with constant pressures from the ever-developing world we live in. We want to do our utmost to help protect and manage these habitats, not only benefitting our butterflies, but also the ecosystem as a whole.
We donate 10% of the income generated from our butterfly-focused holidays to the charity Butterfly Conservation, and are a Gold Corporate Sponsor. Each year our donation funds different projects that focus on protecting and correctly managing habitats for different butterfly species. Under Butterfly Conservation's expert stewardship, a great range of other species will also benefit. Each participant on our butterfly holidays also receives a year's membership to the charity, giving them the opportunity to learn more about the conservation of butterflies.
To date we have donated over £228,000 in this way to Butterfly Conservation. With this commitment, Naturetrek clients are helping to ensure that vital butterfly habitats are protected across the UK and Europe, for the enjoyment of all.
Our Core Aims
Naturetrek's founders, staff and tour leaders are naturalists and conservationists turned tour operators, and sustainable tourism has been a key part of Naturetrek's ethos since the company began in 1986. We are, of course, utterly dependent on the well-being of the world's wildlife for the success of our business… and the habitats, reserves and national parks that protect it. Thus, our core aims are, and always have been:
To focus on visiting national parks, wildlife reserves and wilderness areas which do not benefit from the rewards of mass market tourism.
To minimise our environmental impact by exploring in small groups and, as much as possible, on foot.
To use local guides wherever possible… and to train them to the highest standards expected by today's wildlife tourists.
To involve local communities wherever possible in our operations, and to ensure that they receive a fair share of the benefits of wildlife tourism.
To use small, locally owned, family-run accommodation, and similarly owned and operated specialist in-country partners with a wildlife/conservation bias and sympathy.
To purchase local produce over imported goods.
To fund and develop partnerships with local communities and naturalists in order to develop low-impact and environmentally friendly tourist facilities in exceptional wildlife areas. Koshi Camp and Suklaphanta Wildlife Camp are examples of such partnerships.
To run our UK office (a beautiful barn conversion set amongst a 12-acre grassland site in the village of Chawton) in as energy-efficient a manner as possible.
To encourage and develop a passion for wildlife and wild places amongst our customers (many of whom are novices, trying this form of holiday for the first time).
Guidelines for Responsible Travel
Wildlife travel is, of course, responsible for its share of damaging carbon emissions. It does, however, provide substantial benefits which, we would argue as conservationists, make a strong case for wildlife enthusiasts to continue travelling. If we stopped bringing our custom to the national parks, wildlife reserves and the wilderness regions of the world, many of these areas, especially in developing countries, would simply disappear … and with them their wildlife. Not only does wildlife tourism support rural communities in impoverished nations, but it supports them in the ability to preserve their natural and wildlife heritage for their future generations who, hopefully, may have the wealth and leisure opportunities that we have today to enjoy their natural heritage.
If you do choose to travel, then 'make travel count'. Ensure that you, and your travel company, are off-setting all emissions that relate to your journey. Try to reduce your environmental impact in your chosen destination much as possible, and allow your travels to bring benefits to the local people, communities and the wildlife that you meet along the way. We encourage all of our customers to consider the following suggestions and take a responsible approach to tourism around the world:
1. Support the 'World Land Trust'
Air travel is one of the major causes of global warming and many of our holidays involve flying. While our donation to the World Land Trust on behalf of every passenger booking a Naturetrek overseas holiday (£15 for each long-haul and £5 for each short-haul passenger) goes towards offsetting the carbon emissions from your flights, we invite you to match our donation and further offset some of the emissions resulting from other aspects of your holiday (airport transfers, coach travel, lighting, heating, etc.). You could even ensure that your holiday is carbon negative by means of a more generous donation!
5. Be a Considerate Photographer
6. Choose Souvenirs with Thought
7. Avoid Gratuitous Gifts
9. Choose Environmentally Friendly Travel Products
10. Conserve Energy & Water
12. Support Local & International Wildlife Conservation Organisations
It is worth adding that, in virtually every country through which you choose to travel, you will find a practice or policy (perhaps several!) which offends you. It might be a country's abuse of human rights, nuclear testing programme, whaling, slavery, trade in endangered species, bull fighting, the slaughter of migrant birds, deforestation, or fox hunting. The chances are that they offend us too, but were we to boycott travel to that particular country we would have no destinations left to offer! Instead, we choose to make no such judgements; it is you who make your own choice of holiday destination. Further, in all these countries, live many people who share your concerns. They would much rather you visit – to lend them support, to understand the problem, and to protest more rationally on your return home, to the offending nation's government, tourist board or embassy.
Our Contribution to Sustainable Tourism
We are intimately involved in wildlife tourism and dependent on it as a business, making us acutely aware of the need to ensure the long-term protection of species and habitats. Our financial contribution to conservation causes has increased over the years with the growth of our business, and now stands at over £900,000. Some examples of our own projects and contributions include:
Koshi Tappu Wildlife Reserve
One of the finest and most important wetland wildlife reserves in Asia, Koshi Tappu Wildlife Reserve, was created largely to protect Nepal's last remaining population of wild Water Buffaloes, but is of even greater importance to migratory birds and endangered grassland birds and mammals. In the early 1990s, it was neglected by the tourism it deserved and not regarded nationally as a tourism destination of any note. This situation changed dramatically after we conceived and funded the creation of Koshi Tappu's first luxury tented camp: Koshi Camp. Our single-handed marketing of Koshi Camp, and the attractions of the Reserve, have – nearly 30 years later – put it firmly on the map of the must-go-to destinations of naturalists and birdwatchers worldwide. The encouragement and training of local staff and expert naturalist guides has been extended to include school and village visits, emphasising the benefits of birds, wildlife, conservation and tourism for all. We were delighted to gift a 50% shareholding in Koshi Camp to the local naturalists and conservationists who assisted in establishing this popular tourist wildlife camp, and in whose hands the future of the conservation of Koshi Tappu Wildlife Reserve lies.

Suklaphanta Wildlife Reserve
Such was the success of our initiative at Koshi Tappu Wildlife Reserve that, in 2008, we established a second tented camp at Suklaphanta Wildlife Reserve in far western Nepal. This remote and little-visited reserve protects the world's largest population of the nominate race of the Swamp Deer, as well as many other mammals, including healthy populations of both Tiger and Leopard. However, it is for rare grassland birds that Suklaphanta is particularly special, amongst them the endangered Bengal Florican. It is our hope that, by encouraging tourists to this park, we will persuade both local people and the government of Nepal of the value of this important wildlife reserve. The encouragement and training given to local staff and naturalist guides has again been at the forefront of our work here.

Sponsorship of the Birdfair
As an associate sponsor of the annual British Birdwatching Fair at Rutland Water (the Birdfair) since 2002, Naturetrek has donated £90,000 to the worldwide conservation causes supported by the Birdfair each year. The Birdfair is a major conservation fund-raiser, donating over £100,000 each year to a chosen area of worldwide ornithological importance identified by BirdLife International and the RSPB. Areas chosen over the years have included the Spanish Steppes, Moroccan wetlands, Spain's Coto Doñana, the Polish marshlands, Romania's Danube Delta. We have also offered tours to many of these regions in conjunction with Birdfair and BirdLife International to enable naturalists the chance to see at first hand these highly important and restricted areas and the conservation work carried out in them. On each of these tours, 10% of the tour cost has been donated to the project visited.
In 2004 we partnered with BirdLife International to raise the profile of, and raise funds for, the conservation of Madagascar's fragile Mahavavy Delta Wetlands, an area under continual threat from draining, agriculture, hunting and over-fishing. This is the only site in the country supporting all of western Madagascar's endemic wetland bird species, amongst them the critically endangered Sakalava Rail – at the time a bird seen by fewer than 10 living ornithologists! As well as donating £5,000 as an associate sponsor of the Birdfair, we further worked to bring wildlife tourism – and much needed finance – into the region by organising the first, expeditionary tour there in November 2004 (which was successful in seeing the Rail!). This tour brought employment and financial benefit to the local community, plus an additional £2,536 (10% of tour proceeds) which was gifted to the Programme. We subsequently ran a similar, successful fund-raising tour to the regions of Ethiopia needing assistance with the protection of habitats critical to the survival of the country's southern endemic birds.

Nepal Earthquake Appeal
In April 2015, we were devastated to wake up to the news of a shattering earthquake in Nepal, which killed nearly 9,000 people and destroyed the homes of an estimated 2.4 million. Relieved to learn that all our friends and colleagues in Nepal were safe, we wanted to do what we could to help with the relief effort. We quickly established an appeal and encouraged our customers who had travelled to Nepal with us to donate to the Disasters Emergency Committee relief fund. We pledged to match all donations up to £10,000, in the hope of jointly raising £20,000 or more. We were overwhelmed by the response from our staff, friends, leaders and clients, and reached this target within 24 hours. Together, our donations and the associated gift aid raised over £40,000 for the DEC, which was used to provide emergency shelter, distribute essential food items and medical supplies, provide water filters, set up temporary learning centres and safe spaces, and ultimately go on to help with rebuilding the country's homes and infrastructure.

Research-funding Tours with the BDRP/MARINElife
In 2002 we joined forces with the Biscay Dolphin Research Programme (BDRP), putting paying customers onto a research vessel in the Bay of Biscay to fund key research into the huge numbers and variety of whales, dolphins and other marine-life realised to be using the Bay (regarded as one of the most important regions of the world's oceans). BDRP has since been absorbed into the charity MARINElife, with whom we have been working in Lyme Bay since 2008, sending records of our sightings from each of our cetacean-watching cruises into the Bay.

The Bald Ibis Appeal Fund
We established this Appeal Fund in the late 1990s in order to encourage donations from clients interested in saving the magnificent Bald Ibis, which was the most threatened species of bird in the Western Palaearctic region at the time with just 200 surviving individuals. Funds were used, amongst other things, for the purchase of a freezer – essential for storing dead birds for autopsy and other vital research! Updates on the Bald Ibis situation (now much improved), and the gathering success of researchers in saving it from extinction, were included in our newsletters, together with further appeals for funds needed.

Development of Local Conservation Organisations
In Nepal, we inspired and assisted local naturalists in the development of the country's first bird club, originally known as the Nepal Bird Club, and now known as BCN (Bird Conservation Nepal). BCN, now a partner organisation of BirdLife International, is committed to conservation, education, recording, research and community involvement in saving Nepal's threatened birdlife and habitats. With Hem Sagar Baral, Nepal's foremost conservationist and longstanding Naturetrek tour leader, we planned and funded the first ever BCN newsletter, and long since continued to sponsor this regular and successful newsletter.

Fundraising Tours
Our annual programme of butterfly holidays has raised £228,000 for Butterfly Conservation to date.
Our Tiger and Orang-utan tours on behalf of the EIA (the Environmental Investigation Agency) raised £53,503 between 2000 and 2011 to aid the conservation of these endangered species.
Between 2005 and 2008 we raised £14,000 for the Zoological Society of London (ZSL) by operating tours to their overseas conservation projects, which included Cheetahs in Tanzania, Vultures in India, Rhinos in Kenya, Ethiopian Wolves (in Ethiopia) and Corncrakes in Lincolnshire.

Provision of Equipment
In the early years, with limited resources, Nepal and Ethiopia were the focus of our assistance. In Ethiopia, we focused on the donation and supply of Collins Field Guides to the enthusiastic but ill-equipped local staff of Ethiopian National Parks, whilst in both Ethiopia and Nepal we donated new binoculars and telescopes to budding naturalists, and helped distribute second-hand equipment provided by British clients and bird clubs. Today we still donate encourage and coordinate donations of optics and other equipment to local guides in countries where the cost and availability of such items is prohibitive.