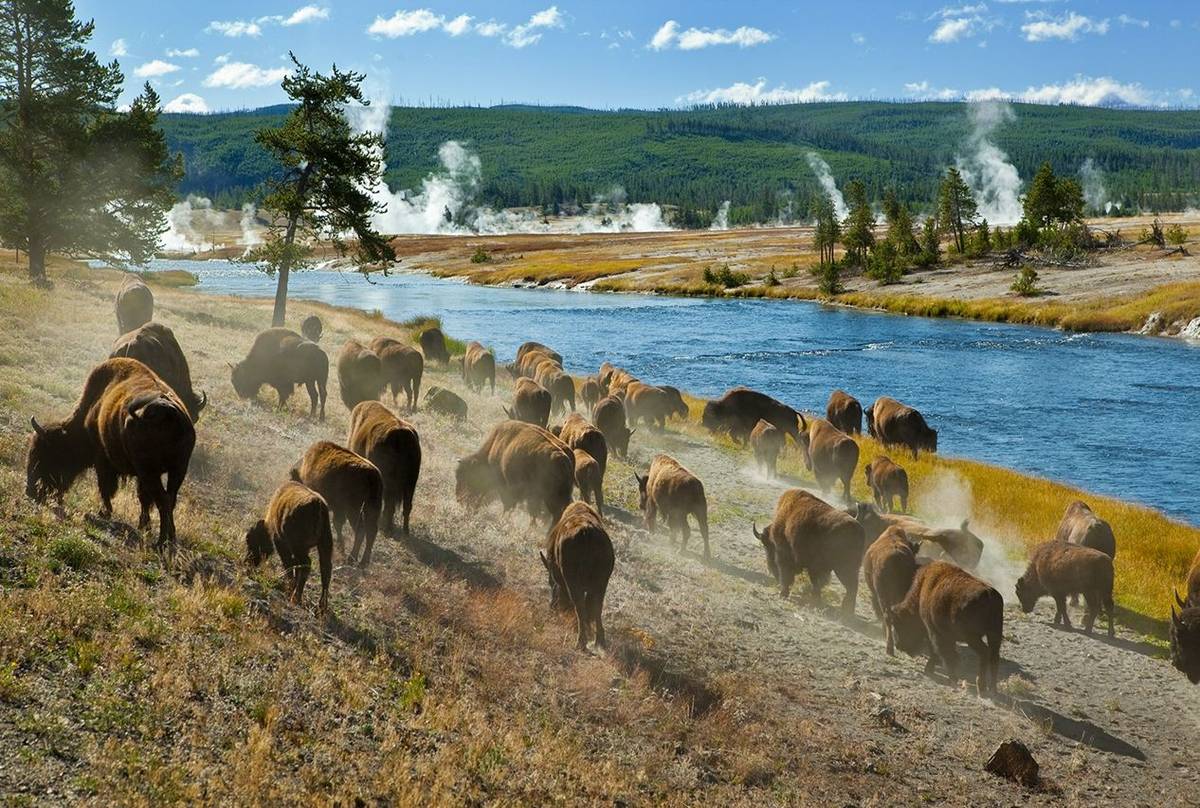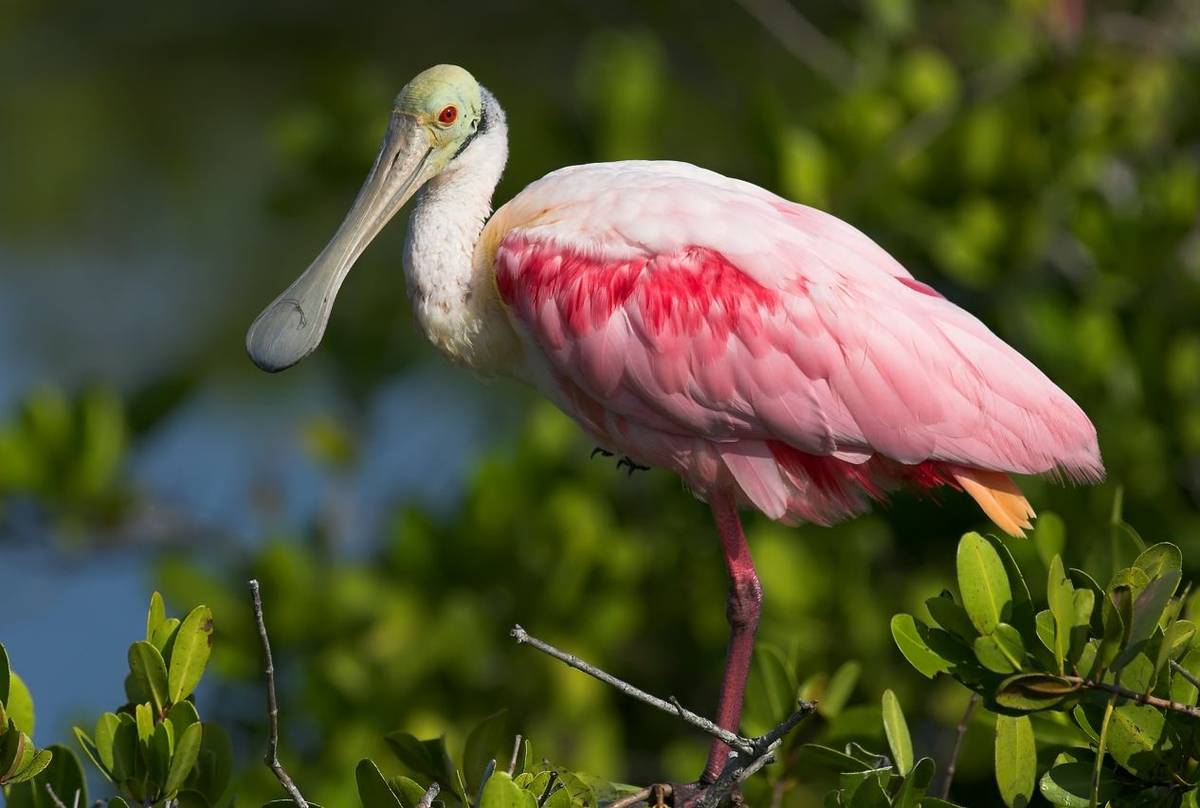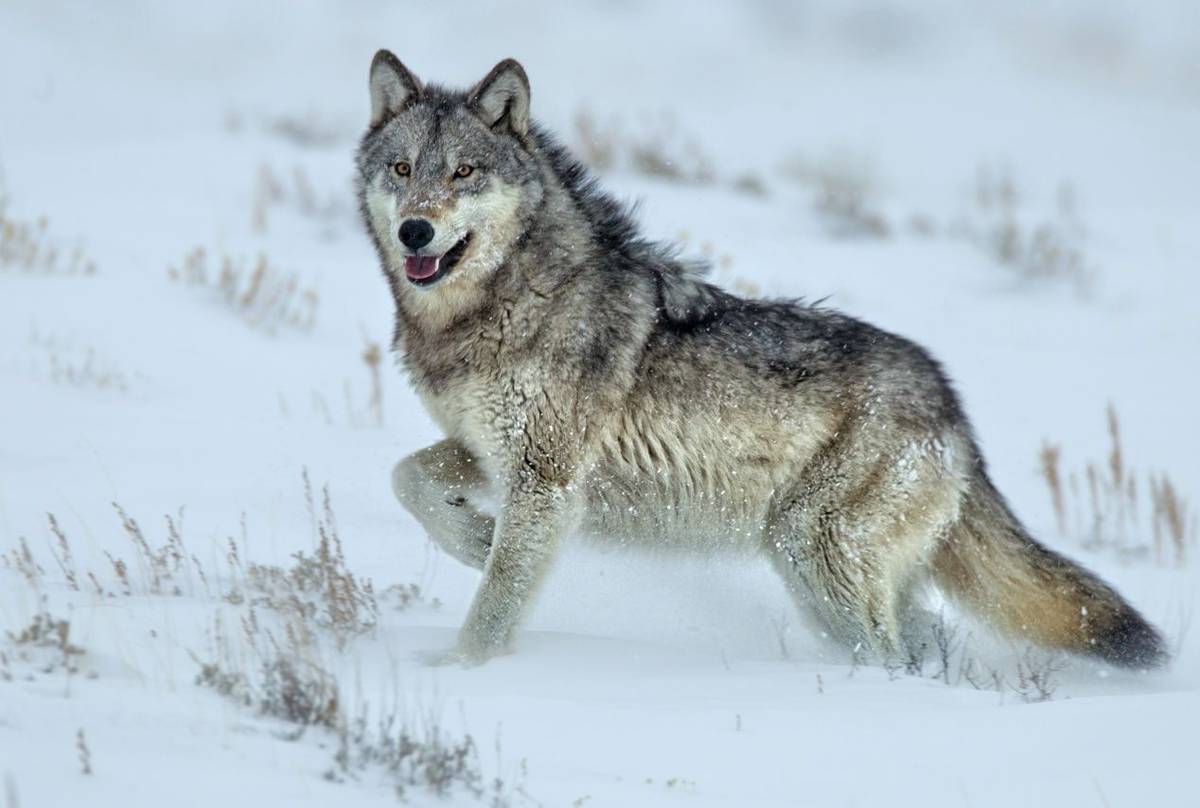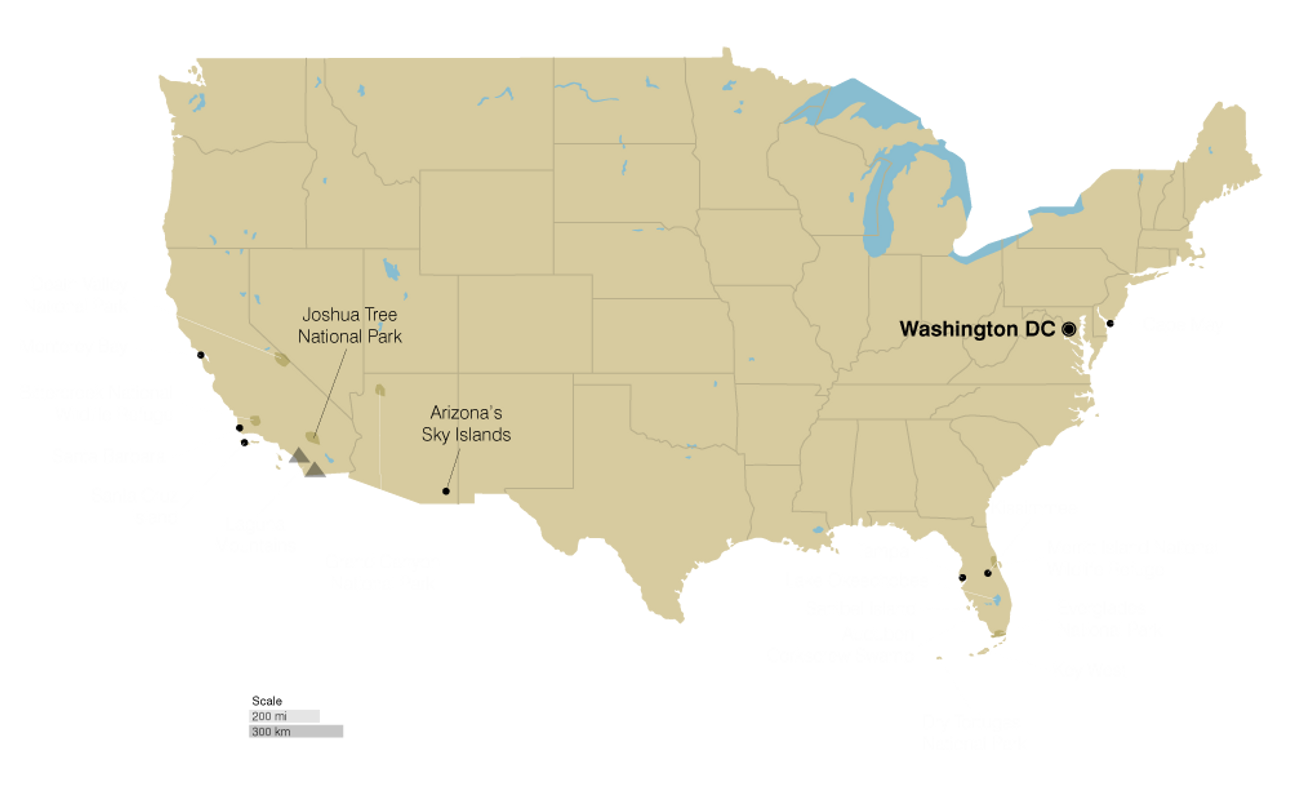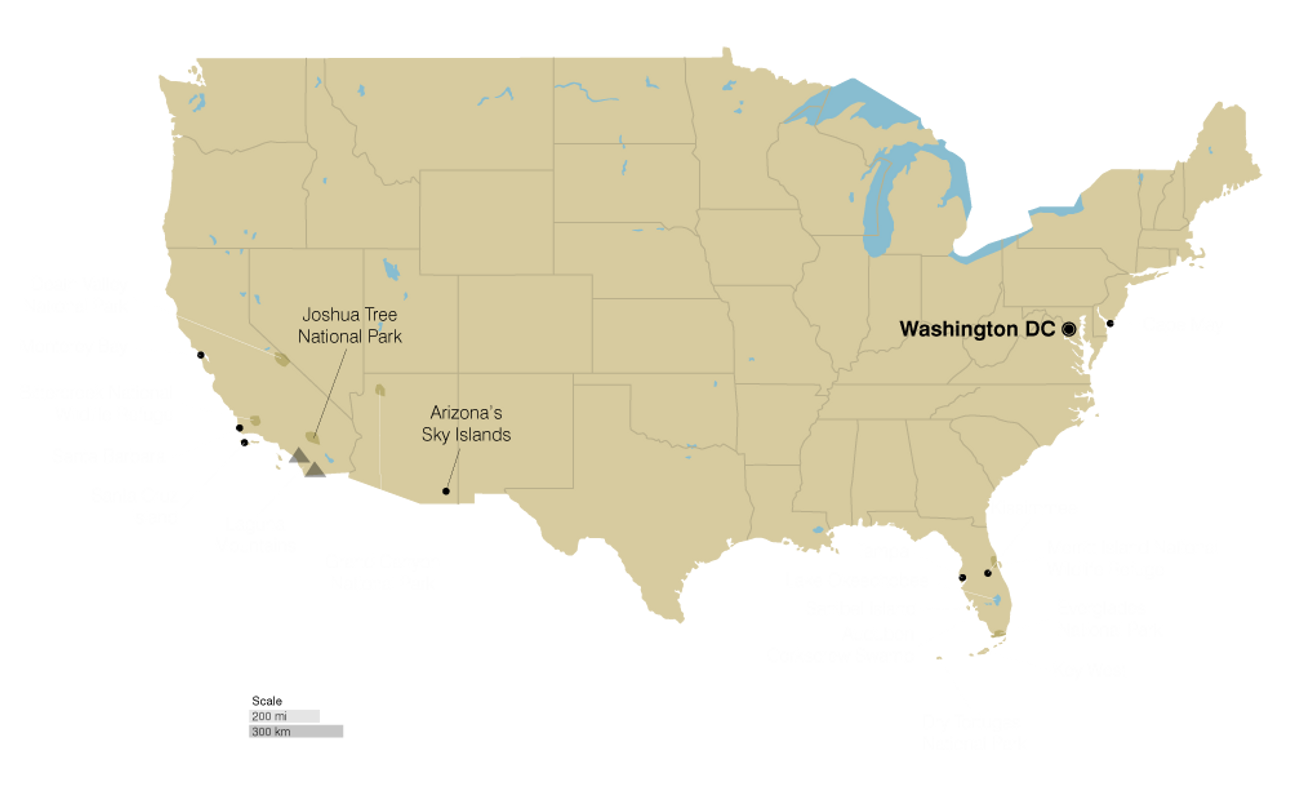 Tailormade USA
Tailormade
|
Tour Code: TUSA
Create your own Tailormade holiday to the USA with dates and an itinerary to suit you.
When to Visit
| | | | | | | | | | | | |
| --- | --- | --- | --- | --- | --- | --- | --- | --- | --- | --- | --- |
| J | F | M | A | M | J | J | A | S | O | N | D |
| YY | YY | YY | YY | YY | YY | YY | YY | YY | YY | YY | YY |
SAMPLE HOLIDAY: Whales & Dolphins of Monterey Bay - Self-drive
9 days from £3,995 (Flight Inclusive)
A 9-day holiday to California's Pacific seaboard to enjoy its birdlife and, particularly, the wealth of whales, dolphins and other exciting marine mammals for which Monterey Bay is justly famed.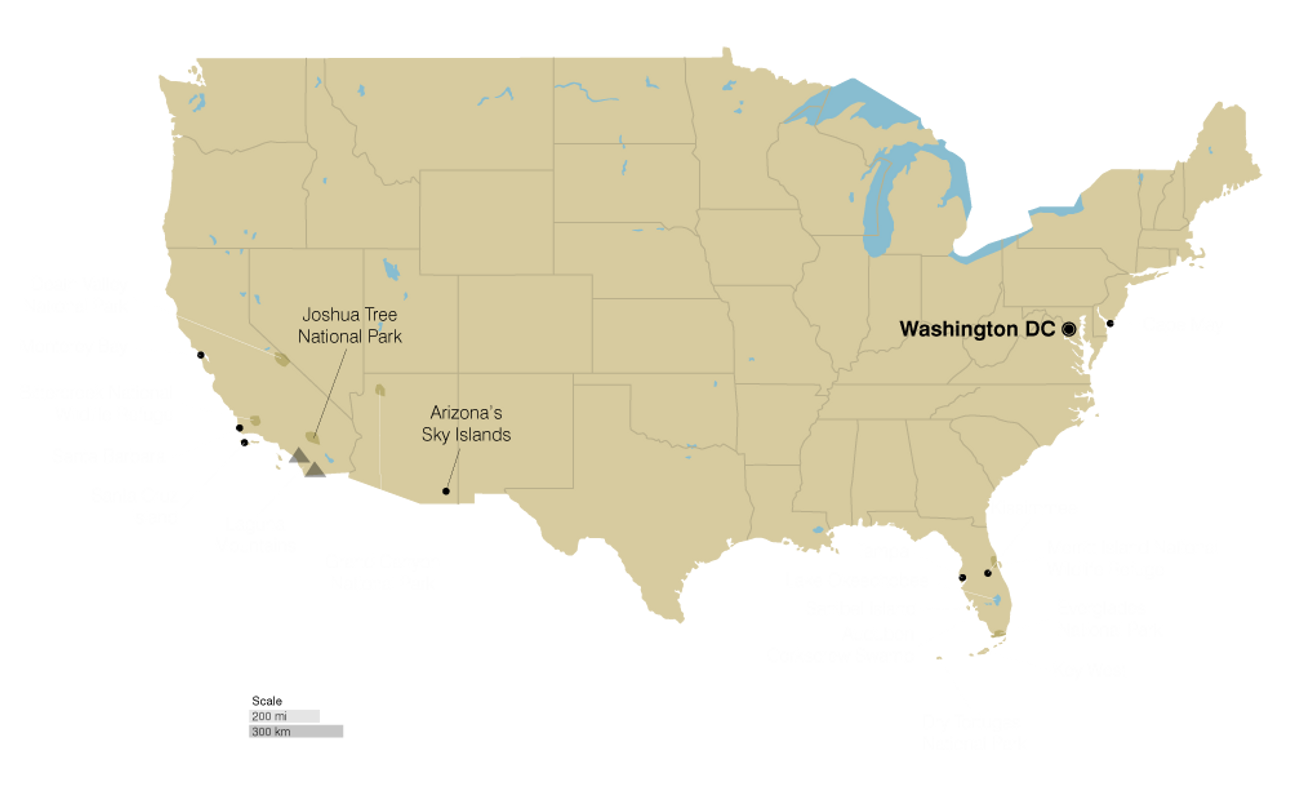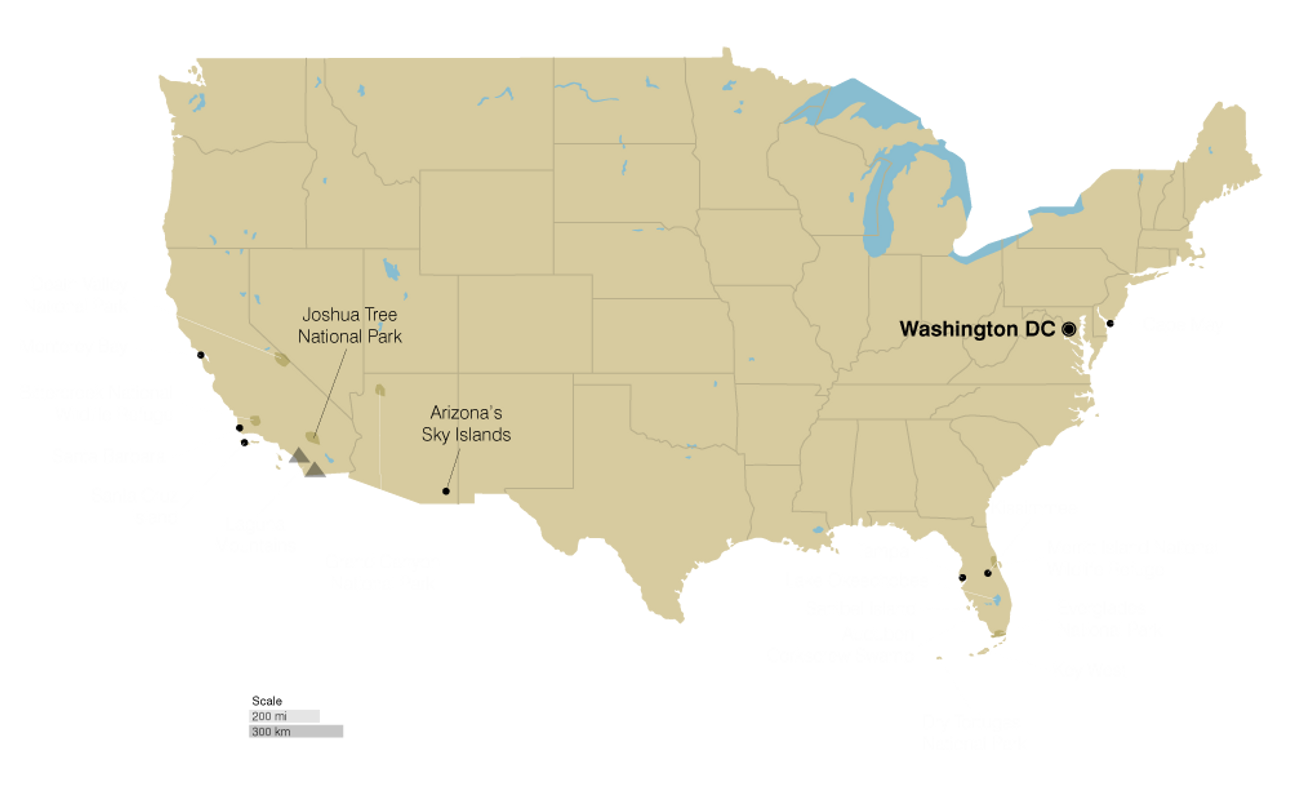 Summary
Thanks to the American domination of our contemporary culture there is a tendency when the USA is mentioned to think of the major cities such as New York and Los Angeles. However, although these cities do support a surprising diversity of wildlife in themselves, they also represent only one facet of this enormous country. Abundant wilderness areas and an extensive and superbly varied network of National Parks offer the naturalist visitor magnificent wildlife spectacles and incredible landscapes, certainly the equal of any on our planet. The huge country is supported by an excellent infrastructure which allows a fantastic diversity of wildlife and habitats to be explored within a single holiday. 
Our Destinations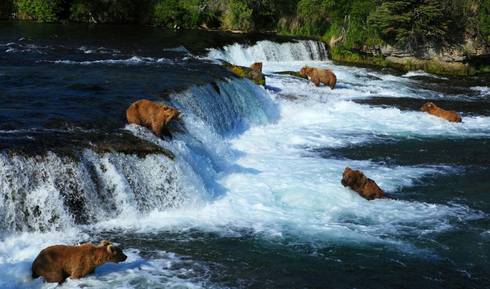 Alaska is vast in every sense! It contains some of the most remarkable climatic extremes, as well as an eclectic mix of habitats, from taiga forest, open tundra and snow-capped mountains to a breathtaking coastline of dramatic fjordland, rainforest-clad islands, towering glaciers and tidal estuaries. Its birdlife is incredibly diverse and approachable, from the huge seabird colonies on the coast to forest and tundra species further north, and experiencing the migration season here is outstanding. In early May, huge numbers of migrating waders and waterbirds stop off to refuel before heading to their breeding grounds further north, many timing their arrival with the sudden glut of food created by the annual herring spawning. The rare Rock Sandpiper pick roe from the rocky shoreline, and the vast mudflats of the Copper River Delta attract nearly the entire world population of around 3.5 million Western Sandpipers. Transient migrants join an equally exciting range of breeding birds including Harlequin Duck, Tufted Puffin, Marbled and Kittlitz's Murrelets and Varied Thrushes... all backed by some of the most spectacular scenery in the Americas!
Alaska also offers a greater variety of large mammals than any other region of the Americas, including Black, Grizzly and Polar Bears, Grey Wolf, Moose, Dall Sheep, Arctic Fox and nearly a million Caribou. The state is also superbly rich in marine mammals, with Sea Otter, Beluga Whale, Humpback Whale and the magnificent Orca amongst the many highlights.
Alaska can be explored by road, air and on foot, alongside some wonderful cruise options. Drifting through the awe-inspiring Prince William Sound, with its population of 4,500 Sea Otters, whilst the forested mountains and cascading waterfalls reflect perfectly off the water's surface, the silence broken only by the eerie call of a Great Northern Diver, is unforgettable. The dramatic and ethereal glacial scenery of the Kenai Fjords National Park, too, is incredible, and South-east Alaska's fabled 'Inside Passage' comprises pristine wilderness, only accessible by sea. Cruising through this untamed land, one will search for Grizzly and Black Bears and Wolves along the shores and Humpback Whales in the waters, plus a wide variety of birds and other wildlife.
Whatever your wildlife interest – birds, mammals, wild flowers or just outdoor activities – Alaska is a naturalist's paradise!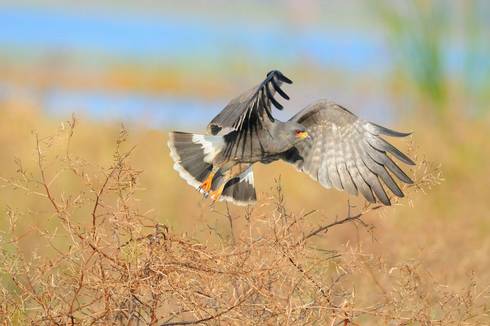 Florida is one of the best birdwatching locations in North America, with an array of outstanding wetland and coastal habitats, as well as woodland and open prairie. The great selection of east coast birds and specialities include the endangered Snail (Everglade) Kite, the unique Limpkin, the bizarre Smooth-billed Ani, Shiny Cowbird, Florida Scrub-jay, Mangrove Cuckoo, Black-whiskered Vireo, and Caribbean species such as Short-tailed Hawk and White-crowned Pigeon. The southern latitude also encourages a number of species to over-winter rather than migrate to Central and South America, including a number of American warblers and a chance of Caribbean vagrants.
The famed Everglades National Park, in southern Florida, is the largest sub-tropical wilderness in the United States and includes an incredible diversity of habitats, including mangroves, freshwater wetlands, a long coastline , wet prairies, closed canopy forest, coastal lowlands and sawgrass marshes. This huge diversity supports a plethora of wildlife, most notably an impressive array of waders and raptors. Local specialities include Roseate Spoonbill, Sandhill Crane and Red-cockaded Woodpecker.  The endangered Atlantic Leatherback Turtle, West Indian Manatee, American Crocodile and Florida Panther (a subspecies of Puma) are merely a few of the non-avian highlights.
Dry Tortugas National Park, comprising a chain of seven islands off the coast of Key West, is another superb and highly picturesque location, particularly during the spring migration. At this time of year, migratory birds use these well-placed islands as stepping stones to the mainland, and thousands of shorebirds as well as many warblers  and tanagers can be seen, alongside raucous nesting colonies of Sooty Tern, Magnificent Frigatebird, Brown Noddy and Masked Booby. Across the islands themselves migratory passerines include Ruby-throated Hummingbird, Indigo Bunting, Bobolink, Red-eyed Vireo, Eastern Kingbirds and Cape May Warbler. The Caribbean sub-species of Short-eared Owl – 'Arawak Owl' is also possible.
These are only two examples of the many fantastic birding and wildlife locations in Florida. Merritt Island is one of Florida's richest Wildlife Refuges; protected by its proximity to Nasa HQ! The prairies, swamplands and pine flatwoods around Kissimee and Lake Okeechobee also warrant attention, as does the complex of Refuges on the Gulf Coast around Sanibel Island and the primeval Corkscrew Swamp.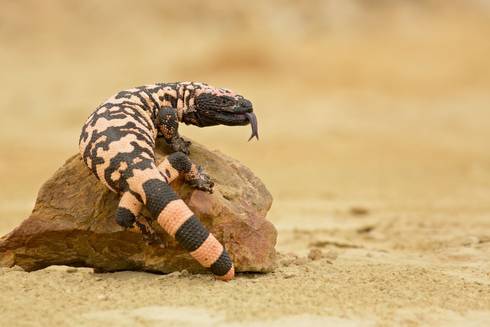 This huge state has a widely varying landscape, resulting in a wonderfully diverse range of habitats and associated climates, from baking deserts scattered with huge cacti and scrub to mountains, vast canyons and expansive oak, pine, spruce and fir forests. Driving up from the deserts into the cool, higher elevation forests is like travelling from Mexico to Canada in a single morning!
The 'Sky Islands' of southern Arizona – interestingly isolated mountains set in a 'sea' of desert, are the most biodiverse region in all of North America, offering a wonderful blend of lowland and montane climates and habitats. In total, over 450 bird species (including a variety of Mexican vagrants), 3,000 species of plants, approximately 300 butterfly species and more than 100 species of mammals have been recorded in the Sky Island area! Mammals, including Collared Peccary, White-nosed Coati, Cliff Chipmunk and Pronghorn, all reside, with rarer sightings including Bobcat, American Black Bear and Mountain Lion. A plethora of intriguing reptiles include Western Diamondback Rattlesnake, Coral Snake, substrate-mimicking Horned Lizard and Gila Monster – one of only a handful of venomous lizards in the world. Avifauna, too, is excellent in this region, with highlights including Elegant Trogon, Mexican Spotted Owl, Pyrrhuloxia, Rufous-capped and Grace's Warblers, Montezuma Quail, Acorn Woodpecker and Common Black Hawk, who summer here.
The Grand Canyon itself is referred to as one of the world's seven natural wonders with good reason. Wildlife is also impressive around the canyon, with mammals including Mule Deer, Rocky Mountain Elk, Coyote, Gray Fox, dexterous Desert Bighorn Sheep, nocturnal Ringtail (Arizona's state animal), 22 different species of bat and even, with a lot of luck, the highly elusive Mountain Lion. The large array of reptiles is also a draw and 42 species have been recorded here. The park is home to one of only a handful of wild Californian Condor populations! Bald Eagles and Osprey soar over the Colorado River in search of trout, and other birding highlights include Mexican Spotted Owl, Zone-tail Hawk, Canyon Wren, Southwestern Willow Flycatcher and Yuma Clapper Rail.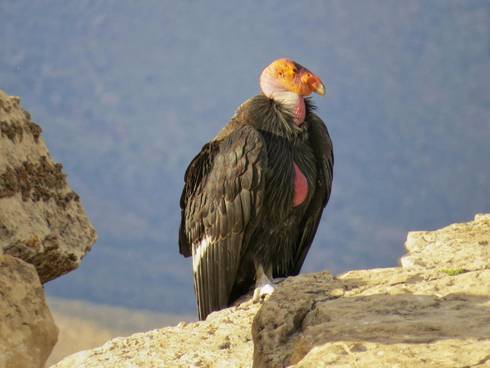 California is a land of extremes. From the beautiful beaches and wetlands of the Pacific coast to the Mojave Desert and inhospitable Death Valley, this state offers a spectacular range of landscapes and habitats to explore, along with a diverse array of wildlife.
Positioned on the 'Pacific Flyway', more bird species have been recorded in southern California than anywhere else in the United States. During spring migration, an impressive array of wader species are possible, including Black Turnstone, Surfbird and Wandering Tattler, and other highlights may include Allen's Hummingbirds, California Scrub Jay and California Towhee. Many species, too, choose to overwinter in the protected bays and lakes dotted along the coastline, making for some exceptional and picturesque birding. The hills above Santa Barbara may produce the delightful endemic Yellow-billed Magpie, and the Bitter Creek National Wildlife Refuge is one of the largest reserves for free-flying Californian Condor. An exciting excursion can also be made to Santa Cruz Island, off the coast of Los Angeles; the island is the only place in the world to see the endemic Island Scrub-jay, with approximately 2,000 birds found here.
The mammals of southern California are equally exciting, and include Mountain Lion, Bobcat, Bighorn Sheep, Grey and Desert Kit Fox, several species of pocket mice, kangaroo rats and Coyote, each expertly adapted to their habitat.
Further inland, Joshua Tree and Death Valley National Parks hold their own unique wonders, and the arid Laguna Mountains offer such highlights as Mountain Quail and Tricoloured Blackbird.
With comfortable accommodation, stunning scenery and an extraordinary habitat and species diversity, southern California is the ideal place to enjoy North American wildlife year-round.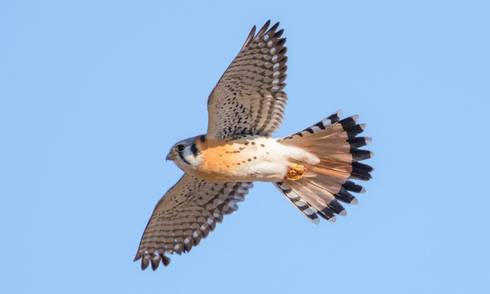 Often referred to as a birding mecca, Cape May, on the shores of southern New Jersey has long been heralded as one of the most exciting migration hotspots in the eastern United States. Each spring and autumn over 300 species of North American birds – many in huge numbers – pass between their breeding and wintering grounds along the so-called 'Eastern Flyway'. Bordered by Delaware Bay to the west and the Atlantic Ocean to the east, the 'Cape Island' peninsula acts as a natural funnel, eventually concentrating the birds at its tip. These weary migrants suddenly find themselves 'trapped' by water on three sides, and many opt to land and rest rather than continue south over the bay and into Delaware. Songbirds abound here, including such highlights as Scarlet Tanager, Purple Finch, Rose-breasted Grosbeak, Blackburnian, Chestnut-sided and Black-throated Blue Warblers and many more besides, plus an array of shorebirds, gulls and terns. Hundreds – sometimes thousands! – of raptors are possible in a single day during migration, with species such as Sharp-shinned, Cooper's and Broad-winged Hawks, Northern Harriers, Merlin and American Kestrels all passing through. Cape May is also one of the best places in the US to look for vagrant birds, adding to the excitement. An array of migratory dragonflies, together with beautiful Monarch butterflies join this mass movement along the coast; a sight not to be missed.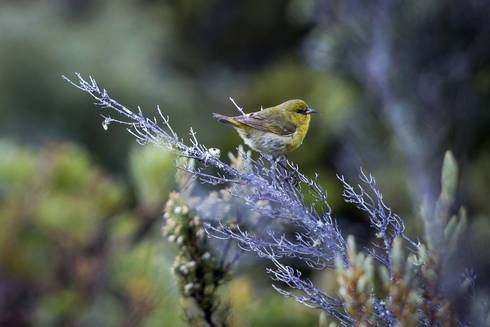 North America's only island state, Hawaii boasts towering volcanos cloaked in vibrant, misty rainforests, interspersed by deep canyons, lakes and thundering waterfalls. Lowland deserts border the turquoise, coral-filled waters of the Pacific Ocean, fringed by white sandy beaches and lush palms. Bustling, vibrant towns and sleepy traditional fishing villages support a rich and superbly interesting culture. This really is a state like no other! 
Due to their isolation (the nearest landmass is some 2,500 miles away!), the islands' flora and fauna experience high levels of endemism (estimated at around 90%), which makes for some superb and highly unique birding. This is perhaps best exemplified by the islands' Hawaiian Honeycreeper subfamily. Often referred to as the jewels of the forest, there are now approximately 20 subspecies here including Oahu Amakihi, Palila, Kauai Amakihi, Akekee and Hawaii Creeper alongside an exciting array of other native forest residents such as Oahu Elepaio, Akepa, Omao, Hawaiian Hawk, Red-billed Leiothrix and Greater Necklaced Laughingthrush. Numerous wetland species and seabirds can be found on the islands, such as Wandering Tattler, Black-crowned Night Heron, Hawaiian Duck, Hawaiian Gallinule, Laysan Albatross, Juan Fernandez Petrel, Leach's Storm Petrel, Newell's Shearwater, Hawaiian Dark-rumped Petrel, Bristle-thighed Curlew and, of course, the Nene; Hawaii's state bird. Pelagic tours provide enthralling opportunities to view seabirds and breeding colonies up close.
Between November and April, whale-watching cruises are highly productive, and the colorful reefs full of vibrant tropical fish beckon snorkellers, whilst many species of sea turtle and Hawaiian Monk Seal bask on the shores.
The Hawaiian archipelago also holds fantastic geological interest. Its position over a volcanic 'hot spot' has resulted in the formation of a chain of 137 islands, as well as various atolls, reefs and seamounts spanning some 1,500 miles. Vast areas of barren lava flows create an almost lunar landscape, and can be explored via a network of trails.
With a fascinating natural history, intriguing levels of species endemism, a welcoming culture and incredible and varied landscapes, Hawaii is a destination like no other, and certainly one for the keen naturalist.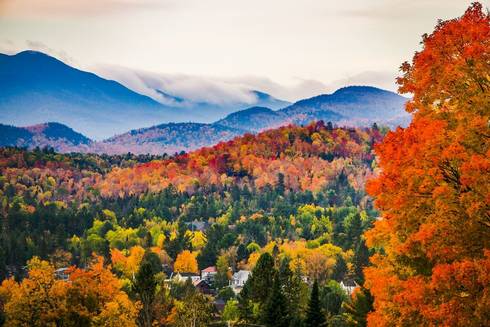 New England, on the east coast of the United States, is justifiably famous for its spectacular display of autumnal colours each 'fall'. From vivid reds and oranges through to bright yellows and darker shades of purple, the forests present a kaleidoscope of colour - often reflected dramatically in glassy lakes - as the air turns crisp with the change of season. To add to this breath-taking natural spectacle, populations of many species of birds, and mammals especially, here have recovered in recent decades to levels not seen for centuries, leading to some superb wildlife watching. Some of the forest's most famed inhabitants, amongst them Beaver, Moose, White-tailed Deer, Eastern Chipmunk, Eastern Coyote, Moose and, with a little luck, Black Bear, are all possible during a tour of the region, and those visiting during the autumn months will enjoy the vibrant foliage providing a wonderful backdrop for photography. Autumn also sees the passage of an array of migratory passerines, offering a challenge for the keen birder to identify the intriguing array of warblers, vireos and sparrows, as well as typical common residents such as Dark-eyed Junco, Northern Cardinal and Blue Jay.
Although New England is popular on the tourist route, especially during the fall spectacle, there are countless areas to visit in this region, tucked away from the crowds, and these can be enjoyed throughout the year. The Moosehead Lake region can be explored by canoe, offering a unique perspective from which to view the boreal forests in pure tranquillity, with chances of American Mink, Striped Skunk & Canadian Lynx. One can also venture out to sea for chances of such delights as Humpback, Fin and Minke Whales (September/October), alongside an impressive array of seabirds including shearwaters, petrels and skuas. The tiny island of Monhehan, 11 miles off the coast of Maine, is an important stopover for migrant birds. Passerine highlights might include Blackburnian, Cape May and Wilson's Warblers, alongside various raptors as they travel between their wintering and breeding grounds. Those visiting in autumn might also hope to witness the impressive migration of Monarch butterflies, en-route to the mountains of central Mexico. Further north, Arcadia National Park is also worth further investigation. Here, White-tailed Deer, Raccoons and other mammals await, alongside varied birdlife, including Spruce Grouse, Common Loon and soaring Bald Eagle. Inland, Lake Umbagog offers exciting chances of Moose, and the famed White Mountains, part of the northern Appalachians, are not to be missed. Here lies the range's highest peak, Mount Washington, which can be summited via The Mount Washington Cog Railway, offering a unique experience alongside spectacular wilderness views.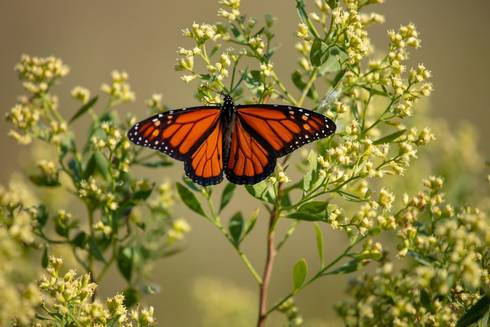 The landscapes amongst the United States' second largest state are both vast and diverse, from deserts, cacti forests and mountains to rolling plains, prairies, coastal swamps, palm groves, mesquite, moss-covered oaks and pine-dominated and riparian woodland. One could spend weeks - if not months - exploring this enthralling state in its entirety.
A particular Naturetrek favorite is the Rio Grande Valley, located on Texas's border with Mexico. From Falcon Dam in the north to South Padre Island on the Gulf of Mexico, this region is world famous for harbouring a unique range of birds, mammals, reptiles and insects found nowhere else in the United States. Subtropical habitats typical of Mexico's 'Tamaulipan Biotic Province' extend north into the lower Rio Grande Valley, bringing with them a unique suite of species characteristic of the USA's southern neighbour, mixed in with many eastern and western USA species. Southern Texas offers a world-class network of parks and reserves, home to over 400 species of birds, including the USA's largest known population of Ferruginous Pygmy-owls and most of the world's population of Whooping Cranes, which gather along a small stretch of the Texan coast during the winter months. The countless other birding highlights of the region include Aplomado Falcon, Couch's Kingbird, Sandhill Cranes, Least Grebe, White-tailed Hawk, Crested Caracara, Vermillion Flycatcher, Olive Sparrow, Sprague's Pipit and Buff-bellied Hummingbird, as well as the many casual rarities that the area attracts.
An explosion of butterfly gardens across southern Texas has also resulted in more species of butterfly being recorded here than anywhere else in the whole of the USA, with over 300 species recorded, including Monarch, Mexican Bluewing and many more. Mammals, too, are well represented, and possible highlights include Collared Peccary (or Javelina), Eastern Fox Squirrel, White-tailed Deer and Eastern Cottontail. 
Winter is an excellent time to visit Texas, when one can observe vast flocks of overwintering birds and vibrant butterflies. Spring, too, has its own merits; as carpets of wildflowers bloom and temperatures are particularly pleasant. Accommodation is of a good standard, with warm, welcoming hospitality and delicious home cooking. There are even options to stay on working ranches; a truly authentic Texan experience!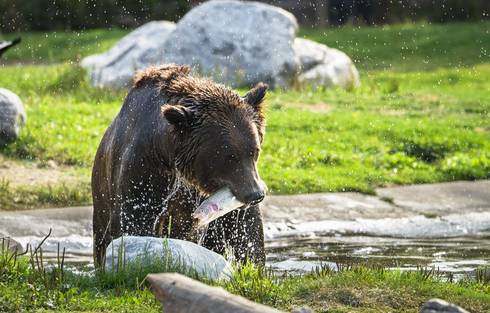 Yellowstone was designated as the world's first national park in 1873 and today protects nearly 9,000 square kilometres of mountains, forests, lakes and grasslands. The reserve is home to an exciting array of mammals including both Grizzly Bear and Grey Wolf, plus North American Bison, Moose, Black Bear, Rocky Mountain Elk, Coyote, Mountain Goat, Pronghorn Antelope, Yellow-bellied Marmot and even the ever-elusive Bobcat. An interesting variety of birds, too, inhabit Yellowstone, with highlights including Cooper's Hawk, American Dipper, Mountain Bluebird, Williamson's Sapsucker, Pine Grosbeak, Clark's Nutcracker, Black-headed Grosbeak, Grey Jay, a baffling mix of North American sparrows and some high altitude specialities such as Black Rosyfinch and Golden Eagle.
Spring arrives late in Yellowstone and it is not until June that the winter snows melt sufficiently for this wildlife haven to burst into life. The resident birds are then bolstered by an interesting mix of summer and passage migrants, all resplendent in their breeding dress. The park's mammals are active – many shadowed by their young – whilst the carpets of wildflowers burst into bloom. As the weeks march on and summer turns to 'fall', the colours of Yellowstone's dramatic landscape transform from the greens of spring and summer to a rich autumnal palette of russet, orange and gold. The mammals busy themselves preparing for the long winter ahead, and the resident birds are augmented by wintering and passage species returning from further north. 
Winter, too, holds its own special appeal. Once the snow has fallen and the crowds have retreated, the park is returned to the resident wildlife. Against a spectacular snowy backdrop, herds of North American Bison huddle around the steaming geothermal pools for warmth and Moose, Rocky Mountain Elk and Bighorn Sheep venture down into the valleys, stalked by packs of Grey Wolves – Yellowstone's most iconic resident.
Yellowstone's geology is equally fascinating. The ring of mountains that encircle the park marks the rim of an ancient sunken volcanic caldera in which much of the national park now sits. Although there is no sign of this so-called 'super volcano' awakening at any time in the near future, the subterranean heating it generates keeps the reserve's most famous resident, 'Old Faithful', erupting on cue, as well as fuelling a host of smaller geysers and other geothermal oddities. 
A visit to Yellowstone works particularly well with its equally impressive neighbour, the Grand Teton National Park. The jagged, snow-capped mountains here are part of the magnificent Rocky Mountain chain and overlook a picturesque mosaic of forests, lakes and meadows bordering the meandering Snake River. Wildlife highlights include Moose, Rocky Mountain Elk, Least Chipmunk, Golden-mantled Ground Squirrel, Sage Grouse, Mountain Bluebird, Yellow-headed Blackbird and a variety of breeding and migrating waterfowl.
Sample Itineraries
A 9-day holiday to California's Pacific seaboard to enjoy its birdlife and, particularly, the wealth of whales, dolphins and other exciting marine mammals for which Monterey Bay is justly famed.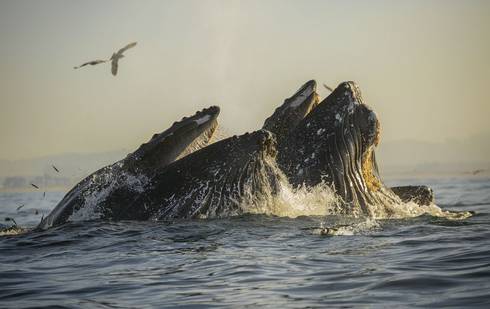 Day 1
Fly San Francisco; transfer Monterey Bay
Day 2/7
A full programme of whale-watching cruises combined with land-based marine mammal and birdwatching excursions, based in Carmel Valley
Day 8
Depart San Francisco
SAMPLE ITINERARY
COST (PER ADULT)
Whales & Dolphins of Monterey Bay - Self-drive
from £3,995 (Flight Inclusive)
Enquire Now
A 15-day wildlife holiday, including a 10-night cruise through south-east Alaska's 'Inside Passage', in search of Grizzly Bears, Humpback Whales, Orcas and spectacular glacial scenery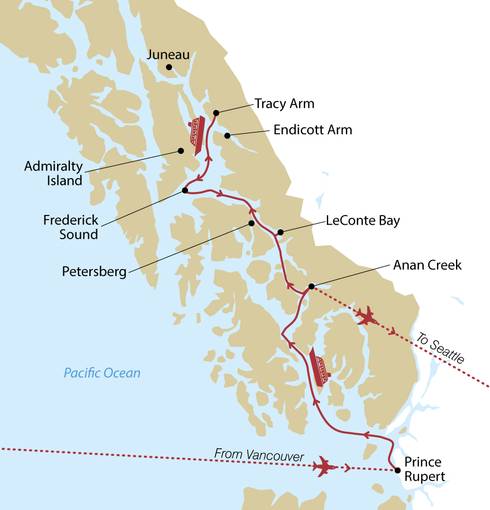 Day 1
Fly Vancouver and overnight
Day 2
Fly Prince Rupert and overnight
Day 3
Embark Island Roamer and begin cruise
Day 4/12
South-east Alaska cruise.
Day 13
Disembark Island Roamer; fly Seattle and overnight
SAMPLE ITINERARY
COST (PER ADULT)
An Alaskan Voyage - Whales, Bears and Glaciers
from £7,325 (Flight Inclusive)
Enquire Now
The Essentials
Wildlife Guides: Excellent local naturalist guides are available as well as specialist birding guides.
When to Visit: The USA is a year-round destination with each season bringing its own special highlights. Birders traditionally tend to favour the spring and autumn months, lured by spectacular migrations and the chance of some rarities, as well as the promise of sunny days and comfortable temperatures. These months, too, provide wonderful chances of viewing a plethora of reptiles, butterflies and wildflowers, whilst the broadleaved forests of the north-east explode into a kaleidoscope of colour in the autumn. May and June are particularly good months to venture to Alaska, when the state comes alive with migratory birds, and chances of marine and land mammal sightings are at their best. If you'd like to see Grizzly Bears fishing for salmon in Alaska then visit from late July through September.  August and September are also well-suited for cetacean viewing in Monterey Bay. Winter in Yellowstone is a superb time for viewing the resident mammals against a beautifully snowy backdrop, and whale watching in Hawaii is usually productive at that time too.

| | | | | | | | | | | | |
| --- | --- | --- | --- | --- | --- | --- | --- | --- | --- | --- | --- |
| J | F | M | A | M | J | J | A | S | O | N | D |
| YY | YY | YY | YY | YY | YY | YY | YY | YY | YY | YY | YY |

Getting Around: Most Tailormade guests choose to travel around North America in a private vehicle driven by their guide.
Why Naturetrek Tailormade?
'A Naturetrek Tailormade holiday allows you, with the benefit of our wildlife travel expertise and destination experience, to enjoy the perfect private wildlife holiday – one that truly matches your requirements, expectations and ambitions. We will ensure the most competitive prices, superb naturalist guides and seamless ground services.
Some of the benefits of Naturetrek Tailormade travel include:
• A bespoke itinerary which is crafted by experts and designed specifically for you
• Private guiding by the very best local naturalists 
• Travel with people you know, at your own pace
• Incorporate as much culture, history or relaxation time as you wish
• Choose dates to suit you
• Select your preferred style of accommodation
• Travel with families and children of any age
Furthermore, our Tailormade team are always on hand to help and guide you along the way, with friendly advice, first-hand knowledge and inside information specific to your destination of choice. So if you have any queries about your holiday, we will be delighted to answer them. Please just give us a call!'
Similar Trips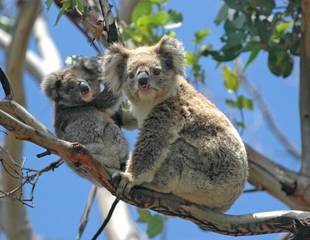 Add this tour to your favouritesRemove from Favouritesstar_border star
Create your own Tailormade holiday to Australia with dates and an itinerary to suit you.
11 days
£3,295 (inc flights)
Jan

Feb

Mar

Apr

May

Jun

Jul

Aug

Sep

Oct

Nov

Dec