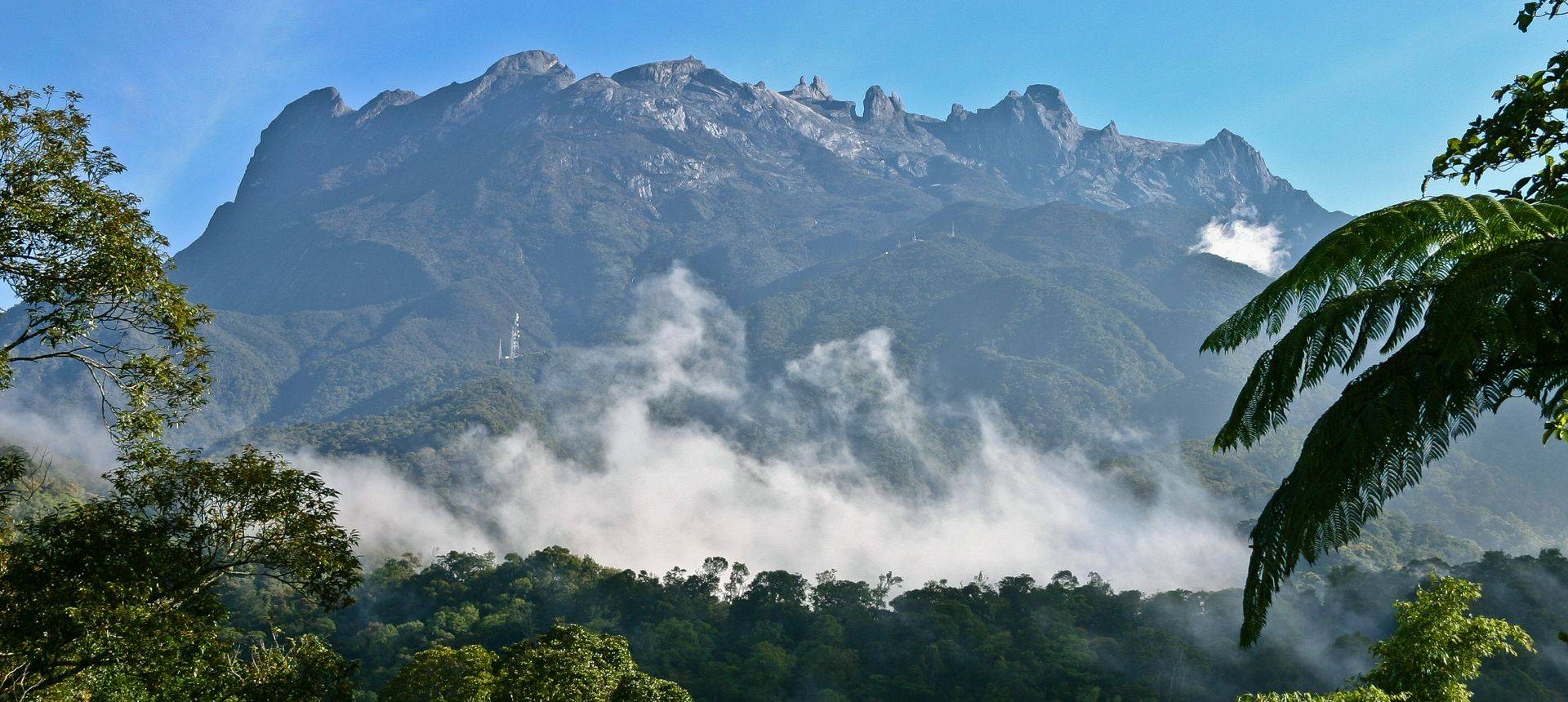 Mount Kinabalu & the Rainforests of Borneo
Tour Code: MYS03
A 16-day birdwatching extravaganza to the lowland and montane forests of the Malaysian province of Sabah in northern Borneo, with an optional extension to Pulau Tiga in search of the Philippine Scrubfowl.
From the montane slopes of Mount Kinabalu to the lowland rainforests of the Danum Valley and Kinabatangan River, this comprehensive tour focuses on the natural history of Sabah.  We will observe hundreds of bird species, including several endemic to Borneo, whilst mammal highlights should include the endangered Orang-utan, Proboscis Monkey, Borneo Elephant and Colugo, as well as a host of smaller creatures. The Gomantong Caves, where swiftlet nests are still harvested to make soup and from which countless bats emerge at dusk, will be amongst many memorable highlights.
Endemic-rich slopes of Mount Kinabalu
Pristine rainforest habitats
Wild Orang-utans, Proboscis Monkeys and other rare mammals
Superb flora – perhaps including Rafflesia, the world's largest flower
Boat excursion along Kinabatangan River
Gomantong Caves – filled with bats and swiftlets
Led by expert local naturalist guides
Can I help you?


X
Tom Mabbett
Tom
Tom has been fascinated by wildlife and the natural world since childhood. At primary school he learnt all the British bird species, and he's been watching and enjoying them ever since! Trips to the Wildfowl and Wetlands Trust (WWT) Slimbridge further fuelled his passion for birds and, when Tom's family bought 10 acres of land, he created his very own nature reserve on it! After gaining a degree in Biology from Exeter University, Tom set off in search of some of the planet's incredible wildlife, first travelling slowly around the world, and then returning to Australia. As well as seeing a wonderful variety of the world's birds on his travels, he also spent a lot of time beneath the surface of the ocean, scuba diving in Thailand, Australia and Fiji. Two of Tom's many highlights were diving with mighty Bull Sharks and swimming alongside gigantic Whale Sharks. Since returning to the UK Tom has worked in school wildlife clubs and also worked at WWT Slimbridge. Having grown up in the Cotswolds, a lot of Tom's spare time has been spent recording the birds and reptiles of this area's commons and wetlands. He also travels in search of overseas wildlife as often as he can, and amongst the European destinations that Tom and his brother have explored have been Hungary, France, Spain, Holland and, most recently, snow-clad Poland in the depths of winter to focus on mammal-tracking. Tom has now lead and co-led over 20 Naturetrek tours in France, Spain, Italy, Portugal, Finland, Belgium, Greenland, Guyana, La Palma and Scotland as well as short UK breaks including the Somerset Levels and Forest of Dean. Tom remains a very popular leader with our groups and when not out in the field works within our busy operations team at our new office in Chawton. Please feel free to contact Tom on 01962 733051 or email tom@naturetrek.co.uk with any questions or to discuss a future tour.
Outline Itinerary
Day 2
Arrive Kota Kinabalu, transfer to Mt Kinabalu National Park
Day 3/5
Mt Kinabalu National Park
Day 8/10
Kinabatangan River
This holiday far exceeded my expectations and this was primarily due to the enthusiasm and incredible expert knowledge of the two trip leaders Chris and Osman. This holiday has personally changed our outlook on the future, something for which we are immensely grateful.

J.H. & C.S. Buckinghamshire
Food & Accommodation
Included in the price, except for lunches and dinners at Kota Kinabalu. Allow ?20 per day.
A variety of comfortable hotels, jungle lodges and mountain chalets, all with private facilities.
The forests of Borneo contain the largest and most spectacular rainforest trees found anywhere in the tropics; they are also the oldest rainforests on Earth. The diversity of life in these forests is as dazzling as the trees are gigantic. This is a tour of the Malaysian province of Sabah in northern Borneo, a highly prosperous state with a good infrastructure and an excellent national parks system. We will be focusing on the lowland dipterocarp forests of the Danum Valley, and the montane forests of Mount Kinabalu, the highest mountain between the Himalaya and New Guinea. 
Following our arrival in Kota Kinabalu, the bustling and affluent capital of Sabah, we will drive the short distance to our hotel, where we'll be based for the next four nights, situated on the edge of the Mount Kinabalu National Park. This magnificent park of about 77,000 hectares was established in 1964 to protect the massif of Mount Kinabalu and the surrounding area. The montane forests of Mount Kinabalu provide an unrivalled opportunity to see most of Borneo's montane birds and some equally impressive pitcher plants. At lower elevations we will hope to find Whitehead's Trogon and Whitehead's Broadbill, whilst at higher elevations we will look for the Friendly Warbler, Black-breasted Triller, Kinabalu Serpent Eagle and Mountain Blackbird. For those really adventurous among the group, there will be the opportunity to climb to the summit of this 4,101-metre high mountain, which at dawn provides breathtaking views across northern Sabah. 
From Mount Kinabalu National Park we will travel overland to Sepilok for a 2-night stay at a comfortable eco-lodge on the edge of the Orang-utan Rehabilitation Centre. In addition to providing refuge for this endearing ape species, the forest and nearby Rainforest Discovery Centre provide excellent habitat for a wide variety of bird species, including Bornean Bristlehead, Blue-headed Pitta and up to eight species of hornbill.
We next travel to the Kinabatangan River (which drains an extensive area of northern Borneo) for a 3-night stay at Sukau Rainforest Lodge. Travelling along this major watercourse by motorised canoe, we can hope to see a variety of wildlife along its banks including the bizarre-looking Proboscis Monkey and, with luck, a herd of Asian Elephants. From our lodge in the forest we will explore a series of ox-bow lakes that are home to the little-known Storm's Stork and Jerdon's Baza, and also visit nesting colonies of Black-nest and Mossy-nest Swiftlets located in the dramatic Gomantong Caves. 
We conclude our time in Borneo with a 4-night stay at the exquisite Borneo Rainforest Lodge, located deep in the Danum Valley Conservation area, one of only two substantial areas of protected primary forest remaining in Sabah. During our stay we will explore the forest, making full use of the excellent network of trails to observe a wide range of lowland forest birds and mammals. During our extended stay we can hope to see some of Sabah's most spectacular birds, including Great Argus Pheasant, several species of hornbill, including the largest and most spectacular of all— the Rhinoceros and Helmeted Hornbills. We may also see three endemic species of pitta, including Black-and-crimson, Blue-headed, and the diminutive Blue-banded, plus the endemic Bornean and Black-throated Wren-babblers. After dark we will search for the mysterious nocturnal frogmouths, one of the least-known bird families on Earth. If we are very fortunate, we may see the enigmatic Large Frogmouth during our stay, and its smaller relative, the Javan Frogmouth. Amongst the wide range of forest mammals here, we will hope to see a good selection of primates, including Bornean Gibbon, Red Leaf Monkey and Orang-utan. If we are particularly fortunate, we may also see the endemic Hose's Langur. Regular nocturnal forays should allow us to glimpse a variety of civets, Sambar Deer, Bearded Pig, Colugo, Slow Loris, Tarsier and perhaps even a Leopard or Marbled Cat! 
After four nights at our fabulous rainforest base, we must sadly begin our journey back to London, driving first to Lahad Datu and then flying on to Kuala Lumpur via Kota Kinabalu. However, for those wishing to extend their stay, there is an opportunity to visit one of the small islands lying off Kota Kinabalu, in search of the Philippine Scrubfowl. Like all scrubfowl, this remarkable bird buries its eggs in a large mound of vegetation, and the heat generated by this fermenting mass of vegetation actually incubates the eggs! 
Please contact us on 01962 733051 for details on what extensions either pre or post tour are available for this Tour.
This holiday far exceeded my expectations and this was primarily due to the enthusiasm and incredible expert knowledge of the two trip leaders Chris and Osman. This holiday has personally changed our outlook on the future, something for which we are immensely grateful.

J.H. & C.S. Buckinghamshire

What a tour!!! Thanks so much. Chris Kehoe, the best, fantastic guy, great leader. Osman, brilliant, wonderful person. Accommodation, food, itinerary, ground agents, organisation, flights, birds, mammals, flora, all of the highest quality. It made for the best trip we have ever had the pleasure of participating in with Naturetrek. Chris is the ultimate professional and we look forward to travelling with him again in the future.

D.B. & T.L. Sussex

I have done several previous trips, a number of which have been with Naturetrek, but, whilst they have all been exceptionally enjoyable, the Borneo trip from which I have just returned really blew me away. Being a primarily a mammal enthusiast, although also having a keen interest in birds, I was just overawed by being able to see Orang-utans in the wild. We had absolutely fantastic sightings and I was lucky enough to get some fabulous DVD footage and stills. Whilst our wildlife sightings really made for a fantastic trip, I think what made it really special was the quality of our guides. Wang, our local guide in Danum valley was amazing, finding us some really difficult stuff, but I want to give special mention to Osman and Chris. Osman was a fabulous personality and his knowledge was exceptional. As for Chris, what can I say, he was the most professional, knowledgeable, likeable guide I have ever had the privilege of travelling with. Not only were his spotting skills out of this world, he also showed real care for his clients and enthusiasm for getting them to see as much as possible. The trip would have been enjoyable anyway but with Chris as our leader our trip was absolutely fantastic. I hope that I get to travel with him in the future. He should be cloned and offered on every trip!!! Thanks again to Naturetrek for giving us yet another extremely enjoyable holiday

T.L. Sussex

We saw the Orang-utans very well in the wild which was my main reason for joining this trip...the extension to Taman Negara was great...this is where I had my most memorable birding highlight.

R.S. Derbyshire

Both Nick and Osman made a great effort to see that on the days where it would have been difficult for me to take part I was helped by Osman, often on a one to one basis, to be able to cover as much as was possible...it made my holiday a very pleasing experience.

R.S. Essex

In all I loved the trip, very enjoyable. Overall Satisfaction: First Class.

P.B. West Yorkshire

The wildlife watching was extraordinary and exceeded my expectations. Haswan clearly had outstanding knowledge and experience of the Bornean avifauna and was dedicated to finding and showing as many species as possible to his clients. Terry did an excellent job of managing the very varied interests and physical abilities of this group, with patience and good humour. As a mammalogist, I very much appreciated his excellent spot-lighting skills which helped to maximise the number of mammals we saw on this trip. As a lone traveller, I am grateful for his company between scheduled activities and as a fellow biologist enjoyed sharing our wildlife experiences of other countries.

L.T. Avon
2019
Departures
Availability
Cost
Tue 17th Sep - Wed 2nd Oct
SPACES
£5,495
Flights:
Most Naturetrek tours include flight costs ex-UK. If flights are not included, we indicate that here.
Flights are included in the tour cost
Regional Departures:

On certain tours it is possible to depart from a regional airport (rather than London). If a regional departure is possible, we indicate that here.
Regional Departures are available. Call 01962733051
Land only cost:

The "Land Only" cost is the tour price you will pay if you choose to arrange your own flights/transport.
£4,895
Single Room Supplement:
£695