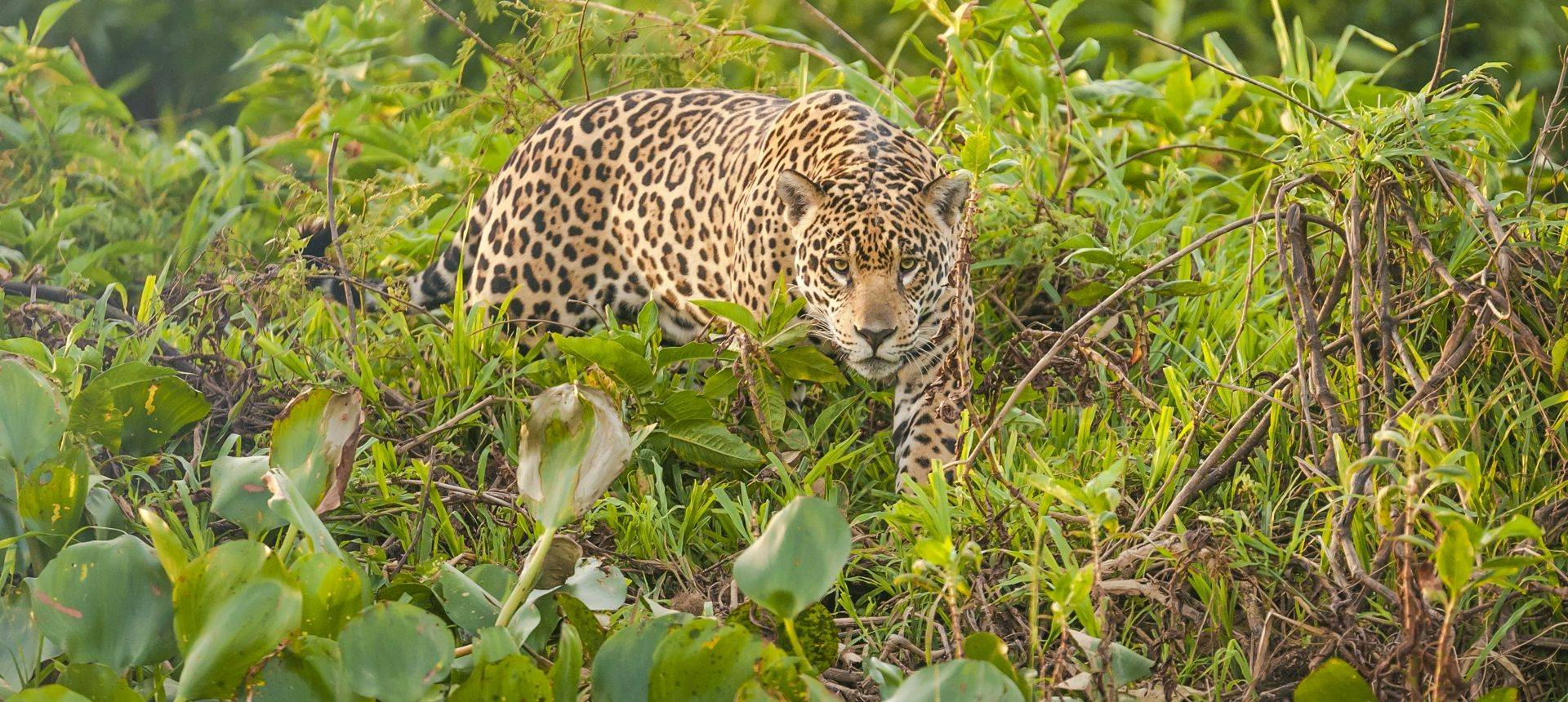 Jaguars, Giant River Otters & Macaws: The Pantanal in Pictures
Tour Code: BRA10
A 13-day wildlife photography holiday to the Brazilian Pantanal, focusing on photographing iconic mammals and some of the exotic avifauna of this stunning wetland.
The Brazilian Pantanal is the world's largest contiguous wetland and offers some of the finest wildlife photography on the planet. It is home to an impressive range of resident mammals and birds. However, it is the enigmatic Jaguar that will be our main target during this new dedicated photography tour and the itinerary is designed to offer you the very best chance of photographing Jaguars as well as the Pantanal's other special wildlife and scenery. From our accommodation, the ideally situated 'Jaguar Flotel', we'll take to the water before dawn and arrive back after dusk in order to make the best of the light. We will then spend a further four days at two separate lodges, exploring on foot and in our open-sided safari truck.
Chance to photograph Giant Anteater, Brazilian Tapir & Ocelot
Get close to charismatic Giant River Otters
The exotic avifauna includes the gorgeous Hyacinth Macaw
Max 6 participants
Excellent opportunities to photograph Jaguars
6 full days of morning & afternoon boat safaris from the Jaguar Flotel
Based in the heart of the 'Jaguar Zone' for 6 days
See & photograph a wide range of the Pantanal's wildlife

 

 
Can I help you?

For expert advice call +44 (0) 1962 733051

Operations Manager

X
Tom Mabbett
Tom
Tom has been fascinated by wildlife and the natural world since childhood. At primary school he learnt all the British bird species, and he's been watching and enjoying them ever since! Trips to the Wildfowl and Wetlands Trust (WWT) Slimbridge further fuelled his passion for birds and, when Tom's family bought 10 acres of land, he created his very own nature reserve on it! After gaining a degree in Biology from Exeter University, Tom set off in search of some of the planet's incredible wildlife, first travelling slowly around the world, and then returning to Australia. As well as seeing a wonderful variety of the world's birds on his travels, he also spent a lot of time beneath the surface of the ocean, scuba diving in Thailand, Australia and Fiji. Two of Tom's many highlights were diving with mighty Bull Sharks and swimming alongside gigantic Whale Sharks. Since returning to the UK Tom has worked in school wildlife clubs and also worked at WWT Slimbridge. Having grown up in the Cotswolds, a lot of Tom's spare time has been spent recording the birds and reptiles of this area's commons and wetlands. He also travels in search of overseas wildlife as often as he can, and amongst the European destinations that Tom and his brother have explored have been Hungary, France, Spain, Holland and, most recently, snow-clad Poland in the depths of winter to focus on mammal-tracking. Tom has now lead and co-led over 20 Naturetrek tours in France, Spain, Italy, Portugal, Finland, Belgium, Greenland, Guyana, La Palma and Scotland as well as short UK breaks including the Somerset Levels and Forest of Dean. Tom remains a very popular leader with our groups and when not out in the field works within our busy operations team at our new office in Chawton. Please feel free to contact Tom on 01962 733051 or email tom@naturetrek.co.uk with any questions or to discuss a future tour.
Outline Itinerary
Day 2
Fly Cuiaba & drive SouthWild Pantanal Lodge
Day 3
SouthWild Pantanal Lodge
Day 12
Fly Sao Paulo and onward to London
Food & Accommodation
All included in the price.
Comfortable ecotour lodges on the Transpantaneira Road (Pouso Alegre, SouthWild Pantanal) and floating in the middle of the 'Jaguar Zone' (SouthWild Jaguar Flotel) on the 100-km-long network of uniquely Jaguar-rich river channels that lie 10-50 km upstream from Porto Jofre. All have private facilities.
Please contact us on 01962 733051 for details on what extensions either pre or post tour are available for this Tour.
2019
Departures
Availability
Cost
Mon 21st Oct - Sat 2nd Nov
6
£7,995
Flights:
Most Naturetrek tours include flight costs ex-UK. If flights are not included, we indicate that here.
Flights are included in the tour cost
Regional Departures:

On certain tours it is possible to depart from a regional airport (rather than London). If a regional departure is possible, we indicate that here.
Regional Departures are available. Call 01962733051
Land only cost:

The "Land Only" cost is the tour price you will pay if you choose to arrange your own flights/transport.
£7,395
Single Room Supplement:
£895