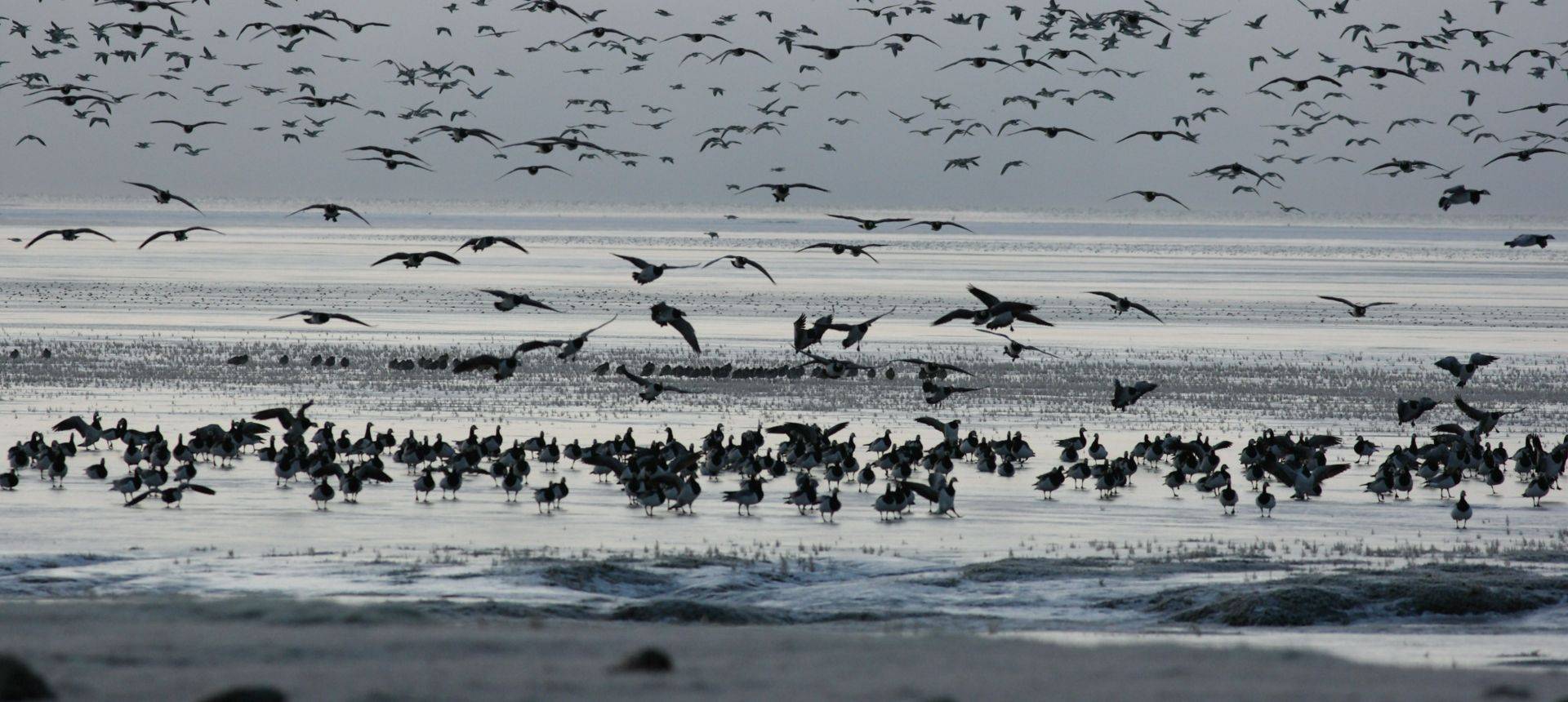 Holland in Winter
Tour Code: NLD01
A long weekend in Holland, focusing on two localities in search of wildfowl and geese.
On this short break we will go in search of wintering geese, ducks and other birdlife. Focusing on two main localities, and with key birding sites linked by an impressive network of roads and motorways, it is possible to see a great deal within a couple of days in a variety of habitats. We begin in Zeeland, where we'll be hoping to see large flocks of geese (including a few rarities!) as well as raptors. We will cross to the island of Schouwen-Duiveland - one of the top winter birding spots in Holland - where we will be hoping to see large rafts of Red-throated Diver, Red-necked and Black-necked Grebes, Long-tailed Duck, Eider, Common Scoter, Greater Scaup and Red-breasted Merganser. Huge numbers of duck winter in the open water and reed beds of Flevoland including Greylag, Bean and White-fronted Geese. We'll also explore the surrounding woodland in search of species such as Long-eared Owl and Hawfinch. Lastly we'll visit Friesland where further vast flocks of geese and duck await, and at IJsselmeer vast flocks of Smew, Scaup, Goldeneye, Long-tailed Duck and Goosander are to be found at this time of year.
Flocks of Tundra Bean, White-fronted, Greylag, Barnacle & Brent Geese, Zeeland
Look for rarities such as Snow, Lesser White-fronted & Red-breasted Geese
Bittern plus raptors such as Hen & Marsh Harriers plus Peregrine
Dunlin, Ruff, Curlew, Sanderling, Grey Plover, Knot, Oystercatcher & Bar-tailed Godwit
Vast numbers of duck, IJsselmeerdyke
Goshawk, Short-toed Treecreeper, Crested Tit, Black Woodpecker & Bearded Reedling possible
Raptors may include Rough-legged Buzzard & White-tailed Eagle
Pink-footed Goose plus Bewick's, Whooper & Mute Swans, Friesland
Led by expert naturalist guides
Can I help you?

For expert advice call +44 (0) 1962 733051

Operations Manager

X
Tom Mabbett
Tom
Tom has been fascinated by wildlife and the natural world since childhood. At primary school he learnt all the British bird species, and he's been watching and enjoying them ever since! Trips to the Wildfowl and Wetlands Trust (WWT) Slimbridge further fuelled his passion for birds and, when Tom's family bought 10 acres of land, he created his very own nature reserve on it! After gaining a degree in Biology from Exeter University, Tom set off in search of some of the planet's incredible wildlife, first travelling slowly around the world, and then returning to Australia. As well as seeing a wonderful variety of the world's birds on his travels, he also spent a lot of time beneath the surface of the ocean, scuba diving in Thailand, Australia and Fiji. Two of Tom's many highlights were diving with mighty Bull Sharks and swimming alongside gigantic Whale Sharks. Since returning to the UK Tom has worked in school wildlife clubs and also worked at WWT Slimbridge. Having grown up in the Cotswolds, a lot of Tom's spare time has been spent recording the birds and reptiles of this area's commons and wetlands. He also travels in search of overseas wildlife as often as he can, and amongst the European destinations that Tom and his brother have explored have been Hungary, France, Spain, Holland and, most recently, snow-clad Poland in the depths of winter to focus on mammal-tracking. Tom has now lead and co-led over 20 Naturetrek tours in France, Spain, Italy, Portugal, Finland, Belgium, Greenland, Guyana, La Palma and Scotland as well as short UK breaks including the Somerset Levels and Forest of Dean. Tom remains a very popular leader with our groups and when not out in the field works within our busy operations team at our new office in Chawton. Please feel free to contact Tom on 01962 733051 or email tom@naturetrek.co.uk with any questions or to discuss a future tour.
Outline Itinerary
Day 1
Eurostar train from London St Pancras to Brussels.
Day 5
Eurostar train from Brussels to London St Pancras.
Food & Accommodation
All included in the price, except for meals required on train journeys.
Comfortable tourist hotels with private facilities.
Although Holland has a higher population density than any other European country, an impressively large part of its area has been set aside as nature reserves. These protected areas consist mainly of polders, mudflats, marshes, reed-beds and sand dunes and are home to a large number of wintering birds. An excellent network of roads and motorways makes it possible to explore many of these superlative birding sites within a couple of days and, during this long weekend, we will concentrate mainly on the Zeeland and Flevo areas.
Zeeland hit the world headlines in February 1953 when many of the dykes collapsed and large parts of the low-lying islands were flooded, causing great loss of life. To ensure that a disaster on this huge scale would never happen again the Dutch planned the Delta-works. This is the largest construction of its kind in the world, connecting the islands and islets of southern Holland with large dams which have resulted in the formation of many large saline and brackish lakes, attracting up to half a million birds in winter! To the north lies Flevoland, the second focus of our attention. These polders were only formed about 40 years ago by draining part of the IJsselmeer and are now considered to be among Europe's
finest wetlands.
Beginning in Zeeland, we will search the extensive farm and grasslands of Goeree for geese and ducks. Every winter large numbers of geese can be found feeding here; Tundra Bean, White-fronted, Greylag, Barnacle and Brent form the largest flocks through which we will search for such rarities as Snow, Lesser White-fronted and Red-breasted Goose, which are all regularly recorded. The marshy areas conceal Bitterns and are patrolled by Hen and Marsh Harriers, and Peregrine Falcons. Flocks of Dunlin, Ruff, Curlew and Bar-tailed Godwit can be found on the muddy shores of the large inland seas, and seals are often seen basking on the mudflats.

We will cross to the island of Schouwen Duiveland via the seven-kilometre-long Brouwersdam. This is one of the top birding spots in Holland in winter. On the seaward side large rafts of Red-throated Divers, Red-necked and Black-necked Grebes, Long-tailed Duck, Eider, Common Scoter, Scaup and Red-breasted Merganser are usually to be found bobbing in the waves. The small sandy beaches along the dam, provide feeding for Sanderling, Grey Plover, Knot and Oystercatchers.
Three large polders form the area of Flevoland, all of them reclaimed from the IJsselmeer. Here we will visit the famous marshland reserve of Oostvaardersplassen. Although difficult to cover due to its large size (70 square kilometres) we will search the open water and the extensive reed-beds from the IJsselmeerdyke or from one of the many hides that overlook this large wetland. Depending on the water level, vast numbers of duck are usually present. Rough-legged Buzzards often hover overhead and the surrounding meadows are grazed by numbers of Whooper Swans, Greylag, Bean and White-fronted Geese. Roe and Red Deer can also be seen feeding here in the early morning or late afternoon. The surrounding woodlands provide a contrast in habitat and may enable us to add Hawfinch, Goshawk, Short-toed Tree-creeper and Long-eared Owl to our weekend bird list.
Next we will check the Lepelaarsplassen Reserve. This large, reed-fringed lake is home to huge numbers of duck and is often the best spot in Holland to see over-wintering White-tailed Sea Eagles, causing panic among the wildfowl as they soar over the water. In the broad reed-bed fringes, Bearded Reedlings announce their presence with distinctive 'pinging' calls. Friesland, just to the north of Flevoland, is a major wintering area for geese and swans; Tundra Bean Goose, Pink-footed Goose, White-fronted and Barnacle Geese are present in large numbers, and Bewick's, Whooper and Mute Swans often feed here side by side. The nearby IJsselmeer is favoured by vast flocks of Smew, Scaup, Goldeneye, Long-tailed Duck and Goosander.
On our return to Brussels, we will visit a delightful mixed woodland where we hope to see Hawfinch, Crested Tit, Nuthatch, Firecrest and the impressive Black Woodpecker to conclude this varied and entertaining trip.

Please contact us on 01962 733051 for details on what extensions either pre or post tour are available for this Tour.
2019
Departures
Availability
Cost
Sat 16th Feb - Wed 20th Feb
SPACES
£995
Land only cost:

The "Land Only" cost is the tour price you will pay if you choose to arrange your own flights/transport.
£995
Single Room Supplement:
£95