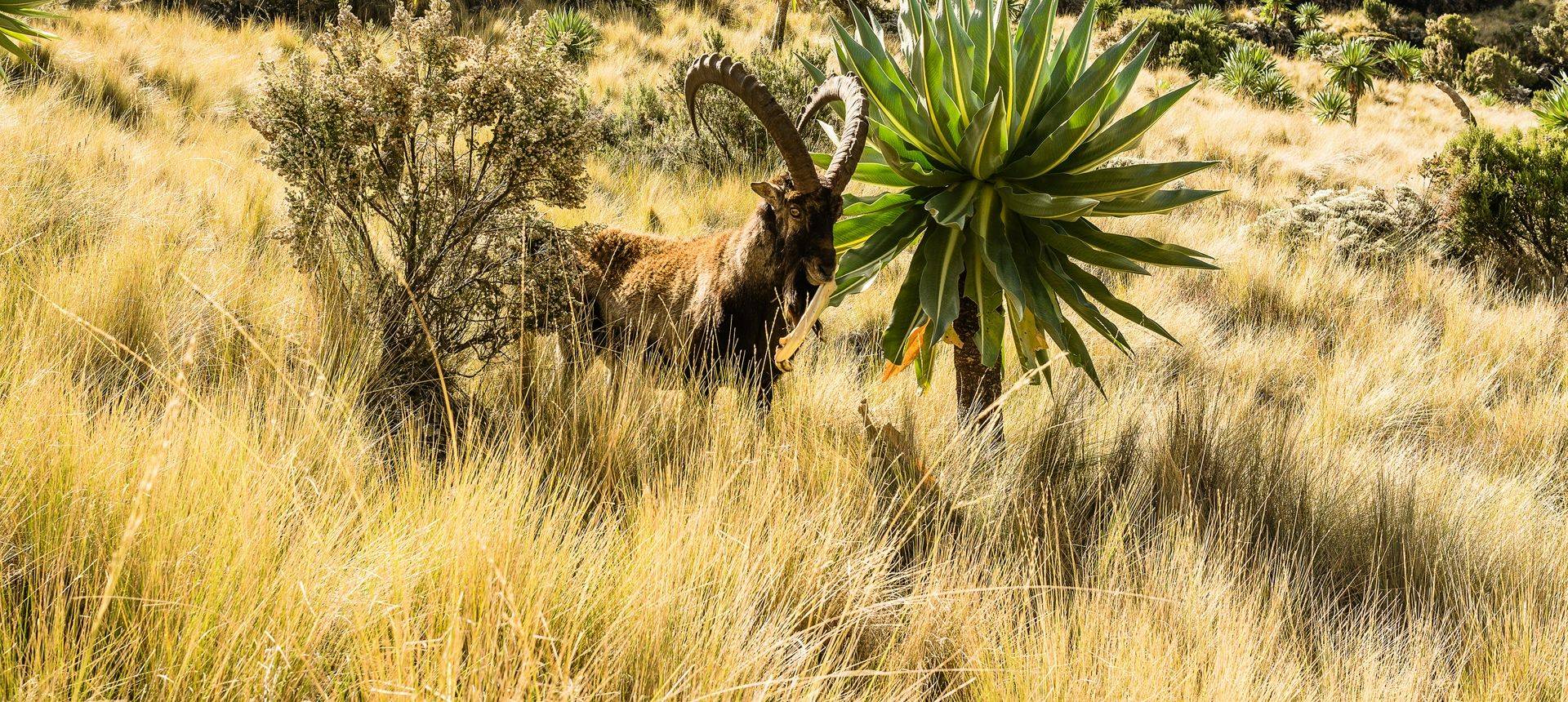 Ethiopia - A Wildlife Photography Tour
Tour Code: ETH10
A 17-day wildlife photography tour to Ethiopia in search of the country's abundant birdlife, fascinating mammals and spectacular scenery.
NULL
Can I help you?

For expert advice call +44 (0) 1962 733051

Operations Manager
Outline Itinerary
Day 2
Arrive Addis Ababa, fly Gondar
Day 9
Fly Addis, drive Lake Awassa
Day 10
Drive to Bale Mountains
Day 15
Drive to Lake Langano
Day 16
Drive to Addis Ababa
Day 17
Depart Addis Ababa, arrive London
Food & Accommodation
All included in the price.
Simple, but comforatble eco-lodges and hotels; all rooms have private facilities.
Simply put, Ethiopia offers some of the best wildlife and landscape photography on the planet. With a particularly special range of both endemic mammals and endemic birds to be found amongst truly breathtaking scenery, it is a destination perfectly suited to the keen photographer. Building on nearly 30 years' experience of running wildlife tours to Ethiopia, we have designed this new photography itinerary to focus on two of the country's very best national parks — the Simien Mountains and Bale Mountains — offering an extended stay in each. Here, under the expert tuition your photographer-leader, you will have the opportunity to photograph and enjoy some of the region's most iconic mammals and birds to a backdrop of Ethiopia's most dramatic landscapes. Our holiday begins with a flight to Addis Ababa, from where we fly north to Gondar, the gateway to the spectacular Simien Mountains. With five nights at the Simien Lodge, we have plenty of time to enjoy the area's incredible wildlife and scenery, most notably the huge troops of Gelada Baboons that can number in excess of 400 individuals. Despite their fearsome appearance, they are a photographer's dream and will often allow you to sit amongst them as they chatter between themselves and graze the high grassland slopes. Other targets in the Simiens include the rare Walia Ibex and a fabulous array of birds including Lammergeier and the mischievous Thick-billed Raven, the latter a most characterful endemic. Next we travel south, through the Rift Valley to the beautiful Bale Mountains. There we'll enjoy a 5-night stay at the fabulous Bale Mountain Lodge, tucked deep within the Harenna Forest. This forest is home to Giant Forest Hogs and 'blackmaned Lions', both rarely seen, but it is the grassy uplands and towering rocky outcrops of the Senetti Plateau where we hope to photograph the strikingly elegant Ethiopian Wolf and its favourite prey, the Giant Mole-rat. Mountain Nyala, Bohor Reedbuck and Menelick's Bushbuck may also be seen, along with a rich flora and a special range of birds which includes 14 endemics! With a night near the Rift Valley lakes either side of our stay in the Bale Mountains, we will also have the opportunity to photograph an exciting range of waterbirds, complementing perfectly our time in the mountains and making for an incredibly rich and varied photographic adventure.
Please contact us on 01962 733051 for details on what extensions either pre or post tour are available for this Tour.