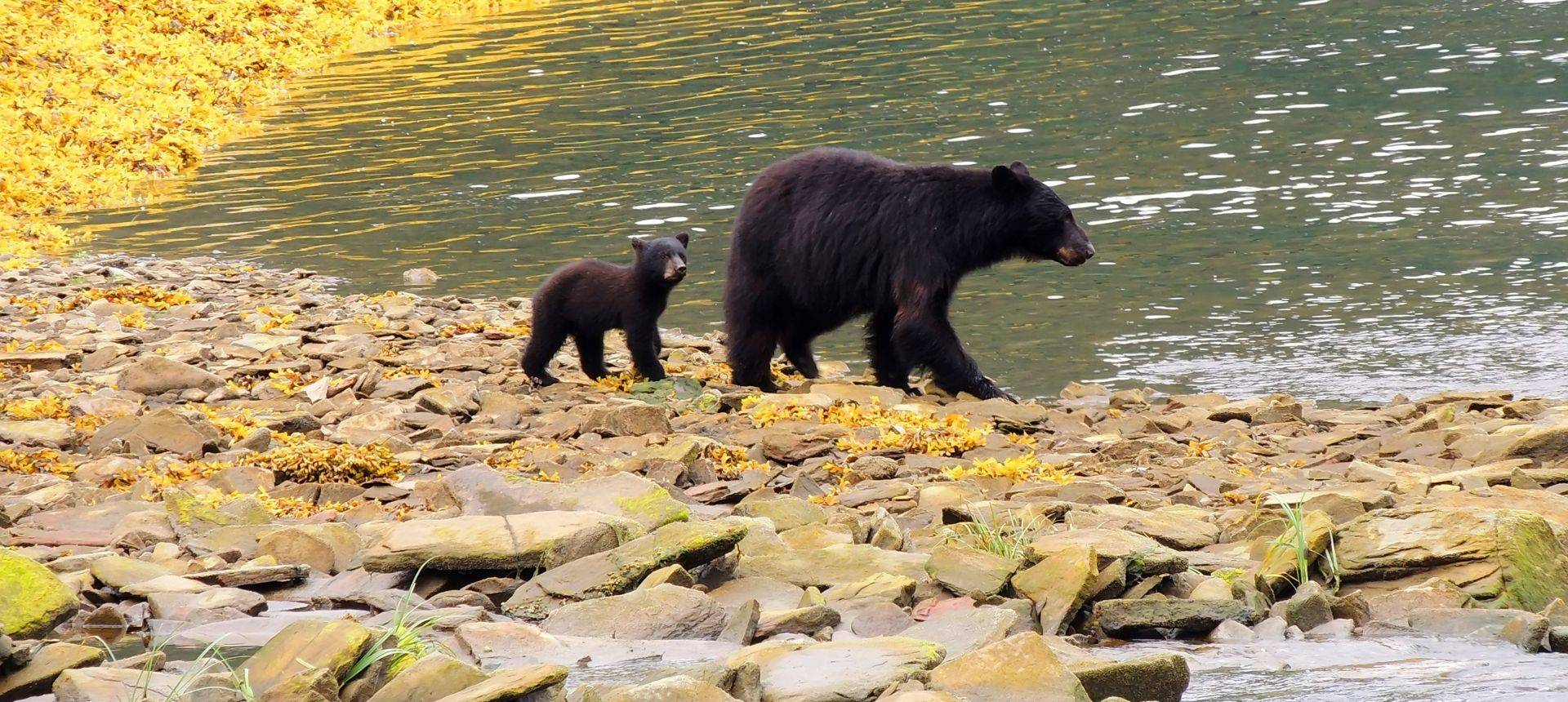 Eastern Canada: Whales, Bears & Fall Migration
Tour Code: CAN06
An 11-day holiay focusing on the special marine and land mammals of Quebec, as well as migrant birds and spectacular scenery.
Quebec is home to a wealth of wildlife, as well as some of Canada's most beautiful scenery. We will explore both north and south sides of the St Lawrence River, seeking land mammals in the province's impressive forests, as well as looking for a variety of birds such as Bald Eagle and migrants as they pass through en route to their wintering grounds. Driving north from Quebec we'll look for Beluga in Saguenay Fjord before crossing the St Lawrence and heading for Gaspésie National Park where we'll walk forest trails in search of the park's wildlife. We will then travel east to the attractive seaside town of Percé to enjoy whale watching trips off the Gaspé Peninsula and a day in Forillon National Park.
Chance to see Black Bear from a hide & also in Forillon National Park
Enjoy stunning scenery, at the eastern tip of the Appalachian range
Walk trails in Gaspésie NP: Moose, Caribou & White-tailed Deer all live in the park
Look for Beluga in Saguenay Fjord
See the impressive Rocher Perce & explore Bonaventure Island
Look for Blue, Humpback, Fin & Minke Whales off Percé plus dolphins & seabirds
Migrating flocks of Blue Jays, plus White-throated & Lincoln's Sparrows
Watch researchers in action at an owl-banding station
Magnolia, Yellow-rumped & Black-throated Green Warblers among possible migrants
Search for Beaver & Black Bear in forests
Enjoy French-Canadian auberges, cuisine & hospitality
Led by expert naturalist guides
Can I help you?


X
Paul Stanbury
Paul graduated in Environmental Science in 1995 and joined the Naturetrek team in January 1996. His keen interests in birds and travel began when aged seven and the intervening years have taken him to many parts of the world. Paul has always had a particular interest in North American wildlife, a fascination which led him to spend the second year of his degree course studying at Western Washington University near Seattle, where he developed a detailed knowledge of the Pacific North-west and its birds. He has also travelled widely in Europe and Africa, and spent three months backpacking around South East Asia from Borneo to Thailand. At present, Paul lives in Petersfield, Hampshire, only 30 minutes from the Naturetrek office in Chawton where he is based.
Outline Itinerary
Day 2
Cap Tourmente and Baie St. Paul
Day 3/4
Whale-watching, Tadoussac and Saguenay Fjord
Day 5/7
Wildlife excursions, Gaspesie National Park
Day 8/9
Whale-watching and visit to Bonaventure Island, Perce
Day 10
Forillon National Park
Day 11
Depart Gaspe; fly London
Food & Accommodation
All included in the price.
Comfortable gites, hotels and auberges, all with private facilities.
Home to the only French-speaking society in North America, Quebec is distinct from the rest of the continent. Covering over one million square kilometres, Northern Quebec forms the greater part of Canada's largest province, a land where nature reigns supreme and the influence of the Arctic is strong. On this exciting tour we will explore both the north and south sides of the Gulf of St. Lawrence, seeking mammals such as the Moose, Caribou and Black Bear inhabiting the province's impressive forests, and whales such as Beluga and Blue Whale that come to feed each year in the rich waters of the St. Lawrence River and off the Gaspé Peninsula. A sparsely populated province, civilisation clusters mainly around the north shore of the great St. Lawrence River and in historic Quebec City, which sits at the narrowing of the St. Lawrence and is the most easterly point connecting the north and south shores of the river. The Gaspé Peninsula forms the south shore of the St. Lawrence, with the Chic Choc Mountains creating a rocky backbone along the centre of the peninsula and marking the end of the famous Appalachian Chain.

We begin our holiday with a flight to Montreal and then transfer to Quebec City, the only fortified city in North America. If time permits, we will do a short walking tour of the old town, which is a UNESCO World Heritage Site, before driving towards Tadoussac on the north shore of the St. Lawrence. We will stop en route at Cap Tourmente, hoping to see a few 'early arrivals' of the Snow Geese which visit annually during the Fall. The mouth of the Saguenay Fjord on the St. Lawrence River is renowned for its superb marine-life: it is possible to see Fin, Humpback and Minke Whales as well as Grey and Harbour Seals, and there is also a small resident group of Beluga here all year round! During our 2-night stay at Saguenay Fjord, we will join a whale-watching cruise on the St. Lawrence River and Saguenay Fjord, hoping for our first glimpse of the area's famous Belugas and other marine mammals. At dusk we will visit a viewing hide, where we have a good chance of observing Black Bear.

Next we cross by ferry to the Gaspé Peninsula on the south side of the St. Lawrence River. Based for three nights in the heart of the Gaspésie National Park we will join local guides to explore some of the park's forest trails looking for Quebec's three special members of the deer family: Moose, Caribou and White-tailed Deer. We will pass from dense forest to tundra on the mountain summits and it is in the latter that Caribou are found. As we walk, we will look out for birdlife, including a variety of birds of prey such as Bald Eagle, Red-tailed and Broad-winged Hawks, American Kestrel, Merlin and Peregrine. We have a good chance of finding Moose along the trails and we will look for their huge, elegant forms, which are often surprisingly well concealed amongst the trees. After three days spent enjoying the spectacular scenery and wildlife of Gaspésie National Park we continue our drive around the Gaspé Peninsula, past beautiful bays, lonely lighthouses and steep cliffs to Percé, a small seaside town on the easternmost tip of the peninsula, its vistas dominated by the impressive Rocher Percé, a beautiful eroded rock formation jutting out into the sea in front of the town. Percé is an ideal base from which to explore Bonaventure Island, home to the world's largest Gannet colony — 200,000 Northern Gannets nest on this tiny island at the peak of the breeding season. At the time of our visit there should still be many birds, if weather conditions and fish stocks are favourable, though nesting will be over. Blue, Humpback, Fin, Long-finned Pilot and Minke Whales, as well as Atlantic White-sided Dolphins and Harbour Porpoises, visit the waters around Percé and Gaspé each year to feed, often being seen near to shore, and we will make whale-watching excursions in search of these cetaceans, as well as seabirds such as auks, Double-crested Cormorant, and Surf, White-winged and Black Scoters among many other species. We will also spend a day in the stunning Forillon National Park, where the mighty Appalachian Mountain chain, which originates in the southern United States, finally gives way to the Atlantic Ocean. Among Forillon's variety of forest and mountain animals are birds such as Sharp-shinned and Cooper's Hawks, Osprey, migrating flocks of Blue Jays, White-throated, Lincoln's and White-crowned Sparrows, and such warblers as American Redstart and Yellow-rumped, Magnolia and Black-throated Green Warblers, whilst mammals include Beaver and Black Bear — signs of the latter being obvious all over the park!

Quebec is home to a wealth of wildlife, as well as some of Canada's most beautiful scenery: craggy peaks tumbling down to jagged coastlines, maple and birch-clad mountainsides, and gîtes oozing old-fashioned French charm presenting an enticing landscape for the keen naturalist to explore.
Please contact us on 01962 733051 for details on what extensions either pre or post tour are available for this Tour.