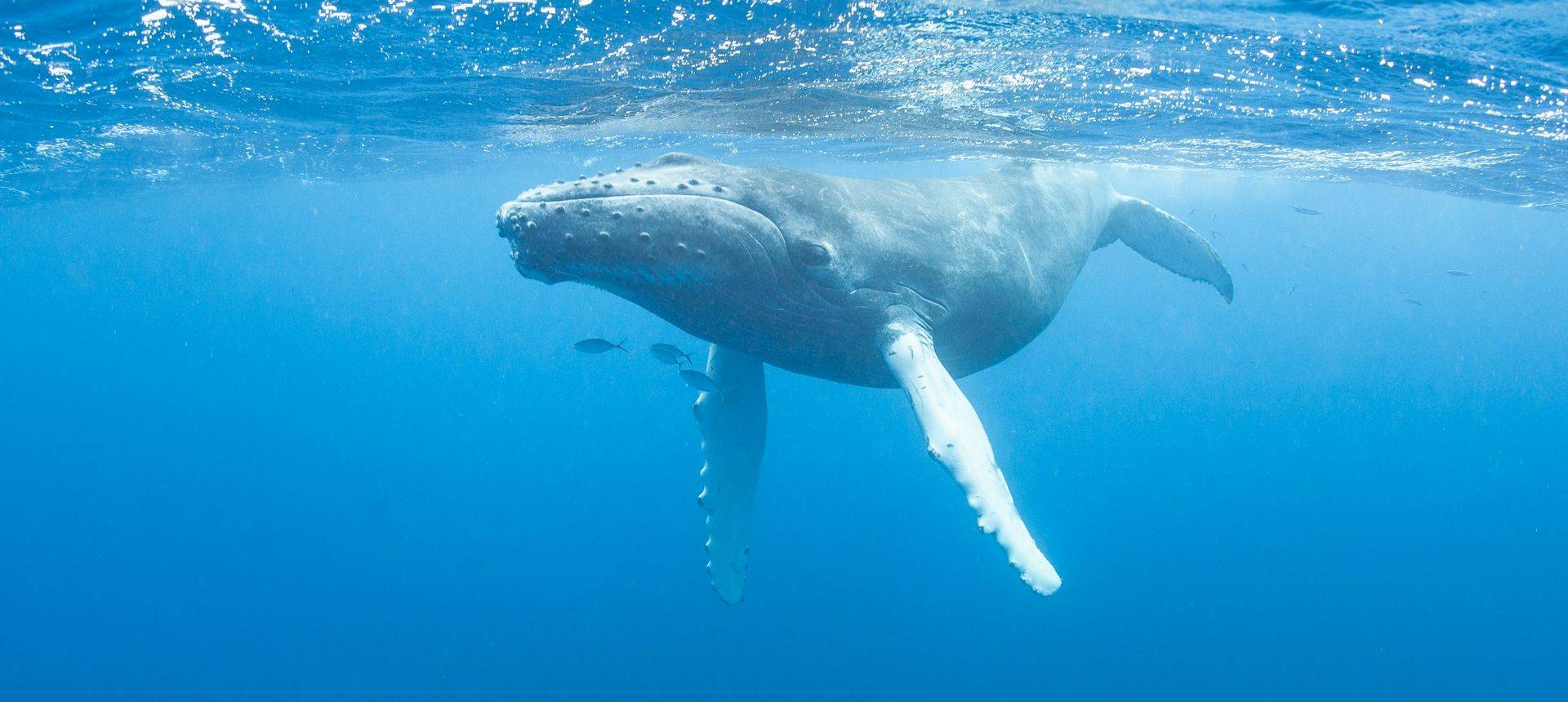 Dominican Republic - Swimming with Humpbacks!
Tour Code: DMR01
A 10-day holiday to the Caribbean, including a 7-night cruise to the Silver Bank, located 70 miles north of the Dominican Republic, with one aim - to swim with Humpback Whales!
Every year thousands of Humpback Whales migrate from their northern feeding grounds off  the Canadian and North American eastern seaboards to the warm waters of the Caribbean. Some 3,000 of them head for Silver Bank, a submerged limestone plateau and reef 70 miles north of the Dominican Republic, where the pregnant females give birth. It is in these protected waters that our new 'liveaboard' holiday is based, and it has one aim - to swim with Humpback Whales. Naturetrek has teemed up with winners of the prestigious 2012 'Planet Whale Responsible Whale Watch Award' to offer this tour, which is unique to our programme. After a flight to Santiago de los Caballeros, we board our vessel and motor straight out to Silver Bank where we will be moored for the next seven days. Making daily morning and afternoon excursions in smaller boats, we will don wetsuits and snorkelling gear and go in search of the Humpbacks. On finding whales we will then enter the sea, swim for a short distance towards them, then remain still in the water, waiting to see if they approach. Being in the water, surrounded by whale song, perhaps with curious youngsters 'checking us out' is a once-in-a-lifetime experience!
This tour offers one of life's ultimate thrills - swimming with Humpback Whales!
Daily excursions from our 'liveaboard' vessel in search of Humpbacks
Tour timed to coincide with calves' most inquisitive period
Tourist numbers are kept very low on Silver Bank (less than 600 per season)
Listen to whale song & see behaviours such as fluking, flippering, breaching & nursing
Good opportunities for keen photographers
You must be able to swim 50 metres unaided in order to participate on this tour
Strict guidelines in order to ensure your safety & minimise impact on whales
Led by expert naturalist guides
Can I help you?


X
Tom Mabbett
Tom
Tom has been fascinated by wildlife and the natural world since childhood. At primary school he learnt all the British bird species, and he's been watching and enjoying them ever since! Trips to the Wildfowl and Wetlands Trust (WWT) Slimbridge further fuelled his passion for birds and, when Tom's family bought 10 acres of land, he created his very own nature reserve on it! After gaining a degree in Biology from Exeter University, Tom set off in search of some of the planet's incredible wildlife, first travelling slowly around the world, and then returning to Australia. As well as seeing a wonderful variety of the world's birds on his travels, he also spent a lot of time beneath the surface of the ocean, scuba diving in Thailand, Australia and Fiji. Two of Tom's many highlights were diving with mighty Bull Sharks and swimming alongside gigantic Whale Sharks. Since returning to the UK Tom has worked in school wildlife clubs and also worked at WWT Slimbridge. Having grown up in the Cotswolds, a lot of Tom's spare time has been spent recording the birds and reptiles of this area's commons and wetlands. He also travels in search of overseas wildlife as often as he can, and amongst the European destinations that Tom and his brother have explored have been Hungary, France, Spain, Holland and, most recently, snow-clad Poland in the depths of winter to focus on mammal-tracking. Tom has now lead and co-led over 20 Naturetrek tours in France, Spain, Italy, Portugal, Finland, Belgium, Greenland, Guyana, La Palma and Scotland as well as short UK breaks including the Somerset Levels and Forest of Dean. Tom remains a very popular leader with our groups and when not out in the field works within our busy operations team at our new office in Chawton. Please feel free to contact Tom on 01962 733051 or email tom@naturetrek.co.uk with any questions or to discuss a future tour.
Outline Itinerary
Day 1
Fly Santiago de los Caballeros, Dominican Republic.
Day 2
Transfer Cofresi, board MV Sun Dancer II and depart for Silver Bank.
Day 3/8
Daily excursions to swim with Humpback Whales.
Day 9
Disembark MV Sun Dancer II and fly London.
Food & Accommodation
All included in the price, except for evening meals on Day 1, and lunch and evening meals on Day 9.
The MV Sun Dancer II features well appointed, air-conditioned cabins with picture windows and en suite facilities. In Santiago de los Caballeros we will use a comfortable tourist hotel with en suite facilities.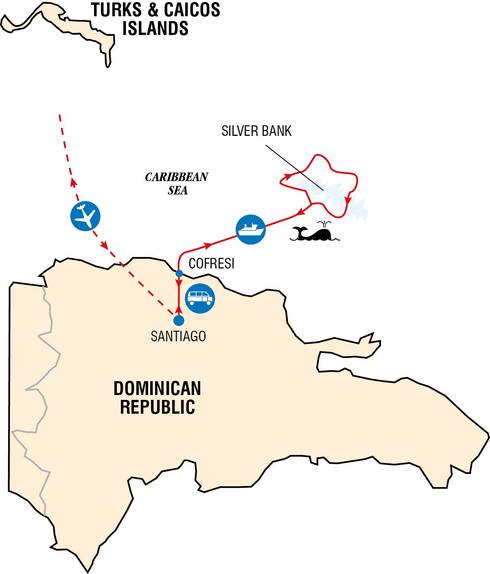 Tour Downloads
It is late autumn in the north-west Atlantic. The waters are already cold; winter is coming. In response to fading light or some cue within their bodies, Humpback Whales leave their northern summer feeding areas in the Gulf of Maine, Cape Cod and beyond, and begin their long journey to the tropics where they will spend the winter. Some of the females will be pregnant with calves conceived the previous winter and it is to these warm tropical waters that they return to give birth. Their migration, of some 2,500 kilometres, will take about three weeks. Many of the whales will be heading for the West Indies, and the largest of their breeding grounds is Silver Bank, a submerged limestone plateau 70 miles north of the Dominican Republic. The plateau rises out of 3,000 metres of water to within 30 metres of the surface and is fringed on one edge by a barrier reef and, at the peak of the winter breeding season, some 3,000 Humpbacks congregate here. Half of them are males and their singing echoes through the surrounding waters day and night. The rest are females and juveniles, and the majority of pregnant females will give birth in February, their calves doubling in size during the last two months of gestation! The calves grow quickly on fat-rich milk and by mid-March they are eagerly exploring their watery world. Our new tour is timed to coincide with this period in the inquisitive young whales' lives, and it offers a 'chance of a lifetime' experience — the thrill of being in the water, swimming and snorkelling with these magnificent and enigmatic giants of the ocean.
This is a unique Naturetrek tour. We do not offer any other 'swim with ...' holidays in our programme of cetacean-watching tours, but this really is an exceptional opportunity. We have selected our local operator with great care — indeed they won the prestigious 2012 'Planet Whale Responsible Whale Watch Award'. The Dominican Republic, too, is committed to protecting the whales in its waters, and Silver Bank is part of the much larger 'Sanctuary for the Marine Mammals of the Dominican Republic' which covers an area of 19,500 square miles. Tourist numbers are kept very low (fewer than 600 being permitted a visit in an entire season), and regulations within the sanctuary are designed to minimise human impact on the whales, and they are rigidly enforced.
Our holiday begins with a flight to Santiago de los Caballeros, the second largest city in the Dominican Republic. From there we will drive north to Cofresi where we board the MV Sun Dancer II — a very comfortable 42-metre motor vessel that carries 18 passengers plus crew — and cruise north to Silver Bank where we will be based for the next seven nights. From our cruise vessel we will don wetsuits and snorkelling gear and make morning and afternoon excursions in smaller, more manoeuvrable, whale-watch boats in search of the Humpbacks. Adhering to strict guidelines that determine how we approach the whales, both in our boats and in the water, on finding whales we will enter the sea and typically swim for a short distance (about 50 metres or so) towards them. We will then stay as stationary as possible at the surface, keeping in tight formation, hoping that the whales will approach us! If they do, the thrill is indescribable — to be surrounded by whale song, vibrating through your whole body and seeing these vast animals at close range is one of life's most extraordinary and unforgettable experiences! To be approached by a calf — not so very small at about 7 metres long, though dwarfed by the adult females and bulls — is also absolutely magical. The only problem is remembering to take photographs during the excitement of the encounter, which can be somewhat overwhelming!
We will be hoping to witness other behaviour during our time on Silver Bank. If fortunate we may witness males 'escorting' females as they prepare to mate, or see other whales breaching, fluking or spyhopping. There will be opportunities during each swim to film and photograph the whales underwater (though please note that no scuba diving or free-diving is allowed), possibly all the while enveloped by the most complex serenade in the animal kingdom! After a week of searching for, and hopefully encountering a good number of, these huge baleen whales, it will be time to return to the mainland of the Dominican Republic where we will disembark and make our way back to Santiago de los Caballeros for our flight home ... no doubt with memories of warm turquoise seas, and the faint haunting cadenzas of whale song still echoing in our ears.

Please contact us on 01962 733051 for details on what extensions either pre or post tour are available for this Tour.