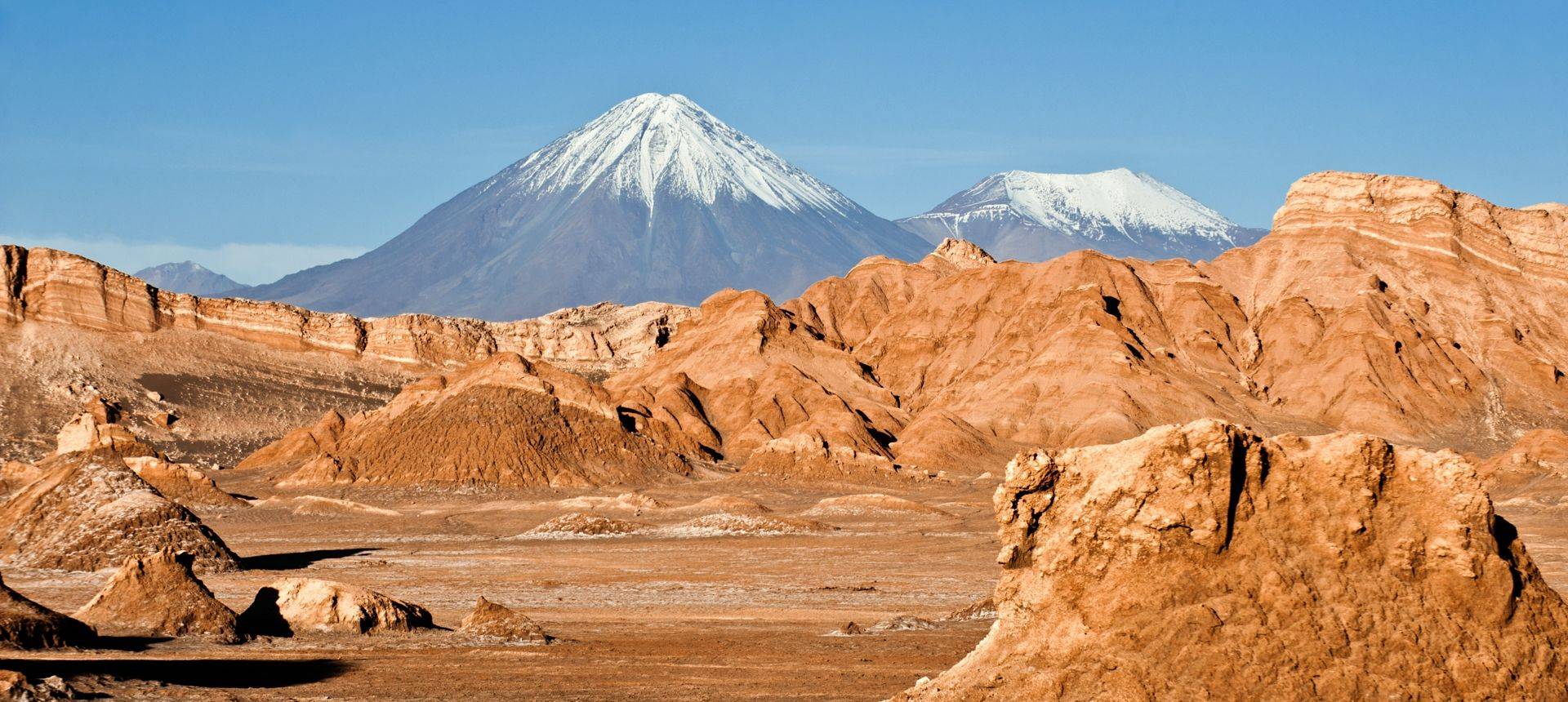 Chilean Eclipse & Northern Highlights
Tour Code: CHL07
A 15-day tour to discover three fascinating regions of Chile and witnessing a total solar eclipse.
Chile is a land of great beauty, a land of extremes where deserts meet oceans and snow-capped volcanoes touch deep blue skies. This tour starts by exploring Santiago and surrounding valleys including La Campana National Park and the historic port of Valpariso. The second part of the tour is based in the North of Chile, close to the border with Peru. Here the Las Vicuñas National Park gives us chance of seeing high-altitude wildlife, including the Vicuñas for which the reserve is named.    
The final segment of the tour takes us to the town of La Serena, our base for the eclipse. A pre-eclipse lecture will help set the scene for and help you to gain the most from the event before we head inland to our selected viewing point for the eclipse. Before returning to Santiago a boat trip to Isla Damas will give opportunities to see marine mammals and seabirds.   
Explore historic Valpariso
Visit Maipo Valley vineyards
Pre-eclipse lecture
Witness a total Solar Eclipse from the Andes
Las Vicuñas National Park
Enjoy geysers & thermal pools, saltpans & flamingoes
Pelagic excursion on the Pacific in search of seabirds
Can I help you?


X
David Phillips
David has had an enthusiasm for both nature and astronomy from an early age. As an undergraduate, reading Mathematics and Physics, he took courses in astrophysics and became chairman of the university's Astronomical Society. For the past 10 years David has worked in the travel industry and, during that time, he has organised and led many astronomically themed tours. He has seen eight solar eclipses and spent many nights viewing the spectacular Northern Lights from northern Iceland, one of his favourite places. David has travelled to 70 countries on all seven continents, combining his love of wildlife and star-gazing; during a recent winter trip to Norway (looking for Orcas and Humpback Whales) he saw in the New Year with a spectacular Northern Lights display as a backdrop.
Outline Itinerary
Day 2
Arrive Santiago, city tour
Day 3
La Campana National Park
Day 7
Las Vicuñas National Reserve
Day 8
San Pedro de Atacama
Day 11
La Serena + Eclipse briefing
Food & Accommodation
Breakfasts are included throughout in addition to six lunches.
Comfortable hotels with private facilities.
Chile's unusual geography, encompassing a huge span of latitudes and range of altitudes, gives the country a diverse variety of flora and fauna. This tour provides the opportunity to see some of its special wildlife whilst enjoying the landscapes and culture of this fascinating country and witnessing a total Solar Eclipse.

Beginning in the capital, Santiago, we will enjoy the comforts of the city and use it as a base to explore the wider area. La Campana is a small but very interesting national park to the north-west of Santiago. Designated a UNESCO biosphere reserve in 1984, the park is home to one of the last forests of the Chilean Wine Palm and a number of endemic plant species. During his voyage around South America in the 1830s, Charles Darwin visited the area and climbed La Campana peak. Set in a natural amphitheatre with rows of colourful and historic buildings, the port city of Valpariso is one of Chile's most scenic cities.

From Arica, a coastal town close to the Peruvian border, we will see a good range of sea and shorebirds such as boobies, cormorants and the beautiful Inca Tern. The leisurely drive from Arica will take us through a succession of vegetation zones, the landscape initially sparsely vegetated apart from scattered cacti but becoming progressively more verdant as we increase in altitude. Andean Condor, Torrent Duck and Giant Hummingbird are just a few of the spectacular birds likely to be encountered during this picturesque ascent. In Las Vicuñas National Park, in scenes that seem to epitomise the high Andes, we should also find domestic herds of Alpaca and Llama on the mountain slopes together with smaller parties of wild Vicuña, Guanaco and Viscacha.

From Arica we fly south to Calama and transfer to the desert town of San Pedro de Atacama for three nights. Surrounded by breathtaking landscapes, San Pedro is the base for excursions to see some of South America's iconic scenes such as the El Tatio geyser field, the rock formations of the Valle de la Luna and beautifully symmetrical volcanic cones. Returning to Calama we take a short flight to La Serena, our base for the eclipse. A lecture will prepare you for all to see during the eclipse the following day.

On the day of the eclipse we will drive along the cactus-covered hillsides of the Elqui Valley, where crops of papaya, figs, chirimoya (custard fruit), apricots and peaches grow. We will visit a distillery where the local grapes create the 'Pisco' – Chile's famous grape brandy – for which the valley is particularly famous. Following lunch in the Cochigua wine valley we will make our way to the eclipse site in plenty of time to settle in and prepare ourselves before the start of the eclipse, as the excitement builds. Seating and refreshments will be available.

As the Sun drops towards the north-western horizon, the final rays of the Sun will cut through the valley of the moon producing a 'diamond ring' shape and then, at 5.38pm, the eclipse will become total. For two-and-a-half minutes the most extraordinary sight will greet you: against a deep blue sky, the Sun will be surrounded by pearly wisps of the corona – the Sun's outer atmosphere – and around the disk, pink flares may be visible. The brighter stars and planets will become visible. A total eclipse is truly one of the most awe-inspiring sights in nature. As we journey back to our hotel in La Serena our thoughts will be filled with the otherworldly vision that we have just witnessed.

A short drive north along the Pacific Coast will bring us to the harbour of Caleta Los Choros, from where we will take a boat trip to a group of islands called Gaviota, Choros and Damas, which lie just off the coast. The boat will stop at Isla Damas with its beaches of white sand and semi-desert landscape. The seas around the islands are rich with seabirds and marine mammals. As the tour draws to a close we'll fly back to the capital for an evening and overnight before boarding our flight home the following day.

Please contact us on 01962 733051 for details on what extensions either pre or post tour are available for this Tour.
2019
Departures
Availability
Cost
Fri 21st Jun - Fri 5th Jul
FULL
£5,195
Flights:
Most Naturetrek tours include flight costs ex-UK. If flights are not included, we indicate that here.
Flights are included in the tour cost
Regional Departures:

On certain tours it is possible to depart from a regional airport (rather than London). If a regional departure is possible, we indicate that here.
Regional Departures are available. Call 01962733051
Land only cost:

The "Land Only" cost is the tour price you will pay if you choose to arrange your own flights/transport.
£4,195
Room sharing options:
If a customer on this departure has already expressed an interest in sharing a room it will be flagged here. We will identify if there are sharing options for male, female or both.
Male sharing available, Female sharing available
Single Room Supplement:
£825