We are delighted to launch three new wildlife photography holidays for 2019 led by Naturetrek tour leader, and professional photographer, Robert Harvey. As always, each of these tours will benefit from a strictly limited group size to allow all participants plenty of room to work, as well as to benefit from dedicated time with Robert. Each itinerary has been carefully crafted to ensure we make the best use of light and moon phases, and we have chosen the best locations for each day's wildlife photography excursions. Throughout each holiday, Robert will give full guidance on techniques for wildlife photography, landscape photography and astro-photography, allowing you to take your photography to the next level, whilst also enhancing your knowledge of the natural world.
Madagascar – A Wildlife Photography Tour
By any measure, Madagascar ranks amongst the most extraordinary countries on Earth. The fourth largest island in the world, it has been isolated from all other land masses for some 80 million years. During that time, a dazzling array of endemic birds, mammals, reptiles, insects and plants have evolved, almost all of which are found nowhere else in the world. The landscapes of Madagascar are similarly unique, ranging from luxuriant tropical rainforest to spiny desert and tsingy (limestone pinnacles). During this tour we will explore and photograph some of the island's most spectacular locations and endemic species by both day and night. We will also encounter the charming, hospitable Malagasy people, learning about their unique customs and beliefs.
We begin our holiday with a focus on the iconic Avenue of Baobabs, on the west coast of Madagascar. Here we aim to photograph the giant Adansonia grandidieri baobabs at their most attractive, using 'golden hour' light. Next, we travel north for a 2-night stay near the special reserve of Kirindy. This is the only reserve in Madagascar where the otherwise elusive Fosa may reliably be seen, and indeed the only site that offers us a chance of seeing one of the most endangered mammals in Madagascar, the Giant Jumping Rat. A day's drive further north is the Tsingy de Bemaraha, where the landscape is dominated by jagged 'tsingy' peaks and stunning limestone pinnacles.
Next we fly south to the well-known reserve of Berenty. The small pockets of spiny desert and gallery forest here harbour dense populations of Ring-tailed Lemur, Verreaux's Sifaka and Red-fronted Brown Lemur, along with birds such as Sickle-billed Vanga and Giant Coua. Finally, we finish our holiday in the rainforest reserves of Andasibe, where we aim to photograph the enigmatic Indri and beautiful Diademed Sifaka. Spending a night on the coast at the Palmarium, we will also have the opportunity to watch and photograph the most bizarre of all Madagascar's lemurs, the Aye-aye, before we return to Tana for our flight home.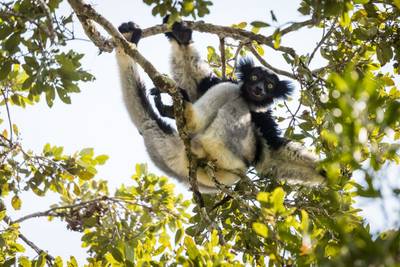 Indri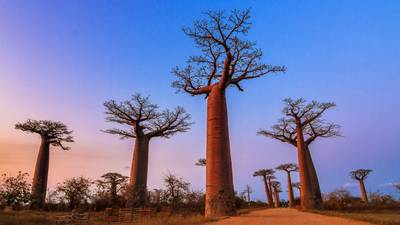 Baobab trees
Our 20-day photography tour to Madagascar departs on 22nd July 2019, has a maximum group size of 8 participants, and costs £7,795. For more information, please email This email address is being protected from spambots. You need JavaScript enabled to view it. or call Kerrie Porteous on 01962 733051.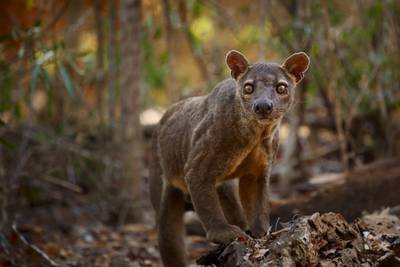 Fosa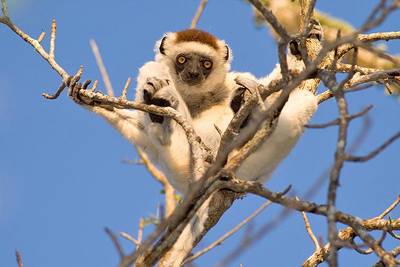 Verreaux's Sifaka (Paul Stanbury)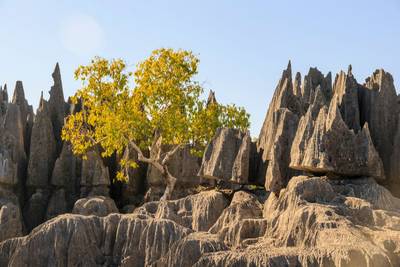 Tsingy de Bemaraha
Namibia – A Photographic Tour
Namibia is a country of varied and stunning desert landscapes, with a quality and clarity of light that is hard to match anywhere else in the world. This tour includes classic African wildlife experiences in Namibia's premier national parks of Etosha and Namib-Naukluft. In Etosha we will concentrate on photographing the behaviour of such iconic mammal species as African Elephant, Burchell's Zebra, Southern Giraffe and Lion around the most productive waterholes.
Moving on to the Namib Desert – where soaring sand dunes glow deep orange in the early morning light – we will photograph the famous dunes and dead trees around Sossusvlei and Deadvlei at dawn and dusk, and look for opportunities to capture images of Gemsbok and other desert wildlife in their evocative natural settings. In the charming town of Luderitz, in the south of the country, we will photograph the atmospheric ruins of a deserted diamond mining town. Then, finally, we stay at the Quiver Tree Forest in southern Namibia. Here, under some of the world's darkest and clearest skies, we will capture outstanding images of the night sky, including the Milky Way and star trails, using quiver trees and dolerite boulders as the foreground!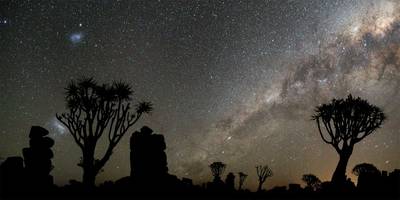 Quiver Trees and Three Galaxies (Robert Harvey)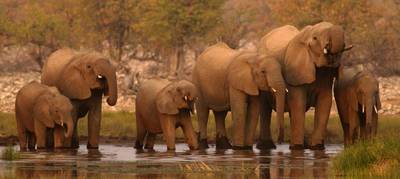 African Elephants (Robert Harvey)
Our 18-day photography tour to Namibia departs on 12th August 2019, has a maximum group size of 8 participants, and costs £8,695. For more information, please email This email address is being protected from spambots. You need JavaScript enabled to view it. or call David Phillips on 01962 733051.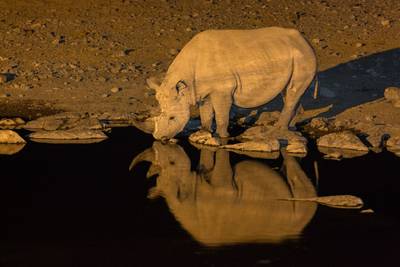 Black Rhino (Robert Harvey)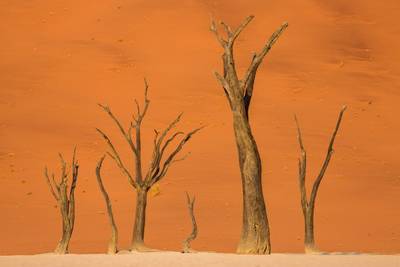 Deadvlei (Robert Harvey)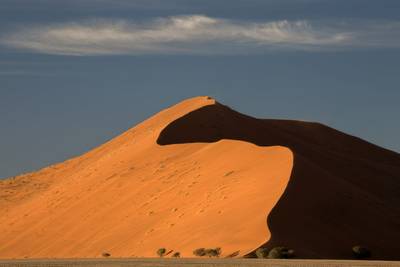 Dune 35 (Robert Harvey)
Mull's Otters and Eagles – A Photography Tour
Located off the west coast of Scotland, Mull is renowned for its stunning scenery and endearing wildlife. As the island begins to shrug off winter's icy grip, the play of light creates remarkably dramatic photographic opportunities. Mull boasts nearly 300 miles of coastline, home to Otter and White-tailed Eagle, both of which are commonly seen here. We will dedicate two full days of our tour to photographing these iconic species, although Golden Eagle, Hen Harrier, Short-eared Owl and Red Deer are also possible during our days in the field.
Our focus on the White-tailed Eagles will include a boat trip, on which we hope to photograph the eagles as they snatch fish from the water's surface, often within a range of 20 metres or so! As for the Otters, early mornings and late afternoons are usually the best times to look for them, so we will head out after breakfast to search the shorelines for these endearing mammals. Under Robert's careful guidance, we will find the best position to take our photographs, and with patience and perseverance we will hope to capture an image that successfully portrays the Otter's characterful nature.
Staffa and Iona Islands are not far off the coast of Mull, both with their own attractions. During the summer months, Staffa is home to thousands of seabirds, and in April these birds will be starting to gather for the breeding season. However, it is primarily the island's geology that draws us here, particularly the magical Fingal's Cave, formed of volcanic, hexagonal columns. Iona, meanwhile, has more historical significance. Iona Abbey was founded by St Columba in 563, and is thought to be the burial place of 40 medieval kings. The decorative carvings around the buildings provide a variety of interesting features for photographers, and there are sure to be stunning landscapes in whichever direction we look!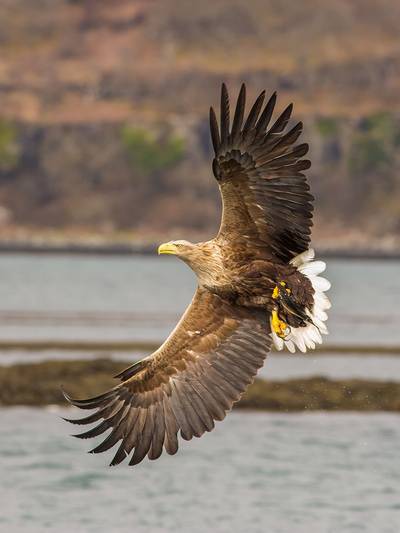 White-tailed Eagle (Robert Harvey)
Our 6-day photography tour to Mull departs on 8th April 2019, has a maximum group size of 6 participants, and costs £1,495. For more information, please email This email address is being protected from spambots. You need JavaScript enabled to view it. or call Alison Steel on 01962 733051.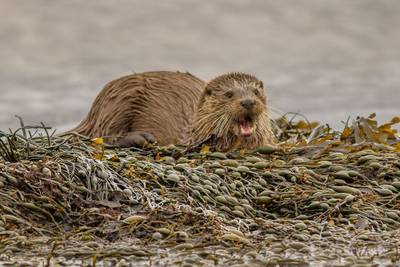 Otter (Robert Harvey)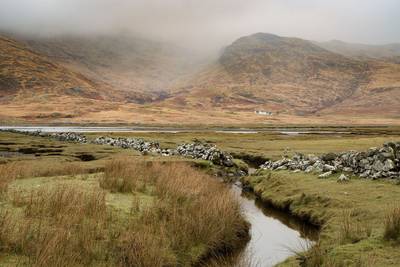 An Leth Fhonn, Mull (Robert Harvey)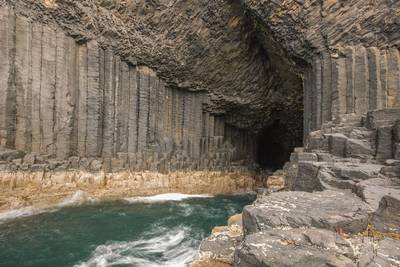 Fingal's Cave (Robert Harvey)