Rachael Anderson travelled on our 'Brahmaputra Cruise' holiday and submitted this entry to our writing competition.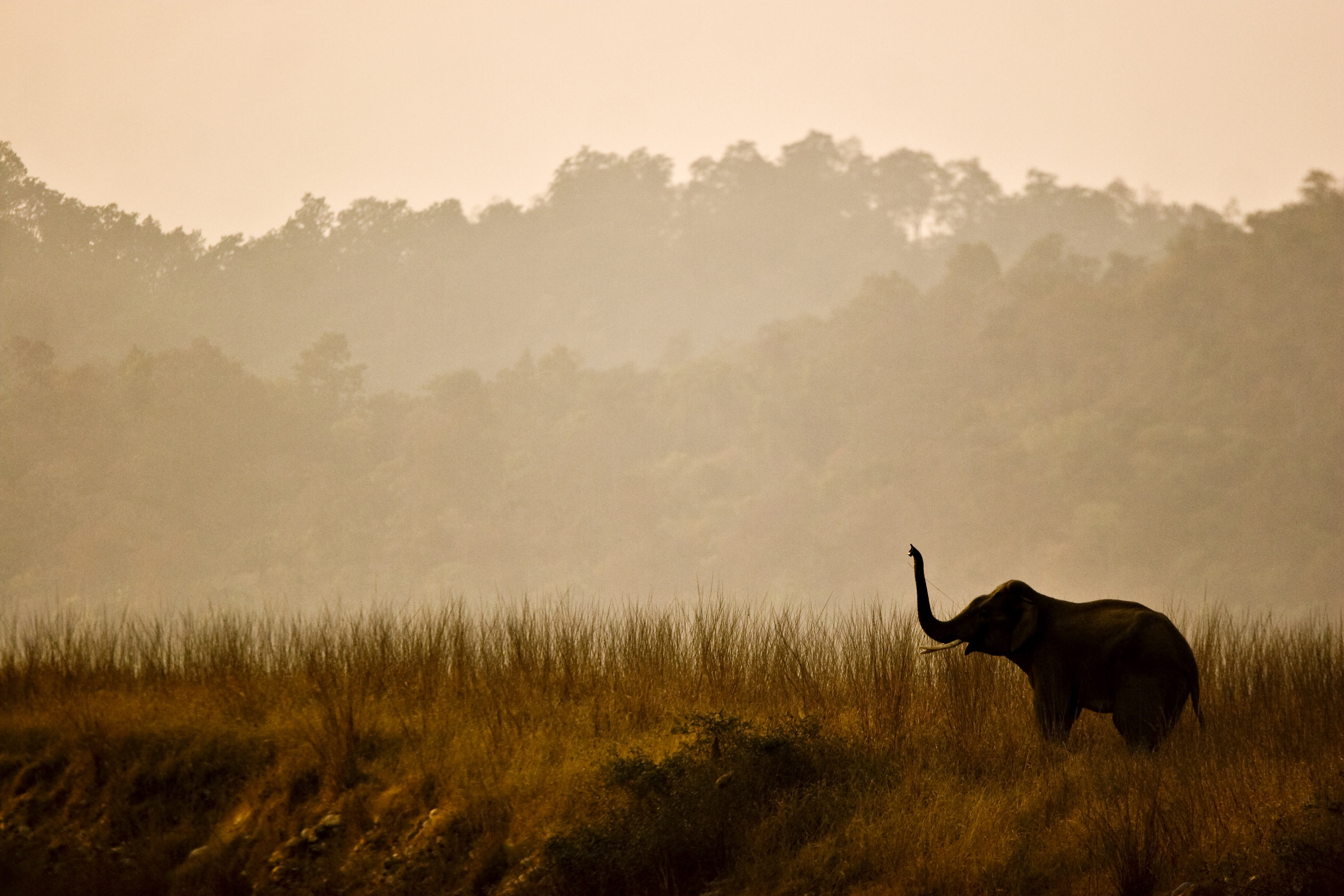 Elephant, India
Tea at a quarter past four in the morning was very welcome before a drive of an hour or so from our mooring on the Brahmaputra to the Central Range of the Kaziranga National Park. There was a streak of dawn light in the sky as we left in the minibuses, and as it became lighter we became aware of the thick mist through which we were driving, and wondered what the visibility would be like in the park.
Arriving at Kohora, the mist showed no sign of diminishing and we could barely see our form of transport for the first of our morning's safaris. We were not the only group assembling. Patiently waiting for us all were at least 13 elephants, each with a Mahout, accompanied by three tiny calves, the youngest just 10 months old.
The two of us settled comfortably astride one of the smaller elephants, behind the Mahout who sat on her neck, and set off into the mist. We soon lost sight of many of our companions; the silence was broken only by an occasional tearing sound as the elephant twisted off a bunch of the immensely tall grass with its trunk and stuffed it into her mouth, while steadily and rhythmically plodding through the undergrowth and mud. With eyes and ears constantly alert, straining to penetrate the mist, I had my camera permanently at the ready; the mist only enhanced the atmospheric effect, and the added height of the elephant made composition more effective.
Squelching on through muddy pools, tall wet elephant grass, and pushing through thick bushes draped with dew-covered spiders' webs like ropes of tiny pearls, my sense of time and direction had disappeared; it was as if we were alone in the mist and silence, the indistinct shapes of our companions appearing and disappearing, the three little calves always dutifully in attendance.
Not unexpectedly, our first sighting was of rhino. This was especially exciting as it was so close and was a female gently protecting her small calf. We stopped to watch them, moving on only when the Mahout spotted a herd of Swamp Deer, a stag possessively guarding a large number of hinds, just visible through the mist. A herd of buffalo, picturesquely framed by pink flowers, posed in the gloom, one female ignoring her buffeting calf as it struggled to suckle.
We had been out for well over an hour. Sightings, mainly of rhino, Buffalo and Swamp Deer were numerous and rewarding, but our allotted time was nearly up and we were heading back. The visibility had not improved, but I was expecting to be satisfied with my photographic efforts. Suddenly, without warning and with no time to prevent it, my lens protector which must have worked loose, tumbled over the elephant's shoulder down into the deep grass.
The Mahout saw it fall and halted the elephant. He was clearly concerned. I tried to convey to him that it didn't matter, it wasn't expensive and was easily replaced. The grass was dense and a long way down. I doubted that it could even be spotted, let alone retrieved, but he ignored my protestations. Either his command of English was very limited or he felt strongly that it was his responsibility to find it.
He was talking rapidly and quietly to the elephant ... giving her directions? We could not tell, but waited; I was concerned that I was wasting everyone's time. I was leaning forward, trying to see, but the bulk of the elephant's head obscured my view, though her previously flapping ears were now motionless.
At least five minutes passed; the Mahout was clearly not going to give up, and neither was the elephant. Then, to our amazement, she raised her trunk above her head, delicately holding her prize as if between finger and thumb, and handed it to the Mahout - who vigorously polished it with a rag before returning it to me!
I wish I had learned 'my' elephant's name - she had more than earned the bananas with which I was able to feed her on our return.
Read more about our 'Brahmaputra Cruise' holiday.