[caption id="attachment_1430" align="alignnone" width="466" caption="Bald Ibis"]
[/caption]
There are many countries where interest in birds – provided it is not of a destructive nature – needs to be encouraged. My spring visit with Naturetrek to southern Morocco was a timely reminder of this.
The Bald Ibis is probably one of the rarest species in the Palaearctic, and has seemed at times to be on the verge of extinction. Nesting on the coastal cliffs at Tamri, this is one of the few non-captive breeding sites that still remain active. The birds disperse to forage over a wide area of dry scrub and suitable agricultural habitat, and can be difficult to locate. Beside the road a couple of local lads, around 12 years of age, were doing a credible imitation of the birds, with splayed fingers and rhythmically moving arms to simulate flight. They knew just where the ibis were feeding that morning. As a result we had superb views of a dozen or more birds from close range, not just on the wing but also feeding, resting and preening. The boys collected a gratuity of about 70 dirhams – almost £5. There was plenty of competition amongst would-be ibis guides, so it might be days before they 'scored' again!
Many long miles to the east and the sun is rising over Erg Chebbi, a mighty dune system over 800 feet high, and a forerunner of the advancing Sahara sand sea. As dawn chases shadows from the recesses of the great dune, the Erg changes colour from the shades of night through rose-pink and orange to vibrant gold. Below it nestles the Café Jasmina, once a resting and watering place for camel trains crossing the Sahara. Nowadays the Jasmina is popular with birdwatchers – being one of the few locations where Desert Sparrows can still be easily seen in Morocco. As a small string of camels cross the dunes, our Berber hosts serve coffee in the cool and richly carpeted interior of the Jasmina Here there are springs that support a garden with shady trees. The owner hopes to use some of his water to create a 'scrape' that will attract sandgrouse and other birds. He also plans to open a few simply furnished rooms for guests, who will be able to enjoy the traditional food served at the Café Jasmina. The birds have created a 'niche' market that has been recognised by our enterprising Berber friend.
Abdul, one of our Moroccan drivers has had previous experience of birding parties. He already knows something of the species being sought and where best to locate them – no wise tour leader would fail to tap this source of knowledge. Leave a 'scope unattended and Abdul would be using it himself to spot the birds. He was most excited when loaned some Leica binoculars to view a circling Long-legged Buzzard. Silhouetted against the azure sky, the raptor clutched a 2-foot long snake that had been snatched from the desert, and the light showed perfectly the beautiful cinnamon-orange of the bird's almost translucent tail feathers. At the end of the holiday Abdul delivered us back to Marrakesh for out return flight home. He received a well-earned group tip, and one of our number – an RSPB reserve warden – presented him with a copy of the Collins guide to the birds of the region. Abdul could not have seemed more delighted if a gold nugget had been pressed into his hand!
The interest shown in birds by the 'Ibis boys', the owner of the Jasmina and Abdul the driver is as yet mainly of a financial nature – but this might well give way to something deeper. The boys might become fiercely protective towards 'their' ibises; and our Berber friend attract some interesting birds to his scrape – thereby further enhancing the location's reputation. Abdul may become even more aware of which wadi might hold regular Crowned Sandgrouse, and where to find the elusive Cream Courser.
Memorable highlights of this tour included the sight of over 40 Choughs soaring in the Atlas mountains with a Golden Eagle amongst them. Those picturesque terracotta villages surrounded by flowering almond orchards at the entrance to the dramatic Dades and Todra gorges. The 30 Marbled Duck seen near Ouazarzate. A Wild Boar with seven piglets driving a Bonelli's Eagle off its kill of a hapless Coot. 150 White Storks on the ground at Taroudant, and a Golden Jackal caught in our vehicle headlights at dusk etc! A fabulous trip enjoyed by all involved.
However, Morocco can be a harsh land where many live on the edge, and very existence is a challenge. Birdwatching is a luxury that will never be part of the lifestyle of say, the Berber goatherd, or struggling sardine fisherman of Tamri. But, there are those who could help spread the conservation message across this diverse and beautiful land. Yes, ecotourism could bring benefits to both the peoples and to the birds of Morocco.
For further information about our 10-day 'Southern Morocco' holiday please visit the tour webpage.
[caption id="attachment_1385" align="alignnone" width="466" caption="Humpback fluke, Baja by Linda Walker"]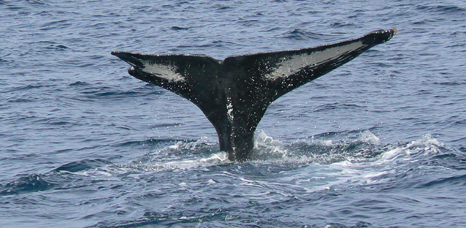 [/caption]
After the activity of the day the ship's motor was silent. After the preparation and serving of the evening meal the generator was switched off. All that remained was the sparse silver light of a crescent moon and a myriad of stars in the inky blackness.
We had travelled a long way to share in this experience: for most it was the realisation of a lifetime ambition; for all it was a trip that was profoundly moving, and no time more so than standing on the deck of the MV Searcher in the darkness of that February night. As we emerged onto the back deck, there was chatter to begin with as we tried to identify the planets and constellations above us – some more familiar than others – but gradually we all fell silent as we contemplated the heavens. The Milky Way was above us and an occasional shooting star added to the magical atmosphere.
As silence fell we realised that we were not alone in that lagoon - the ghostly shadows of gulls flitted by the boat. But, more than that, we were surrounded by whales. As we hung over the bows, our eyes scanning the water below and trying to pierce the darkness, we heard them. All around us was the gentle noise of whales spouting – sometimes a single blow, sometimes a few together – a gentle noise to remind us that we were in their domain. Sometimes it seemed that they were quite close to the boat, while at other times they were much further away. We had come to their lagoon. We were visitors to their natural habitat. And, as we listened, the gentle spouting continued. Do whales sleep? Do they ever stop travelling? Do they ever do as we did – pause to listen to what's going on round about them?
But that was not the only time we heard the whales. The following day, after we had left the lagoon and were out in the open swell, we again stopped the boat. But this time we needed to keep the generator going to power the hydrophone that was lowered over the side of the boat into the sea. We gathered round the loudspeakers on the boat and listened in amazement to the whale song that was being performed by humpbacks in the depths of the ocean. To think that these huge creatures are capable of producing such a variety of sounds at a range of pitches was astounding. Were there several males trying to persuade local females that they were Mr Right? Or was it a rallying call to a local feeding frenzy? We will never know and yet the haunting sounds will linger as long in our memories as the gently spouting of the previous evening.
Spouting, singing, spy-hopping and spectacular breaches – the photos record the moment, but the memory stores more than images – it stores the sounds and the emotions of the encounters we had with these giants of the deep as they moved on well-worn routes through the ocean.
[caption id="attachment_1370" align="alignnone" width="466" caption="Mountain Gorilla"]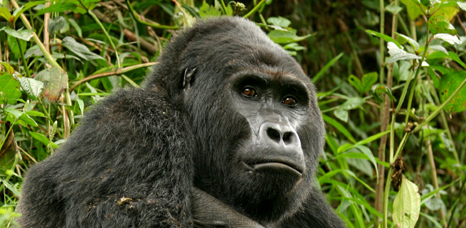 [/caption]
Many of you will have had the experience of encountering wild animals in their natural habitat but if, like me, you have had the opportunity to see lions and tigers in the wild it was probably from the relative comfort of a safari bus, or perhaps a precarious howdah on the back of an elephant.  However exciting the initial encounter, there is something artificial about an animal being in such close proximity to a vehicle and it feels that all the effort has been made by your driver and guide. When you take a gorilla trek there is only one way to go - and that is on your own two feet.
The holiday (October 2010) began with the traditional game drives to whet our appetites. From our vehicle we had sightings of indigenous animals such as Ugandan kob, monitor lizards, lions and various birdlife. Just as interesting were the smaller creatures including a pair of industrious dung beetles in their fluorescent green livery constructing perfectly round spheres of dung.
At Kibale we had our first taste of a walking safari as we trekked chimpanzees. This was a prelude for what lay ahead and anyone who found the chimp walk a challenge would have been ill advised to attempt the gorilla trek. Thankfully, no one had any problems and it was all systems go. There were a few do's and don'ts to adhere to before the trek itself and we were given a briefing to that effect. There is anticipation at seeing the animals as well as apprehension in knowing that sightings are not guaranteed ... and would you be one of the unlucky ones?
It started hot, with a steady climb on a rough farm track. Mountain gorillas are named because of their mountain home in thick rainforest. This is not a trip for the faint-hearted. It took approximately one hour to reach the outskirts of the jungle. It was no less cool under the trees; the humidity was stifling. Treading well-worn tracks, stepping over vegetation and mountain streams, I did perceive a distinct lack of wildlife other than a single bush squirrel high in the trees. Immediately, I realised the need for adequate footwear as somehow a single reed wedged itself between my sole and my boot. Emergency repairs necessitated my laces being used to tie the sole to the boot so I had to continue the trek with unlaced footwear.  After a further two hours there in front of us were the H group of mountain gorillas. My first impression was their resemblance to the Roman emperors of old, lying on their backs, stretching out their arms to take a bite of yet another leaf. No aggression, no fear; just utter contentment in their home environment. The youngsters had no time for eating, preferring to strengthen their muscles with a bit of tree-swinging. As you looked around, you caught further glimpses of additional family members, plus an ear here, and an arm there.
Ugandan rules govern a maximum time limit of one hour with the gorillas before they are left in peace to resume their daily activities. Thus begun the trek back: three hours, retracing our steps; and the forest noted for its dearth of other organisms. Utterly exhausted I had no immediate euphoria for meeting the gorillas in their natural habitat. It was only days later that I realised the magnitude of what I had accomplished. I will not pretend it was easy, but the rewards are high, and the gorillas themselves are an important part of the tourist revenue that the local people need.
[caption id="attachment_1344" align="alignnone" width="466" caption="Brown Bear"]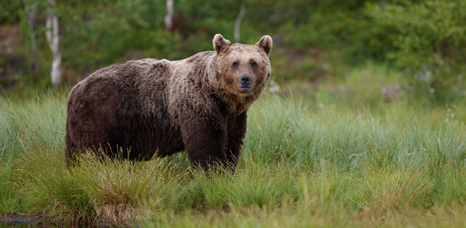 [/caption]
Have you ever wanted to see real live bears living their lives in the wild woods? I found something that offered just that: a trip to Sweden.
Our small party of six left the airport climbed into the minivan belonging to Hakan our host. We had a 3-hour drive north. From the time we left the town the countryside appeared to be an endless forest of pine and birch. This was real wilderness. We even saw a wild moose, but very little traffic.
We arrived at the lakeside lodge to find that, although it was still sunny, there was a cold north wind blowing down the lake. There was a wood fire burning in the stove in our lodge but we had to go over to the main building for a delicious, candle lit dinner of reindeer meat. This was to be a real wilderness experience: there was no electricity or mains water, and the drinking water came from a natural spring.
On the Tuesday morning, after a quick wash and a trip to the loo across the grass, we walked in the woods round the lodge looking at the local birds including a pair of cranes by the water's edge and a camera-shy black woodpecker. It was colder than expected.
In the afternoon we set out for the bear hide. In deference to my 80 years we drove as far as possible, but eventually we had to don our wellie boots and take a moose trail through mossy boggy bits and over roots and fallen trees.
We settled into the hide, which was well covered with camouflage net. We had arrived early so as not to disturb the wildlife. Hakan had been up previously to set out food for the bears in a trough, or as he called it 'a coffin made of logs', which was covered with a net to keep off the marauding ravens. After several cups of tea and a cold collation we retired to our bunks, while Hakan kept watch.
At dawn we were up again scanning the glade with binoculars. The ravens came, as well as the foxes, and we even a spotted woodpecker ... but still no bears. To our dismay it started to snow. Eventually we trekked back down to the lodge to put on more of our summer clothes and eat another delicious meal. This time it was local salmon.
It was not really a day for bird watching in the woods, so Marge, Gemma and I opted to return to the hide and leave the men to their own devices. After another delicious lunch, this time of moose, Hakan handed us over to a friend. The young man was optimistic. 'Yes we would see bears. Maybe three.' However the evening proved to be no better bear-wise than the last.
When we got up early to renew the vigil, there was still nothing new, so we had breakfast and mugs of tea resigning ourselves to failure, when Gemma whispered, 'There's a bear!' And there, out of the forest, came a large, almost black, bear. He stopped and looked at the hide then turned and hurried away. Talk about eleventh hour but we had seen him and were triumphant!
We made our way back to the lodge to tell the others and to enjoy another of Eva's Cordon Bleu meals, before packing for our return to the airport. I didn't have much to do as I was wearing all the clothes that I had brought. We said goodbye to Eva and the two dogs and set off in the minibus. It was not until we were well on our way that I suddenly realised that, as we had only worn night things the first night, mine were still under my pillow. All three of us had done the same and we burst out laughing, completely mystifying the men, but Hakan kindly said that he would send them on to us. He also told us why he thought we had not seen more bears. Apparently 'our' bear was a newcomer and did not know that a welcome feast awaited him at the hide; the local bears were afraid to approach when he was around. On the way back we stopped at a moose sanctuary where orphan calves were looked after if their mothers were killed on the roads. The high fences were more to keep out bears and wolves than to keep the moose in. We were lucky enough to see two calves, which had been born the day before.
At the airport we said goodbye to Hakan and his beautiful country.
For further information about our 4-day 'Sweden's Bears' holiday please visit the tour webpage.