[caption id="attachment_1944" align="aligncenter" width="466"]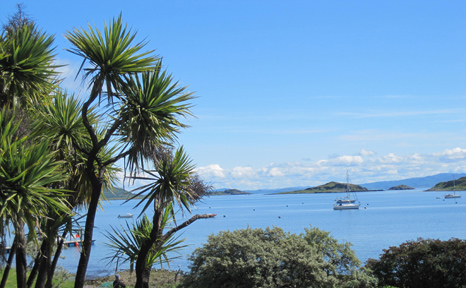 The Jura Hotel, Craighouse, Jura by Jennifer Thompson[/caption]
'Sea Eagle flying!' We nearly fell over each other as we raced out of the visitor centre at Finlaggan to witness the fantastic sight of this magnificent bird cruising over a far-off hillside. Good views were had by the whole group as we watched what appeared to be a crow-sized bird accompany the eagle and which turned out to be a Buzzard which was completely dwarfed by it.
Finlaggan Loch is the ancient seat of the chiefs of the Hebridean islands, a mystical small island of ruins now reached on foot by a boardwalk. Surrounded by water and mountains it must have been a well defended head of clan stronghold.
Ten of us, plus our knowledgeable guide, Peter, were on a June trip to Islay and Jura, two small islands in the inner Hebrides. The roads, many just cinder tracks, were not built for speed and nor would anyone with a love of nature be in a hurry. With magnificent views all around this mountainous terrain, dotted by abandoned ruined cottages and white-washed houses, mainly single-storied to escape the winter winds, who could not be bowled over by Islay's beauty.  Yellow flagged irises were abundant and for the botanists in our group, the wild flowers were a delight, especially the orchids, of which seven species were noted.
At over 100 species, this trip was a birder's idea of heaven. On one day alone we saw a Golden Eagle, spotted by our ever watchful leader who put up his telescope so we could all marvel at its size and pick out its colour and its golden head as it perched on a crag. Soon after a croaking Raven flew over announcing its presence, followed by a male Hen Harrier, a species we saw almost every day. As if that was not enough excitement for one day, our tireless leader took us out again after dinner. Daylight lasted until after bedtime so we made full use of it. We eventually saw a Corncrake after spending some time trying to identify where the 'Crex! Crex!' was coming from. This was the icing on the cake, having seen a close view of a Barn Owl on a post on the way.
A list of birds too long to enumerate were seen, with each bringing its own delights. Suffice it to mention Twite, Choughs, drumming Snipe and Black Guillemots as other highlights, along with Short-eared Owl and Grasshopper Warbler, all with good long views. And who could forget watching an Otter on Jura slowly swimming ashore and eating a crab on the rocks. Other animals seen included Hares, Fox, Grey and Harbour Seals and Red and Roe Deer and not forgetting the wild goats.
This trip had its social side too as we relaxed in our excellent hotel every evening and attempted to work our way through the extensive malt whisky menu. Not easy with eight distilleries on Islay!
This trip is run by Naturetrek in the summer and autumn as well. If only I could have returned in October to see the geese!  Maybe next year.
For further information about our 7-day midsummer holiday to Islay & Jura please visit the tour webpage.
[caption id="attachment_1939" align="aligncenter" width="466"]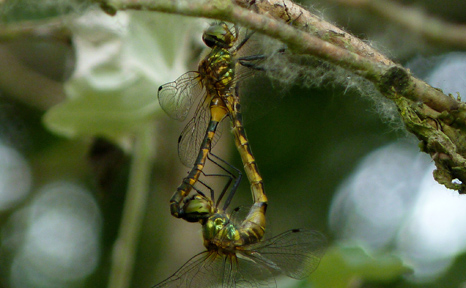 Yellow-spotted Emeralds[/caption]
Grey skies and endless rain. Cool temperatures. Insects taking what appeared to be a gap year. Boy, was I glad that I had decided to take my first ever specialist dragonfly holiday in this particular year. I'd chosen the trip to Bulgaria on the evidence of a holiday I'd taken there 18 years before. That was a bird-based tour, but I'd found myself being constantly distracted by the wealth of butterflies on show. It therefore struck me that it would be the ideal place to further my growing interest in dragonflies. I was not to be disappointed.
Factor one was the prospect of sunshine – as much as possible, and that was delivered in a most un-UK like fashion. We had something in the region of 90 hours of sunshine in our time there, which made finding our insect quarry almost a formality. But of course it wasn't really like that. We had top quality leaders who gave 100% dedication to the job of seeking out the key species, and we had the odd bit of luck thrown in too! How else do you explain the finding of a species – yellow-spotted emerald – last seen in the country 42 years before?
That really was the culmination of a run of success that saw us visiting a series of sites, which almost without exception were set amidst stunning scenery and subject to little or no disturbance. It was an almost forgotten joy to be able to turn up at a small lake, pond or stream, disembark from the minibus, and just walk down to the water's edge unhindered. The only trouble was that it could actually take quite a while to get there as one tended to become sidetracked by birds, bugs or butterflies in turn.
One day in particular epitomised this. Only if the circus had been in town could we have crammed in more wildlife encounters in the available daylight. First we had a dawn appointment with firecrest, nutcrackers and some cracking close-up serins. Then there were moths to check out around the hotel entrance including U.K. ultra rarity Purple treble-bar, before we were off on our mountain jaunt. I've always thought the Alpine Swift a special bird, but here they moved up another notch in my estimation as they screamed and chased in close formation just metres above the road. They seemed oblivious to the passing juggernauts as they checked out the niches in the sheer cliff face, sometimes flying just in front of a vehicle as if playing a game of dare. After this excitement, a serene stroll down a side valley of the gorge brought plenty of insect interest with so much I had never seen before. I was particularly taken with the bee beetle and the broad-bordered bee hawkmoth. Both species are to be found in the U.K., but I've never managed to see either of them in all my years of watching wildlife around Britain: here it had taken about an hour.
After all of this, I didn't expect the main event, a visit to the wallcreeper site, to rate very highly. But the little beauty put on quite a display in the bright sunlight, almost seeming like a cave-painting that had leapt from the rock face and come to life. It even belied its name for a time, becoming a roadcreeper as it descended to just a few feet in front of us to take a dust bath. I felt like I was seeing something never seen by the likes of Bill Oddie, David Attenborough et al.
Our hunger for nature may have been temporarily sated, but our need for nourishment was still sharp. So, much as we tried to resist, we forced down our trout and chips whilst scanning sideways towards a hillside meadow graced by the ever-impressive Apollo butterfly. The things you put yourself through in pursuit of your desires!
It did not matter that we lost the sunshine soon after arriving at our final stop – a small lake, where, amongst other things, we found a male yellow-winged darter, as well as a string of small pearl-bordered fritillaries – we were still bathing in the glow of the earlier highlights. However this day, which had already given up so many examples of nature's bounty, seemed reluctant to take leave of us, even squeezing in a fly-by nightjar as the evening slipped into a grey gloom. Still, no need for us to be gloomy, the next day's delights were only eight hours away! And that sunshine …
For further information about our 9-day dragonfly watching holiday in Bulgaria please visit the tour webpage.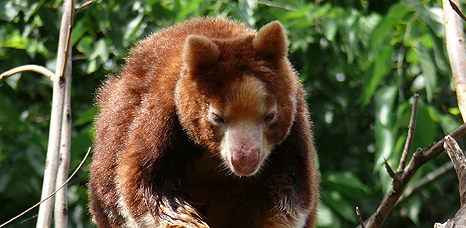 Tree Kangaroo
Platypus ... then discovering a Tree-Kangeroo!
Tour leader Carol Iles concludes her diary from a recent tailormade birdwatching holiday arranged by Naturetrek ...
We moved on to check a local pool in vain for Platypus, but did see a male Red-backed Fairywren, his 'waistcoat' glowing like a fiery ember in the gully our road crossed. We took the back roads to Hasties Swamp, shadowed at one spot by a flying Grey Goshawk and stopping en route for a Brown Falcon, Brolgas and Sarus Cranes. On arrival at the Swamp I saw a roosting Nankeen Night-heron above the superb 2-storey hide, which we had to ourselves. Over coffee and snacks we viewed the thousands of Plumed Whistling-ducks, along with one lonely Grey Teal, a Snipe (likely Latham's), Black-fronted Dotterel, and best of all a Little Kingfisher which from sitting on a post below us, flew to the tree just outside the window of the hide, next to our cups of tea! From the road out we spotted a White-necked Heron and at a small farm dam we had our first White-faced Heron and a majestic female Black-necked Stork. Every cow along our route through the farmland had its accompanying Cattle Egret and often a Willie Wagtail was perched on a bovine head!
We returned to Rose Gums, with the inevitable bird-stops en route, including one for a Pheasant Coucal creeping across the road. After a couple of hours' siesta, we tried a likely Platypus spot where we saw only birds, including Crested Pigeons, Bar-shouldered Doves and Fairy Martins which were flying into the concrete culverts where they nest. The well-placed blind in Yungaburra afforded us great views of at least two Platypuses, feeding in the river below so we were happy to leave and seek dinner at a local restaurant. Finishing by 7.15 pm, we had a good 90 minutes to search for nocturnal animals at the Curtain Fig Tree with a red-filtered light. We were lucky enough to find a Long-nosed Bandicoot, revealed by its characteristic sneeze, 2 Coppery Brushtail Possums, 5 Green Ringtail Possums (one with a large baby), and best of all, not one but 2 separate Lumholtz's Tree-kangaroos, one of which gave us a perfect view, low down and clear to see. What a great way to end the day! Actually, that wasn't quite the end, but as we drove back to Rose Gums we were unable to identify the owl which took off from the road right when we met the only other car we saw on that whole trip. You win some, you lose some!
 For further information about our 13-day birdwatching holiday in Northern Queensland please visit the tour webpage.
[caption id="attachment_1930" align="aligncenter" width="466"]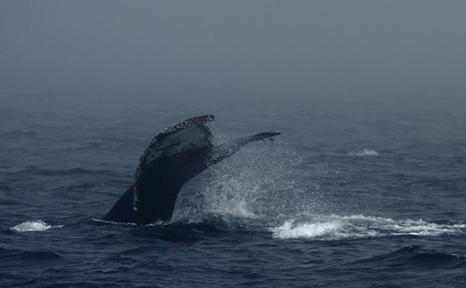 Humpback Whale, Monterey Bay by Roy Cowley[/caption]
Our alarm sounded to begin another sunny day in August and in my just-awake haze, I tripped over something unexpected in the bedroom. A suitcase? Of course ... we were off to Monterey ... to see whales!
The trip began with surprising ease, straight through Heathrow controls and then with full thrust behind us, up and away briefly through a thunder storm for our 'hop across the Pond' (and a continent too) beginning with a sight of Iceland, over Greenland and then down across Canada. Place names appeared on the flight map that had only previously been things of schooldays geography lessons – Hudson Bay, Montana, Idaho, Nevada and eventually over a bustling San Francisco into the International Airport. Following U.S. immigration, with fingerprints, photographs, inside-leg measurements all taken, we reclaimed our bags and were met by Peter Dunn whose cap, emblazoned with the logo 'Naturetrek', proclaimed that he was to be our leader, guide and mentor for the week.
The following morning, with body-clocks still attuned to U.K. time, we awoke around 4 a.m., as predicted by Peter and, after a breakfast of pancakes with maple syrup and fruit, we set off for the harbour. The wharf tourist shops and eateries were quickly by-passed in favour of harbour seals, brown pelican, gulls and swallows. Even a black-crowned night heron stood guard near the jetty. Then a super "Ooh-ah!" moment as a sea-otter with pup on her tummy floated by with mum gently rubbing her offspring with obvious tenderness and affection.
"Cast off" and the Sea Wolf II motored out of the harbour where seals, cormorants, and pelicans adorned the rocky breakwater – on towards the deep ocean canyon that generated the marine up-swells so attractive to krill- and small fish-eating whales, dolphins and porpoise. About 9 miles from port, having already filled numerous camera memory cards with shots of stunning shearwaters as they glided over a glass-like sea with wing tip just cutting the surface we then came across ... blue whales – a mother and calf, blowing then diving! Then, another blow and then another – this time fin whale! Keeping on, yet another blow was spotted and there was the unmistakeable tail fluke of a humpback whale. Wow!  What else could we expect? Only more whales – with another humpback and blue appearing as we turned for home. In between all this excitement, there were the sightings of black-footed albatross, close-ups of sunfish waiting for the attendant gulls to clean them of parasites at the surface and delicate phalaropes spinning away from the boat's wake and settling on the floating kelp. With auklets, terns and more otter escorting us back to dock, we were on "excitement overload"!
We said to Peter, "How can you top that?" but ... he did: a scenic drive through tall pines to white sandy beaches, another morning at sea with humpback whale, dolphins and porpoise, a jaunt along the Carmel estuary and valley – sadly Clint wasn't at home so we couldn't "make his day!" plus a whole day's trip along the scenic Big Sur coastal highway, stopping for butterflies – monarch, Lorquin's admiral and Common Buckeye where woodpeckers and ground squirrels kept watch over their territories until squealed alarms of vulture or hawk fly-overs sent them scurrying away. Some time was spent watching huge elephant seals hauled out onto the beach with surfbirds not living up to their names and dashing hurriedly away from the waves. The return journey was broken by more sightings of blue and humpback whale "blows" plus the incredible spectacle of around 15 THOUSAND shearwaters in a feeding frenzy slick, covering the inshore waters.
The following days gave us more successful boat trips along Monterey Bay, a birding visit Northwards to Moss Landing plus deep rolling hills patrolled by a variety of hawks and golden eagles with chaparral distinctive of western films. Here we stopped at a typical ranching farm for a chat with the friendly local fire chief and to admire his collection of fire engines (the boys) and his horses (the gals).
Back at the hotel, with stomachs full of sticky pecan pie, an evening walk was required down to the Monterey coast through a peaceful memorial park where Anna's hummingbirds darted like moths from one flower blossom to the next. On the sandy shore, turnstones plied their inquisitive trade and hermit crabs danced their intricate rock pool ballet whilst a flight of pelicans were reflected in the blue water where gaps in the kelp allowed ... pure bliss.
With cetacea and also bird sightings too numerous to mention, fantastic scenery, good company, a splendid guide and mentor, we had a final tour of San Francisco city streets and photographs against the backdrop of the fog-less Golden Gate bridge before our return to England. What wonderful memories!
For further information about our 9-day holiday to California's Monterey Bay please visit the tour webpage.
[caption id="attachment_1900" align="aligncenter" width="466"]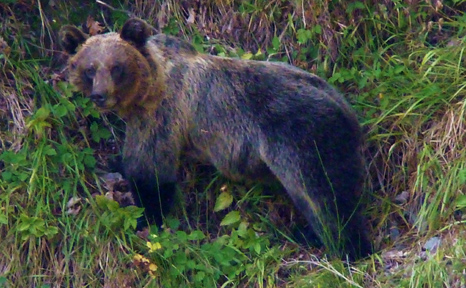 Brown Bear by Byron Palacios[/caption]
Sometimes even the most experienced naturalists find themselves bowled over with the sheer quality or quantity of sightings of sought-after or iconic species and on our 'Spain's "Big Three": In Search of Whales, Bears & Wolves' holiday in early September, leaders Gerald Broddelez and Byron Palacios hit the jackpot with superb, prolonged sightings of both Wolf and Brown Bear in northern Spain, to the delight of everyone on the tour!
Wolf watching in Zamora
Having set out very early in the morning, our group's efforts were rewarded when they caught sight of a group of Iberian Wolves – an adult female with 5 juveniles (3 of them were perhaps cubs from the previous year and 2 younger, their legs proportionally much longer!). They watched the Wolves for over an hour – the juveniles were playing and running around while the adult female stayed nearby.
Watching Brown Bears  in Asturias   
After watching the Iberian Wolves, our group did not have too long a wait for their next exciting mammal encounter. They were lucky enough to have two sightings of Brown Bear in mountains  towards the western end of the Cordillera Cantabrica, the first for 25 minutes and in the afternoon they had another much longer sighting of a bear only 200 metres away. Our group watched it for about an hour and a half as it foraged among broom and other vegetation. It was very relaxed, eating berries – twisting and grading branches with it mouth and legs; reaching up and pulling berries into its mouth. A great sighting!
 Whales & Dolphins in the Bay of Biscay
Our group rounded off a memorable holiday with Common and Striped Dolphins, Minke Whale and Cuvier's Beaked Whale sightings from the ferry on their way home across the Bay of Biscay. And Arctic and Great Skuas plus a few Cory's Shearwaters added some final pleasures to a wonderful trip!
Contact: for further information about our 10-day 'Spain's "Big Three": In Search of Whales, Bears & Wolves' holiday please call Andy on 01962 733051 (email This email address is being protected from spambots. You need JavaScript enabled to view it.) or visit the tour webpage.