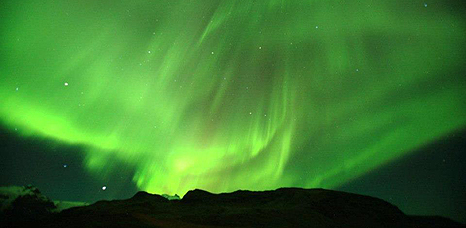 Northern Lights, Iceland
As our minibus sped along the southern coast road in Iceland, Malcolm Stott our Naturetrek leader said, 'Humour me; keep your eyes closed until I tell you to open them.' A short pause, 'Open now!' Wow! What an incredible sight: shining blue, green-blue and sparkling white ice sculptures, some black candy striped, many shapes, drifting around the ice lagoon. Vatnajokull, Europe's biggest glacier acted as a majestic, overwhelming backdrop to this amazing Icelandic sight.
As we looked down from the car park, I noticed an amphibious vehicle pottering around the lagoon letting visitors have a closer look at the icebergs; it appeared tiny, dwarfed by the enormous sculptures. Our guide explained why the ice was blue, in the simplest of terms; it is so blue because the dense ice of the glacier absorbs more red than blue light, so when the light returns to the surface it is lacking red light, making it appear blue.
The black striations within the icebergs were the result of volcanic ash that had fallen on the glacier and been folded in with the movement of the ice, a bit like folding a chocolate layer into a giant cake.
We were so lucky, as the sun was shining; we had just a few white puffy clouds streaking a crystal, clear blue sky. Ideal conditions for photography, cameras were clicking merrily around the craft. But it was just wonderful to stand back and absorb this spectacle. It is no wonder that a 'James Bond' picture has been filmed here, it certainly looks like a fantasy.
Four guillemots bobbed around the lagoon joined by a lone common seal. A call that a snow bunting had been seen sent us searching along the banks of the river. We walked down the edge of the river to the mouth of Jokulsarlon, no luck in finding the snow bunting, but an eider was swimming close to the road bridge. Large chunks of ice drifted from the glacier out toward the sea. Here was another great photo opportunity, to capture the waves crashing over the icebergs, shedding their reflections in the black lava sands - quite a challenge without getting our feet wet!
We returned to the ice lagoon after dark later that night as Malcolm thought that it would make the most spectacular backdrop should the Aurora Borealis make an appearance. There was a very slight green glow in the sky, giving us hope that we would be lucky. But the Aurora is a 'tricky lady' and an hour passed, but instead of the lights becoming brighter, clouds started to blot out what light there was. Keeping warm in the vehicle, we had popped out to get a few test photos and I was pleased that I had managed one shot with green between the clouds and a hint of green reflected in the icy water. Malcolm said we might have a better chance back at the hotel, so all aboard and back we flew to see wisps of the Aurora playing, lighting up the sky as we raced up the hill behind the hotel to get a better look.
Iceland has so much to offer: fantastic scenery, great opportunities for photography, a botanist's paradise for alpine species, fascinating geological phenomenon, thunderous waterfalls and great for birds. Iceland is an island of intrigue and fascination, but she does not reveal her secrets easily or in one go. It's a country that beckons you back several times a year as most months reveal a new delight. Whatever time of year there should be something to enthral; Iceland is a wondrous place.
For further information about our 7-day 'Iceland in Autumn - Glaciers, Icebergs & Waterfalls' holiday please visit the tour webpage.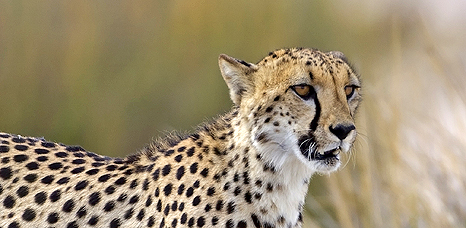 Cheetah
Tails of the Unexpected
We arrived at Maun airport after a long flight from the UK and met our group of 16 tour members and two guides. I have to admit I didn't know what to expect from this safari as it was out of peak season; I was in for a surprise. It was a long, dusty, bumpy, hot road to camp, but to everyone's delight the wildlife started to appear pretty much after we left the tarmac road. The clicking sound of cameras and the whisper of excitement were all we could hear as we stopped for birds, Elephants, various antelope and a Lion sighting on our way to camp. We arrived at camp late in the day and were introduced to our camp team who would look after all our needs for the next eight days. It was nice to take a bush shower looking into the open night and get settled in to our cosy tents which would be our homes for the duration of the holiday.
That evening the conversation around the dining table/camp fire was of wildlife expectations and what everyone was hoping to see and what people had seen in the past. Top of the list were Leopards and Wild Dogs and our guides took it in and hoped and prayed that these animals would make an appearance at some point during our stay. Only kidding, the guides were excellent and they tracked down the animals for us one by one. 'I want to see a Leopard,' someone would say, and there he was, a patrolling male Leopard, lifting his tail and scent-marking as he moved, bringing tears to my eyes and to that of others as we knew how difficult it is to see this beautiful cat in the wild. 'I now want to see a Leopard with its cub,' someone else would say, and the guides tracked down a Leopard with a cub. I was sure the guides were popping out at lunch time and putting those animals somewhere they could be found – ha! The guides then tracked down a Cheetah with a kill, Leopards with a kill, Lions with a kill, Wild Dogs with a kill; it was unbelievable. Every night, the whole group would sit around the camp fire/dinner table and marvel at our wildlife sightings of the day.
This tour was not about a checklist; it was about observing these animals in their natural habitats and getting a chance to watch their behaviour. We were encouraged to sit with them for a good period of time, to watch them eat and use all their strength to drag their kills into safe places. To see a mother and father Wild Dog bring food for their pups and to watch the pups greet them with delight on their return from the hunt, the pups continuously wagging their tails whilst devouring the unlucky Impala. Sitting with a lone female Cheetah for a whole day before and after she made a kill, always watching for predators as she ate her hard-earned spoils, continuously looking over her shoulder never knowing who was on her tail.  We stayed with her until she left the kill for the circling vultures; she disappeared into the night with a full belly, no doubt looking for a safe place to rest. I wondered if she would be lonely the next day without her tourist companions watching over her all day.
I have been on many safaris around this world, but this one punched an impact on the whole group. The guides and camp team were dedicated and worked hard to give us a comfortable and enjoyable stay. Nothing seemed to be too much trouble, even removing a large scurrying spider from our tent with a smile on their faces after they heard the screams – you have to laugh! They even arranged for the group to stay out all day to watch the wildlife stories unfold, asking the camp staff to bring fresh lunch to us no matter how far away we were from camp; the team made everything possible.
It was a true privilege to live in the wild amongst the animals for those eight days, listening to the frogs and Cicadas lull you to sleep. Being awoken by the roar of Lions in the middle of the night knowing they had been walking through the camp whilst we were sleeping. Waking to a munching elephant by our tents in the morning and seeing a confused Hippo stampede through the campsite trying to get to some grass for dinner. I am not sure which holiday to book next in order to top this one - I'll have to keep thinking. But I know one thing for sure ... someday in the future I will definitely be doing this one again.
For further information about our 10-day 'Botswana's Desert & Delta' holiday please visit the tour webpage: http://www.naturetrek.co.uk/tour.aspx?id=48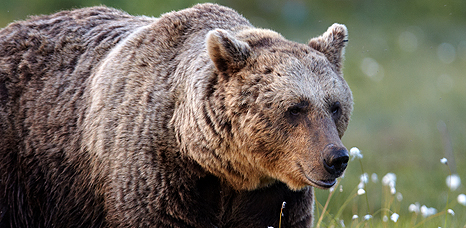 Brown Bear
Naturetrek's tours to India - Bandhavgarh Tiger Reserve and Finland - Just Brown Bears concentrated on two very different and charismatic animals, setting the trend for a Just So series, reminiscent of Rudyard Kipling's stories. I really hoped to have more than just a few fleeting glances of the Bengal Tiger and the Brown Bear and was certainly not disappointed. Even if these particular animals were habituated to humans to some extent, their reputations preceded them. Both commanded great respect and glimpses of their large teeth and claws were proof enough of that!
At Bandhavgarh, Kipling's The Jungle Book is particularly relevant. Consider Shere Khan the Tiger, Baloo the Bear, Bagheera the Black Panther and the other characters which feature in this Indian story. Jim Corbett's vivid accounts of man-eating Tigers and Leopards and his equally compelling stories about the Indian people and jungle lore also add authenticity to this jungle scene.
The warning calls of Chital deer and Langur monkeys immediately alerts everybody that a Bengal Tiger is approaching. When he appears, 'burning bright', as William Blake described, this time in the Sal forests or roaring as he proclaims his territory are never to be forgotten experiences. Photographs of the Tiger, in the shadows cast by our elephant, were a poignant reminder of some of our close encounters with this animal. Leopards, though not black, and a rich variety of other wildlife were also to be seen. One wonders whom amongst us Mowgli the Man-cub actually could be in this fascinating scenario!
Unfortunately a footprint was all I saw of the Sloth Bear, the real Baloo, but it was in Finland that I would be fully compensated with sightings of Brown Bears in the vast Taiga forests on the Russian border.
The tale of Goldilocks and the Three Bears, possibly originating in Scandinavia, did seem very relevant. One or two younger members on the tour could quite easily have been Goldilocks. We all seemed to claim particular chairs in the dining room and chose porridge for breakfast! Similarly in the hide we again had our own seats and also bunk beds. So many Bears were seen, including several males and females - large, small and in-between, all attracted to bait put down quite close to the hide (not porridge though)! Like Baloo, the Bears all appeared benevolent, that is until two large males fronted up or an anxious female chased off another which came too close to her cubs. Loud growling and a brief skirmish would follow until all, at the receiving end, made good their escape, with small cubs shinning up the nearest tree for safety. These belligerent antics were a reminder that the Brown Bear is very closely related to the North American Grizzly.
During daytime we were shown a Bear's den at close quarters, now empty we were assured, a retreat which would have been covered by a metre of snow in winter. Not far away there were masses of ripening berries, an important part of the Bears' late summer diet and ours too! Other Bear signs included paw prints in the mud, claw marks surprisingly high up on tree trunks, foraging activities, cooling-off places, droppings and tracks. We also spotted many Reindeer which made us think of the Laplanders and Father Christmas. Moose were much more elusive and only their particular hoof print characteristics confirmed their presence. The weather we encountered was so warm and sunny it was hard to imagine we were so close to the Arctic Circle.
My most unforgettable encounter though was in the hide when cameras had been abandoned and everybody, apart from myself, was asleep. The night-time visibility was very reasonable compared to the equivalent English scene. In the silence I felt completely alone, when unexpectedly and out of nowhere a female Bear with her three cubs came into view close to where I was. But they disappeared into the surrounding forest just as suddenly as they had appeared. Was this the time to say goodbye?
Soon we were all making tracks back to the centre, finally leaving the Bears to their own devices. The thoughts of breakfast were foremost now and it was not long before we were all sitting up at the table eating our porridge and reflecting on the great experience we had shared.
After farewells to our friendly Finnish hosts and guides we were on our way to the airport and home. It would soon be time to think seriously about going on another Naturetrek tour, such as Brazil - Just Jaguars! To see just one Jaguar would be very special but there would also be all those other South American species waiting for us too!
For further information about our 9-day 'India - Bandhavgarh Tiger Reserve' holiday please please visit the tour webpage. 
For further information about our weekend or midweek 'Finland - Just Brown Bears!' short breaks please please visit the tour webpage.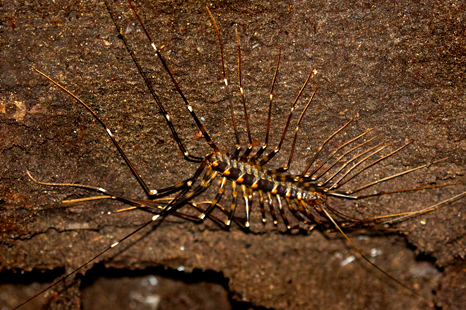 Long-legged Centipede
Strange dreams are a common side-effect of the anti-malarial drug Malarone. A week into a Malarone course I was running through a swarm of cockroaches. The air was alive with electric insect noise, and giant centipedes were chasing me. I woke up sweating. This was the night after we visited the Gomantong caves.
It's almost dusk when we arrive at the caves, and from the car park we follow a path through the forest and pause to watch red leaf monkeys.  Soon the path widens and across a clearing we can see the giant cave mouth exhaling a plume of vapour into the evening air. Swiftlets are returning to their nests; from this distance they are flickering specks in the sky above the entrance.
Simud Hitam, the Black Cave, is a nesting place for Borneo's edible nest swiftlets. Used to make bird's nest soup, the nests fetch a high price in China, and twice a year licensed collectors climb high up on flimsy rattan ladders to harvest them. We enter the cave on a bridge over a trickle of brown-yellow water. Below us, small crabs paddle in the sludge. A boardwalk clings to the limestone wall. A vast mound of cockroach-infested guano, excreted by generations of roosting wrinkle-lipped bats, covers the floor and gives off a pungent reek of ammonia. The darkness inside the cave seems to amplify the hissing noise of insects.
Our guide Hazwan uses his spotlight to show us a swiftlet on a nest.  Cockroaches congregate on the wall, their antennae sweeping back and forth. The boardwalk is slippery: I reach out to steady myself, but the handrail is encrusted with dung and crawling with cockroaches.
'The cockroaches feed on fallen bats,' says Hazwan. 'Maybe young ones ... they lose their grip.' Out there on the guano there's the broken shape of a dead bat. Its tiny corpse twitches unnaturally. I wonder how many minutes will pass before it disappears into the seething mound.
'Long-legged centipedes!' says Hazwan. Their jointed bodies hang from spindly legs, leached of pigment in the glare of the light, long feelers waving. These are giant cave centipedes, as big as my hand, and they have a venomous bite. One scuttles across the wall towards me. I feel an itching on my leg and quickly bend down to tuck my trousers into my socks.
At the back of the cave an opening in the roof 90 metres above shows a patch of daylight. It must be raining outside, I think, the heavy tropical rain that you get here in the afternoons. I can see raindrops falling through shafts of light, large tropical raindrops swirling about in eddies, falling upwards, rain being sucked out of the cave into the sky above. I am disoriented, as if in a dream. This isn't rain, I realise. These are bats. An aerial river of bats is flowing out of the cave. It's like a shift changeover: bats leaving daytime roosts to feed while swiftlets return to their nests for the night. I stand under the opening and tilt my head back. The sky is swarming with bats. And that sound still: white noise, like an old radio tuned between stations; the hiss of insects; a chirruping of bat echo-location (can my ears hear that?); the distant sound of pop music.
What? Can my ears hear pop music?
In the cave's deepest recess is a wooden shelter. In the shelter a man and a woman sit at a low table. It's too dark to see clearly, but they might be playing cards. An old radio is tuned to a music station. I close my eyes.  This is a Malarone hallucination; none of this is real. I hear the woman laughing. Everyone else has left the cave. I wander down to the entrance, the sounds of the radio and far-off laughter echoing through the insect noise.
Back at the car park the others are watching a crested serpent eagle in a tree. Bat hawks have come to feed on the flocks emerging from the cave.  One of the red leaf monkeys is on the roof of the visitor centre. I'm probably still dreaming, so I ask Hazwan about the people in the shelter at the back of the cave.
'They guard the nests,' says Hazwan.
'Can't they do that from outside?'
'People come in through the roof.'
A constant watch is kept to prevent poachers abseiling down from above and stealing the nests. I wondered if the guards got used to the dark and the smell, and the sounds, and the bats and the cockroaches. And the centipedes. I didn't think anyone could ever get used the centipedes.
For further information about our 11-day 'Borneo's Orang Utan' holiday please please visit the tour webpage.
[caption id="attachment_1953" align="aligncenter" width="466"]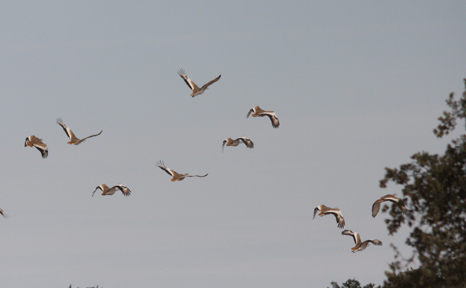 Great Bustards by Peter Tyler[/caption]
Highlights from our 2012 'Autumn Birding in Southern Portugal' holiday:
Our 'Autumn Birding in Southern Portugal' tour, led by Philip Thompson and Barry Oxley in September, was very successful - large numbers of Pied Flycatchers and Willow Warblers were seen among Stone Pines as they moved along the coast, as well as good numbers of Red-rumped Swallow and 20-30 Black Kites. Azure-winged Magpies were ubiquitous, Little Bustards were seen well at Sao Vicente, and plenty of Great Bustards on the plains. The grand finale was the pelagic off Cape Sao Vicente at the end of the tour: Great, Balearic, Manx, Cory's and Sooty Shearwaters and Great Skua were among the avian highlights, while leaping and bow-riding Bottlenose Dolphins provided great entertainment - and for some at the front of the boat a good soaking!
Read more about our 7-day birdwatching holiday in southern Portugal:
Lying at the far south-western tip of mainland Europe, on the eastern Atlantic flyway', Portugal's beautiful Algarve and Alentejo regions represent one of the continent's top birdwatching destinations in late September. Beginning with a flight to Faro we will head to the Algarve's flagship reserves where numerous wetland species inhabiting the saltpans and marshes are joined at this time of year by migrant birds and rarities. We'll explore inland around Castro Verde looking for bustards, Black-bellied Sandgrouse, and a variety of larks and raptors, before heading to Cape St. Vincent (Cape Sao Vicente) and Sagres where the impressive migration-watching and a pelagic trip to enjoy seabirds and dolphins offers an exciting finale to our holiday.
Visit Algarve's flagship reserves: Rio Formosa, Castro Marim & Quinto do Lago
Little Bittern, Spoonbill, Collared Pratincole & Audouin's Gull
Look for Great & Little Bustards on the plains around Castro Verde, Alentejo
Spanish Imperial Eagle & Black-winged Kite, plus Black & Griffon Vultures
Impressive migration-watching from Cape St. Vincent & Sagres
Cory's & Great Shearwaters, plus Great Skua
European & Wilson's Storm-petrels, plus Common Dolphin on pelagic trip
Led by an expert naturalist guide
For further information about this 7-day birdwatching holiday please visit the tour webpage.