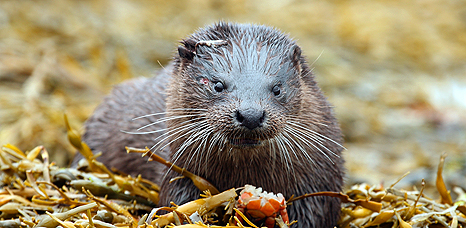 The Wild Goose Chase
I've observed that birdwatchers are always keen to tell you what they haven't seen. When they return from a day in the hides, and you ask with interest if they've had a good day, their response invariably starts with 'Well, we didn't see the ... '
I wouldn't call myself a birder. I'm interested in all aspects of natural history, especially our native flora and fauna, and I love being outdoors. So when the birdwatcher in the family suggested a trip to the Hebrides, I leapt at the chance to visit an area renowned for its mammals and spectacular avian shows.
The weather before our arrival had been just right. The mild damp weather had changed to something colder with a stiff breeze blowing in from the north. Over the two weeks before our trip, the geese had begun to arrive. By the time we got to Islay there were, we were told, more than 25,000 Barnacle Geese and several hundred White-fronts. It promised to be a good few days.
Each evening the leaders checked the local birding blog. Sure enough, there were tens of thousands of geese on Islay - and, even more exciting than all these (apparently), there was one Red-breasted Goose. The leaders checked the locations mentioned on the blog. They checked the weather forecast. They planned our next day so that we would be in the right place to take best advantage of the weather, to see the variety of wildlife that abounds and to stand a good chance of finding the Red-breasted Goose.
For three days we set off in the mornings when the sky was changing from velvet black through pink and lavender to the brightest clear blue. The rocks were silhouetted against the sunrise-filled sky. The geese were flying between their night-time roosts and their daytime feeding stations. The sea-ducks were just offshore. We saw divers catching and eating their fishy breakfasts. We drove to the fields where the geese gathered and we searched ... and we hunted ... and we strained our eyes through binoculars and telescopes. We saw hundreds - thousands - of geese but no Red-breasted Goose.
We drove on and repeated the exercise across many other fields. Suddenly all the geese flew up, looking like a murmuration of outsized starlings. A White-tailed Sea Eagle was hunting amongst them. We had stunning views of him, clear enough to be able to say that he was a second-year juvenile. When the geese settled again, we continued our hunt.  Geese everywhere, but no Red-breasted Goose.
We drove to the other end of the island: fewer geese but the breathtaking sight of a pair of Golden Eagles playing together. A flock of several hundred Twite with a sprinkling of Bramblings and Redpolls amongst them. A pair of Choughs flew over our heads. We found a moth which obviously thought that it was warm enough for a late autumn flight.
We drove along the coast. We saw deer grazing gracefully by the side of the road. We saw seals lazing on the rocks or bobbing on the surface of the waves. We saw Otters eating eels and crabs, popping up like champagne corks and floating while they ate, before diving for the next course. They came out on the rocks and played like puppies, rolling on their backs and showing us their come-tickle-me tummies.
We returned to the geese fields at the northern end of the island. We saw harriers gliding low over the marshes, twisting, turning, hovering and dropping. We saw plants in flower when they shouldn't be - foxgloves, buttercups, cranesbills. The fields were filled with football-crowds of geese - but no Red-breasted Goose.
In the evenings we returned to the blazing log fires in our hotel, over-filled ourselves with locally grown food and enjoyed the Scottish hospitality. We talked over the day and reminisced about our favourite moments.
The trip was everything that I had hoped it might be, and more. And a favourite memory?  It would be very hard to pick out a highlight - there were so many breathtaking moments.  The colours, the sounds, the smells and the sights. But for some who were there, it will be remembered, as all good birding trips are, for what we didn't see - as the trip when we didn't see the Red-breasted Goose!
Acknowledgements
With many thanks to Peter and Mike for their superb leadership and for trying, above and beyond the call of duty, to locate the Red-breasted Goose. It really was the best Naturetrek trip ever!
For further information about our 7-day 'Islay & Jura' holiday please visit the tour webpage.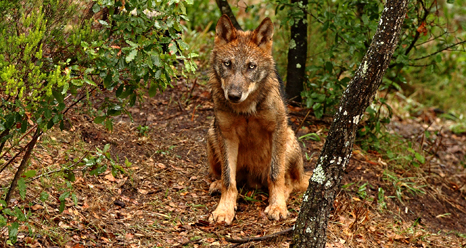 Iberian Wolf (Bret Charman)
I was at Stansted Airport on a March morning for the start of my trip. When I had shown the holiday 'Wolves and Bustards in Rural Spain' in the Naturetrek brochure to my husband he said that it was 'a come on' - unlikely that I would see a Wolf and, furthermore, the people would be nutty.
As an ordinary nature lover I felt apprehensive. Would I be out of my depth with nerdy naturalists? In the departure lounge the two leaders, David and Lee, introduced themselves. They were friendly and appeared normal, apart from telescopes poking out of their rucksacks.
At Valladolid in the north-west of Spain I met the rest of the group who had travelled out in the aeroplane. From the car park we saw White Storks nesting on a bell tower. Our leaders ushered us into two minibuses. They each drove a vehicle for our 3-hour journey to the outlying hills of Cordillera Cantabrica. The huge cultivated plains were dressed in hues of ploughed winter brown and a sprinkling of fresh green shoots.
After about an hour into our journey we stopped at Villafafila and saw huge flocks of Great Bustards. Through the telescope we had a grandstand view of displaying males with their huge ball of white tail feathers. Then we took a detour on a dirt track. There was a huge, red-brown mud brick dovecote as big as house. The tame doves that had provided guano for fertilizer had long gone and been replaced by a large colony of wild Lesser Kestrels flying in and out of the windows.
Then off to our hotel in Villanueva de Valrojo. It was a honey stone building on raised ground. The landlord showed us our rooms. I was standing in the bath just about to shower and the lights went out - complete blackness. Before daybreak the following morning the lights went off again. Later the reason became clear. The tour company advised taking a kettle to make hot drinks before our cold early pre-breakfast wolf watching trips. Our kettles overloaded the electrical system.
Our hotel housed the only bar in the village, where every evening the loquacious locals gathered. One of them, a forestry warden was able to tell us where the wolves were.
On our first daybreak trip we parked the vehicles along the side of a track in Boya and walked to a high view point. In the distance were the snow-capped mountains of the Cabrera which were illuminated by the rising sun behind us. In front were pine trees and scrub still in the shade of the surrounding hills. Several people set up their telescopes to scan an area just below the forest. The rest of us searched eagerly with our binoculars. Alas, no Wolves, but we were able to view their future food through a telescope. I watched young Red Deer stags practising rutting. Later a family of Wild Boar trotted through an open area then a Fox, silvery in the sunlight.
One afternoon we drove to Fletchas a pretty village high up a valley. We parked in the road near a stone cottage nestling at the side of a hill. The front of the house was surrounded with rosemary, around which fluttered colourful butterflies, Holly Blues, Large Whites, fritillaries and Carpenter Bees all feeding on the flower nectar. Nearby an old man was ploughing a small field with a pair of oxen. Another day we went to Ferreras de Arriba, near the hotel, to see old stone corrals, where sheep used to be protected from night time prowling Wolves. While having our picnic outside a corral an Ocellated Lizard came out of its burrow to inspect us. It was a sausage-sized dinosaur with a green loose-fitting skin so we all had a good view and took photographs. 
One morning we went along a forest track and sited Wolf footprints, where the recent mud had hardened. The footprints next to those of a Fox were huge. We also spotted old droppings, reminiscent of big, pale sausages, filled with Wild Boar and Red Deer hair. We were on a Wolf path but no visible Wolves.
On a Wolf search one of the telescope group whispered, 'I think I have one.' David confirmed it and located it in his telescope and invited me to look. At first all I could see was vegetation - mostly tree heather that grew taller than animals. Then it emerged out of the dark scrub into a light clearing. The morning sun lit up its dark grey head and shoulders and then its honey-coloured body, as it loped across the telescope. It was my first view of the Wolf. The climax of a shared, thrilling search.
For further information about our 5-day 'Wolves & Bustards in Rural Spain' holiday please visit the tour webpage.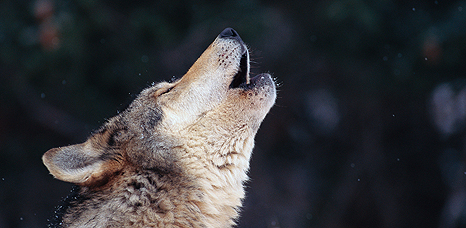 Grey Wolf (Skogens Konung)
A timely and flavoursome fish stew was welcome fare on the island in the lake as evening approached. Steaming comfort food served al fresco with fresh crusty bread, and shared with a great group of people. Castor fiber, Eurasian Beaver, was to be the focus of our penultimate evening together, and evidence of some impressive incisors could be seen in the characteristic hourglass-shaped gnawings close to the base of their favoured aspen and birch trees near the edge of the island, where waves gently lapped the shoreline. This large and beautiful lake, situated in the Malingsbo-Kloten Nature Reserve to the north-west of Stockholm, was surrounded by forest - a captivating reminder that we were in Wolf territory, and my mind was drawn back to a stretch of forest track we had visited earlier in the day where tangy lingonberries and sweet, juicy bilberries grew amongst pine and spruce of the boreal forest. Here our path had coincided with fresh prints of Moose, Roe Deer, Wild Boar and Wolf, and a flock of perky Waxwings perched nonchalantly amongst majestic Norway Spruce.
As Marcus, our excellent and tirelessly enthusiastic guide, steered the electrically powered dinghy away from the island and almost noiselessly settled into a course close to the perimeter of the lake, our eyes were drawn to heaps of tree branches, logs and foliage at intervals along the edge, extending into the water. We scanned the areas around these lodges for the characteristic V-shaped ripple pushed along by a swimming Beaver. The fading light and falling temperature made me appreciative of the five layers of clothing I had pulled on earlier which had, on the journey here, seemed a little over the top. Now I was celebrating every one of those layers. Only my fingers and toes felt somewhat chilly as the cold September evening air breezed past, and I made a mental note to bring some gloves next time – yes, I do need a 'next time' as this wonderful trip had surpassed my expectations and left me wanting more! There was a mist rising from the dark water, enveloping us and creating a kind of surreal, cinematic aura which made me feel that, with or without Beavers, there was nowhere I would rather be in these moments than this magical place.
Eventually the mist cleared, perhaps chased into the forest by the hint of a breeze which was stirring the surface into shivering little undulations now. Still no Beavers, but who could blame them? Surely a cosy lodge is more appealing than the breezy, evening chilliness of open water.  Or perhaps they were brazenly swimming under our noses, visibility lost in the dark and deepening ripples.
Village lights crept closer on the 'home stretch'. We would soon be warm and chatty in the minibus after our silent excursion, another stage of our journey over, but could I hold on to something of this other world – revisit it when I need some respite from London living? Suddenly two little nostrils and a pair of tiny ears, propelled by an unseen force, were gliding through the water close by. Briefly curious then unsurprisingly coy, this little Beaver soon disappeared into the darkness, leaving behind a surge of elation and quiet celebration. A few minutes later the light from our dinghy found another small brown head and the top of a sturdy little body powering past us and away into the dusk and then another, this time heralded by a pattern of exaggerated ripples, still visible after the sleek little head had veered away and out of sight. As our boat neared the village, exchanged whispers became more animated in response to the expressive vocalisations of a female Tawny Owl in nearby trees, and a dramatic influx of Northern Bats flitting crazily over the lake. The resulting loud, scolding slap of a Beaver's tail on the water close to the shore alerted us to one last lodge, barely visible now in the darkness. Soon afterwards it was time to pull the boat on shore and celebrate our sightings with a revitalising 'fika' (tea/coffee) break.
Eventually our group, contented and replete, clambered into the minibus, and later that glorious evening, whilst marvelling at the number and clarity of the stars and staring with awe at the Milky Way from the blackness of the forest, I was to be rendered joyously breathless by the howling of an entire Wolf pack in whose territory I stood trembling, partly from the chill of a Swedish autumn night, but mostly from grateful realisation that these few minutes would be with me for ever.
For further information about our 5-day 'Sweden's Mammals' holiday please visit the tour webpage.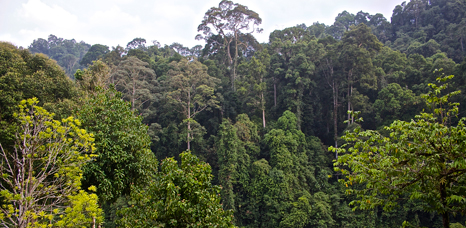 Bornean Rainfoest (Dani Free)
Borneo – Blood, Sweat & Tears
I sat at home on a wet April day in Kent and stared longingly at the pages of my Myers field guide. I was supposed to be doing my 'homework' for our September trip to Borneo as promised. 'Birds of Borneo' gave plenty of subject matter but I couldn't quite settle to the task of actually learning anything useful. One page captured my attention as I flicked through. My interest settled at last. 'Oh why do I always do this?' I asked myself. When I set my heart on something, why can't it be simple or at least large and easily spotted. Why not make my life easy?
Five months later, our Naturetrek group gathered round the table for dinner on our first evening in the Kinabalu National Park. Everyone was tired from the long journey but excited and keen to get started. Inevitably, over a beer, the talk turned to what each of us had as a wish list for the trip. Some named rare and colourful endemic birds of Borneo's rainforests whilst others admitted it was Orang-utans they really wanted. 'What about you?' asked one of our group. I answered without hesitation. 'Why?' asked fellow traveller David – 'Was it the name? It has to be the name'. No I quickly assured him that was pure coincidence. There's always one bird that stares at me out of the page. One that says go on pick me, after all, nobody else will. Our guide, Chris, remained calm in the face of obvious madness; he stared into his noodles for a few seconds but didn't bat an eyelid. Hope, then! At least he didn't tell me it was impossible on day one.
We discovered such wonderful birds in Borneo. In our case, over 226 new 'life' birds in three weeks. A fantastic trip with the most amazing mammal sightings as well. Nothing could have spoiled it. But there we were on our last day in the rainforest at Danum Valley and still I hadn't got my bird. My husband, Rob, assured me he'd ordered it from Amazon for my birthday a few days earlier but we all know what deliverymen are like nowadays. One last chance with a few hours left. 'Now this is what I call real birding,' Chris was heard to say as he jumped off the boardwalk and into the bushes. What choice did we have but to follow? What if you miss a new bird, unthinkable! We'd followed Chris everywhere despite the heat and humidity that made us sweat so much. Added to that was the ever-present threat of leeches. Most of us had lost a little blood along the way and some, who refused to cover up with their very fetching leech socks, had lost a lot!
I'd given up of course by the time it happened. I should have had more faith. It was the end of the last afternoon and we had retreated from the forest onto the road back to the lodge. We were just having one last look at one of Chris' favourite spots and someone whispered hesitantly. There was movement in the bush in front of us. Chris was listening for the call, scanning the bushes. He hadn't forgotten that first evening and had been playing the call of my bird. Then he spoke the magic words. I thought he was pulling my leg but panic set in anyway, what if I missed it? My heart rate soared and my hands shook. I couldn't quite see the bird, well in fact either one of the two birds everyone else could see. Then finally I calmed and focused my binoculars again. Such a beautiful little creature and so much more than its picture. As I stood there watching, soaking up the moment, I felt little tears of happiness welling up inside me. I knew that completing the checklist that evening would be even more rewarding than usual.
On the plane back I turned on some music to sleep to. Paloma Faith's 'Blood, Sweat & Tears' came on. How appropriate, I thought. You really do only get what you work for. As I drifted off, I thought back over what had been a fantastic holiday. You can keep your Bornean Bristleheads, Whitehead's Trogon, baby Orang-utans and even that Flat-headed Cat by the river because, at last, I have seen Fluffy-backed Tit-babbler = TICK = the wish of my heart. Well, until the next trip of course!
For further information about our 21-day 'Mount Kinabalu & the Forests of Borneo' holiday please visit the tour webpage.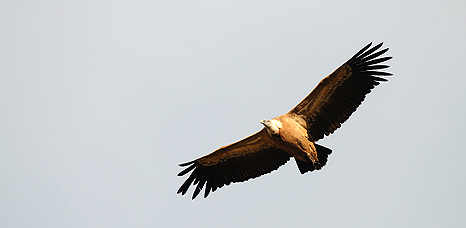 Griffon Vulture (David Morris)
The ancient plains of Spain's Extremadura are punctuated here and there by rocky outcrops, some of them crowned with castles built by earth-bound humans in mediaeval times, anxious to survey the plains for the approach of  their enemies.
But the mighty tower of Penafalcon thrusts up from the sullen River Tajo with no such human adornment. In the murky waters at its feet, otters play, but its flanks are the home of griffon vultures. They survey their domain from the air, and have no need for tall vantage points, but they must nest on something solid, and use the haven of Penafalcon to rear their chicks.
There is a viewing point opposite Penafalcon, and when we arrive and set up our scopes, our eyes are drawn initially to the few vultures circling overhead. Soon someone says 'there's one on the rock', and we realise that it is festooned with vultures: some on scrappy looking nests, some just loafing, and some on the skyline. They look hulking and clumsy, and we can hear their harsh cries when they argue at the nests. As the sun warms the rock, invisible thermals of air start to rise, and gradually the blue southern sky fills with the black silhouettes of vultures circling round and round, seemingly in slow motion, lifting away from Penafalcon, a kaleidoscope of black and blue. They seem to be randomly distributed, but then I notice that a few are flying in formation. A group of four, flying in a diamond shape, appear over the side of the rock, holding the formation for a minute, then gradually breaking up. Then another group in a triangle shape, and then I see two flying one above the other, with what appears to be a mere hand-breadth of blue air between them.  Why are they doing this? No doubt a biologist would invoke some explanation involving the passing on of genes, which may well be true, but I feel that the birds are revelling in their mastery of the air, as humans might revel in running and jumping.
Someone has found a blue rock thrush and soon we have all had good scope views of this obliging little bird. For a bird with the power of flight, he seems remarkably earth-bound, a little piece of blue among the darkness of the rocks which he makes his home. He poses in classic blue rock thrush style, only his head and shoulders showing above the rock, beak pointing up to the sky where the vultures circle endlessly.
Then, a black wheatear, unexpected here, flitting and perching just below us. A neat, dapper little bird, all in black except for the white pattern in his tail which announces his kinship with other wheatears. His mere presence delights us, amply making up for a black wheatear 'no show' on a previous day.
We leave the site with contrasting mind's eye pictures: the magnificent broad canvas of the rock, stark against the sky with the ever present vultures, and the exquisite miniature of the black wheatear, every feather detailed, small and transient.
Once again, nature has awed, inspired, and delighted.
To find out more about our Spain's Extremadura tour please visit the tour webpage here.