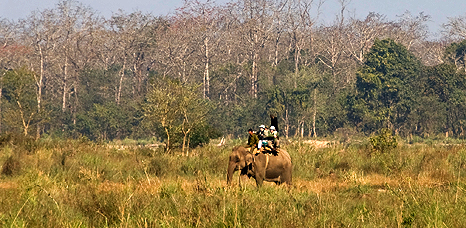 Elephant back safari, Chitwan
Tigers May Occur
Tigers were mentioned in the brochure as 'elusive and difficult to see' and certainly not on the list of 'diverse animal fauna' regularly sighted at Chitwan National Park, on our mammal tour of Nepal. That a Tiger 'may occur', became even less likely during our elephant safari, where we lost our expert guide, on account of my roommate needing the additional seating space to stretch an ailing leg.
Things began to look up slightly when Doman, our diminutive elephant driver, (who we had met the previous day making 'elephant sandwiches' for his feisty mastodon) found a fresh well-marked Tiger footprint in an area 'recently' cleared to make a new water hole. It was a poorly chosen site, constructed too high above the water table to function. The natural vegetation had not yet regenerated and the bare ground made it easy to track the direction of the animal.
Our 'driver' was preoccupied by the siting of these outsize 'pads' and his stopping, in order that we could see two Indian Rhino in the kapok brush was token, giving us scant time to focus our cameras before he changed direction, plummeting us head-first down a steep bank into the lower level of the swamp and through great swathes of elephant grass. Here in the muddy channels between giant tussocks, additional footprints were found, although these were overlain with chaotic patterns requiring a forensic interpretation (more than was obvious to two middle-aged ladies who would normally be at lunch at this hour).
Our transport suddenly froze and with a seismic stomp on her front legs, coupled with a rumbling snort, prepared a charge into the undergrowth. The faster gait of our elephant felt cumbersome as she appeared to 'run' with her front legs, but 'walk' with her hind legs turning almost 'on a rupee' to stay on 'track'. During our frenzied locomotion, there was little noise from the beast especially from those great feet. There was no noise from us either, we just held our breath and concentrated, not knowing what excited elephants could do, although it was definitely worth finding out. The day was not hot, but sweat was dripping from Doman's face - excited, nervous or both.
The massive tangle of elephant grass bordered a large orphanage, whose playground was now full of children and separated only by a chain link fence (although reasonably high). Less than 100 metres from the fence we found a deer skull with horn still attached, indicating how near to children a hungry crouching Tiger had been. Several fruitless forays and random mammoth charges along meandering wet paths, made us wonder whether the trail had gone permanently cold, and stoically we prepared for disappointment at the loss of our quarry.
We left the swamp for higher ground and less inhospitable grassland. As Doman had little English we who 'need to know these things', couldn't ask if he was formally giving up the search. Whilst reflecting on how big game hunters may have once shot from an elephant such as ours and how funny the two lumps on an elephant's head were, we surprised a small herd of super-alert Hog Deer. Our elephant wanted to make wide lumbering circles around them. Clockwise, anti-clockwise, clockwise but then, a sudden direct charge towards the deer, flushing the Tiger whose orange body was suddenly perpendicular to the ground as if propelled by a rocket. Vulnerable still but with their enemy exposed, the deer (who would normally run from us alone) never saw the point of flight from the inevitable. With cover broken, the Tiger replaced stealth with speed and, in a count of three, was a memory.
For further information about our 11-day 'Nepal - A Mammal Tour' please visit the tour webpage.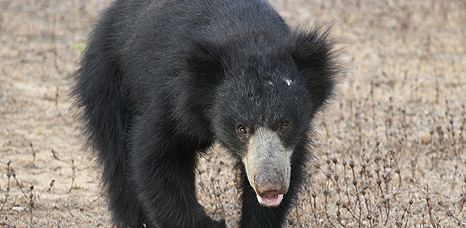 Sloth Bear (Ian Williamson)
After a long and tiring journey we landed on time at Bhopal and were quickly and efficiently transferred to the Jehan Numa Palace. A pleasant enough hotel for our overnight stop - pity about the wedding party, but we were so tired we managed to sleep through it. 
Next morning - after our first birds in the hotel grounds - we set off for Satpura. I had forgotten the chaos of Indian roads. I'm sure there are rules but it seems that the first driver to flash their lights has right of way and the most important accessory is the horn. Twice we came to level crossings where the barriers were down - pedestrians and cyclists simply ducked under and crossed - motorised traffic queued up the whole width of the road on both sides but somehow when the barrier lifted and everyone set off, weaving in and out there were no incidents!
What a difference when we arrived at the peace and tranquillity of Forsyth's Lodge. After a quick 'wash and brush up' we met for a briefing with Rishi, the manager, and David, our naturalist for our stay, to learn what we might see - one thing was the elusive Jungle Cat. The briefing was then interrupted by great excitement from the other naturalists, a Jungle Cat had been spotted stalking through the grounds, our first spot and no it wasn't the lodge's moggy or a tame Jungle Cat.
David turned out to be an outstanding naturalist. By day he told us about the animals, birds, butterflies (the number and variety of which amazed me) and dragonflies, trees, flowers and amphibians (his speciality), and at night he explained the night sky - all with infectious enthusiasm. Various trips found all the expected wildlife including Giant Squirrels and Sloth Bears (one of which ran and tried to hide behind a tree but subsequently came out into the clearing and continued his hunt for termites). The early morning starts were cold as we left in the dark to get to the river by sunrise ... and what spectacular sunrises every morning as we crossed into the beautiful, quiet reserve! The trip was called 'Not Just Tigers!' and all the literature stressed that we were unlikely to see Tigers, but on our second day we heard a cacophony of alarm calls and the roars of Tigers, which went on for some time. We repositioned several times. Did we see Tigers? No but it was great fun listening and imagining what they were up to!
A night drive produced a Rusty Spotted Cat and a Palm Civet. A great bird list culminated on our last morning with a high flying White Stork - the first ever sighting at Forsyth's. Then it was time to switch lodges. None of us wanted to leave as we didn't see how we could improve on this lodge. All the staff had been so friendly, with the naturalists all joining us for meals or in the common areas and all were keen to accompany us on our transfer. In the end all three came with us; the trainee lost out to seniority as someone had to stay at Forsyth's.
So David drove us to Reni Pani and we were met by Aly, the manager and our naturalist there. Another nice lodge but very different being completely surrounded by trees. Aly was like chalk and cheese compared with David, being very quiet and calm but equally knowledgeable.
Trips into the reserve followed the same pattern except that the extra distance meant even earlier starts! The highlight from here was on our first day when, as we returned from a full-day excursion, a Leopard crossed the track in front of us then laid in a gully where we all had good views.
All too soon this lovely trip was over. We had a bird list of almost 160 and had seen all the animals we expected to see. I saw the others off on their extension to Kanha then I was transferred to Bhopal, as uneventful a journey as is possible in India; and after a stop at the Jehan Numa Palace for a meal and freshen up on to the airport for the long journey home.
'Not Just Tigers!' - perhaps 'Everything But Tigers!' would be a better title.
For further information about our 10-day 'Not Just Tigers! Satpura - Best of Central India' holiday please visit the tour webpage.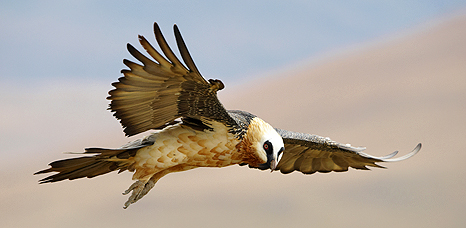 A Corsican Odyssey: Birds, Beasts & Butterflies
It came out of nowhere and, in the blink of an eye, the creature was in the back of our minibus. Corsican pigs are not cute or cuddly. They are as hard as the granite of this rugged and beautiful island. Crossed with the Wild Boar most are big, black and bristly and this was one of the biggest. But, before you could say Napoleon Bonaparte, Dave (tall and stringy Dave, as opposed to short and chunkier Dave), pipe in mouth and looking as if he had been born and bred in the Corsican mountains, launched himself after the monster.  Many of us were paralysed with laughter but others, realising that lunch was under threat, waded in, walking poles waving. The pig, knowing she was beaten, squealed a retreat with only a kitchen roll between her teeth. We had got away lightly. Lunch usually consisted, somewhat ironically in the circumstances, of charcuterie, cheese, baguettes (why don't they taste the same in the UK?) and wine - all Corsican and all purchased locally. The picnic, partaken always amidst the glories of nature in this romantically beautiful island,  was eagerly anticipated and we fell upon it like a bunch of Condor chicks.
The Condor, of course, cannot be found in Corsica, but there were other species for our delight and Dave and Dave knew exactly where to look; we were never disappointed.  Earlier that morning in the forest of Aitone, we had successfully tracked down the elusive Corsican nuthatch. We spent some time before breakfast watching this little bird defying gravity in a grove not far from our hotel in the mountain village of Evisa. We had also become accustomed to hearing the shout 'Raptor!'; Red Kites and Buzzards there were a plenty and Peregrine Falcons were not uncommon. But the 'big ticket items' in Corsica are the Golden Eagle, the Lammergeier - the rarest and largest bird of prey in Europe, and the equally rare and shy Mouflon, Europe's only species of wild sheep.
It was in search of the latter two that we headed for the Niolo, once described by Edward Lear as 'the heart of Corsican romance and liberty.' It is still the land of shepherds, sheep and goats, and the very soul of this extraordinary island. But first we had to get there.  Driving in Corsica is an adventure. Few roads are straight. Most are a tortuous contortion of hairpins and switch-backs. Some are terrifying, and all are breathtaking. The gloriously named Scala di Santa Regina was all of these. The famed (Naturetrek) lunch was taken precipitously perched above the road in the midst of a cathedral of pinnacles, buttresses and crags towering over the Golo River where Dippers provided the midday entertainment.
Moving on to the head of the valley by the side of the Lac de Calacuccia, we had our heads down in the maquis amongst a plethora of butterflies when the cry of 'Raptor!' went up. A dozen necks swivelled upward, a dozen pair of eyes followed the pointed finger and there it was, a Lammergeier, one of less than a dozen pairs known to be in the island. It was floating down from the mountains towards us and teased us for a while drifting closer before sweeping away to the safety of Corsica's highest peaks: the shark's fin of Paglia Orba; the jagged teeth of the Cinque Frati; the pierced Monte Tafonato and, tallest of all, the shadowy bulk of Monte Cinto. How lucky were we?
Could it get any better than this? Well, yes. You don't go to Corsica in the autumn for the flowers but there are plenty to see and Dave found us a tiny white orchid - how did he know where to look? On the same day, the only time it rained, in the little-frequented Manganello valley, we came across the salamanders. Despite their yellow and black colouring they are well camouflaged, but once you get your eye in you have to try hard not to step on them. The Audouin's Gull treated us to a fly-past when we visited the beach and we were lulled to sleep at night by the regular piping of the Scops Owl.
And the best was yet to come. Crossing the island from Evisa, we stopped for the picnic on the Col de Sevi. Butterflies and autumn crocus were in profusion and so were the pigs.  It was like a scene from the Wild West. With the two buses in the centre, various members of the party stood around them in a circle beating the bush to keep the marauding beasts away. A crust of bread hurled into the maquis would send them scurrying after it but respite was short. It was a windswept and hardly restful place; why on earth did we stop here? I had my answer - a Golden Eagle. There it was on the mountain ridge. In classic imperial pose looking down on us as we were looking up to it; I could swear it was grinning.
For further information about our 8-day 'Corsica in Autumn' holiday please visit the
tour webpage
.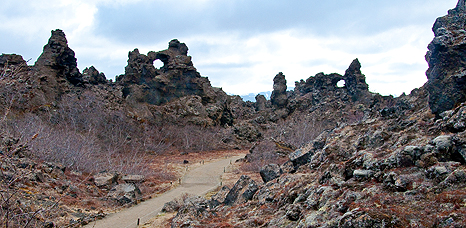 Lava formations at Dimmuborgir (Alan Bevis)
Winter Magic
Little did I know when I booked the Naturetrek trip to Iceland, that it would include a magical day when I would be transported to alien planets and the centre of the Earth.
We set off from our hotel, situated by Lake Myvatn, with Malcolm, our tour leader, driving the minibus, our 'magic carpet', and immediately entered a world of black and white. It was March and snow blanketed the scenery. Lake Myvatn was frozen, apart from some areas of open water fed by hot springs. Weird, convoluted black lava pillars and pseudo-craters were reflected on these mirror-like surfaces.
Keeping a sharp look out for wildfowl, Ptarmigan and the Gyr Falcon we drove north-east  to Dimmuborgir, where we walked down into a hollow surrounded by ancient lava shapes.
Dimmuborgir can be translated as 'black castles' and it was possible to imagine these shapes to be castle walls, turrets and arrow-slit windows. Sparse twiggy growth peeped through the snow and the only additional colour was provided by some of the clothing worn by the group. It seemed as if we had been transported into some lunar-like alien planet.
On the Icelandair flight from Heathrow I had seen a short travel film about Northern Iceland. This mentioned strange, long-haired and bearded characters, with names such as 'Spoon-Licker' and 'Sausage-Swiper', who could be seen there. In this alien landscape I half expected that we might see them peer around the pillars, but alas not. Apparently these 'Yule Lads' are the 13 sons of the old trolls Gryla and Leppaluoi and only appear at Christmas, when they go down the mountains to leave small gifts to children, deemed to have been good during the year, in shoes left out on the windowsill, rather like Father Christmas coming down the chimney. However, on climbing back out of the area, I did see a picture of two of them painted on a café wall. Jules Verne wrote his novel 'Journey to the Centre of the Earth' in the 19th century long before the discovery of  movement of the tectonic plates over the earth's core. His intrepid travellers climbed down the extinct volcano, Snaefell, on the west coast of Iceland and, after many adventures, but not encountering molten magma, came via the volcano Stromboli in Italy.
We now know that Iceland lies on the Mid-Atlantic Ridge on the junction of the North American and Eurasian plates. Here magma surges up from the Earth's molten interior and pushes the two plates apart. The mid Atlantic Ridge runs diagonally across Iceland from the Reykanes Peninsula in the south-west in a north-easterly direction to Lake Myvatn and is responsible for the formation of volcanoes and activity such as geysers and mud pools in that area.
The previous evening Malcolm had shown us the video 'Earth's Story' so we were well prepared for our own journey to the centre of the Earth.
On the east of Lake Myvatn there is a hill situated on the Mid-Atlantic Ridge, its summit covered by black lava, the result of volcanic activity many years ago Here pressure from the Eurasian Plate is forcing the North American Plate westward, creating a fissure in the surface, a process known as 'cracking'.
Below the summit a hole in the lava leads to a cave. This was to be our entrance to the centre of the Earth. Assisted by Malcolm we climbed down into the cave lit by an opening into the fissure. It may have only been several metres down but it was an extraordinary experience, one of the highlights of my tour. Afterwards we climbed up over the lava rocks to peer down into the deep fissure.
Our day of magical destinations had not finished for we continued on to visit the Hverarond area with its mud pools and steam vents. This area looks how Earth may have appeared in its infancy or on some hot alien planet. Colour here was provided by steaming, bubbling indigo mud pools, clouds of steam rising from pyramids of rust and black rocks, and yellow sulphur oozing from fissures in the rocks, and overall there was a strong smell of sulphur. Finally, our 'magic carpet' took us to the hot springs at Grjotagja where we had a blissful, relaxing swim before heading back to our hotel. Truly, it had been a magical day.
For further information about our 5-day "Iceland - Gyr Falcons & Northern Lights' holiday please visit the tour webpage.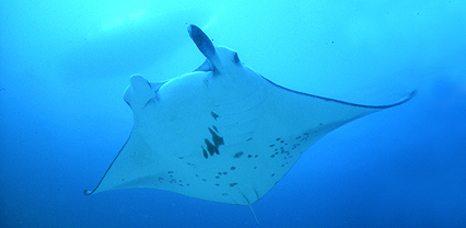 Manta Ray (Charles Anderson)
Watching Manta Rays in the Maldives
There's a tangible sense of anticipation aboard the dhurney as Chas, our local tour leader, distributes baby shampoo 'spit' to stop our masks fogging and we wriggle our feet into our fins. Whilst we were eating sun-ripened baby bananas from the branch strung at the back of our cruise vessel, the Ari Queen, and drinking our early morning teas and coffees, the ever-vigilant crew have spotted Manta Rays in the glistening Indian Ocean and now we are going to try to find them and, hopefully, swim with them.
Chas briefs us carefully. If we are lucky enough to find these magnificent animals, we must slip as quietly as possible into the bath-warm sea, not chase the Mantas but respect them in their environment and remain as composed as our mounting excitement will allow.
A cry goes up from a dhurney crew member. He has spotted a Manta in the water. Chas enters first to ensure all is well for both Manta and guest and soon we are slipping into the ocean ourselves and spreading out into a rough line in the water.
Shafts of sunlight ripple through the top layers of the turquoise sea and it is hard to control our breathing as our heartbeats increase with expectation. We can hear the prickling of the seawater in our ears. This is deep water; we are not next to one of the colourful teeming reefs we have snorkelled on all week with their myriad fish and fabulous corals. All we can see here is the snow dome effect of millions of plankton – the food for Mantas.
For a few anxious minutes we believe we are going to be disappointed. Then, suddenly, silently, a shape appears, indistinct at first despite the clarity of the water, but gradually forming a recognisable image just a few feet away.
A Manta.
No, not a Manta, or even two, but three Mantas swimming in a choreographed ballet of effortless fluidity. Then a fourth joins them. They glide so close it is hard to resist reaching out and touching them - their skin appears silky and one imagines it would be cool to the touch like marble. We remain as still as possible in the water to avoid interrupting them, but they are totally unafraid and seem to want to enhance our experience by passing in front, beside and underneath us continuously so that we are surrounded by their surprising beauty.
Gliding in slow motion they feed without pausing. We can see right inside their gaping mouths that could swallow some of us whole as they hoover up their morning feast of plankton. They remind us of stately nuns in wimples as they pass - far from the devils with horns that the fins at the front of their heads sometimes lead them to be called. As they turn, just inches away, their gills look like the white sails rigged on an old-fashioned schooner.
One Manta performs a series of somersaults right in front of us and we feel as if we have swum into the midst of a wildlife documentary usually only accessible vicariously on the television. Each creature has a different pattern of huge 'freckles' on its belly looking rather like scuff marks in fresh paint. It is as if the Mantas are flying in a dreamlike trance, so graceful are their movements and it is easy to see why they are said to have wings. When one makes obvious eye contact with me the emotional pull is overwhelming and I find myself moved to tears.
Soon, almost an hour has passed in what seems like seconds and it is time to leave and return to the Ari Queen for breakfast. Is it really still only 8.30 in the morning with a whole day of cetacean-spotting to come? Back aboard the dhurney there is a communal sense of euphoria. This has been a wildlife encounter of a lifetime. Not one of us remains untouched by the experience.
For further details about our 10-day 'Mantas, Dolphins & Coral Reefs - A Maldives Cruise' holiday please visit the tour webpage.