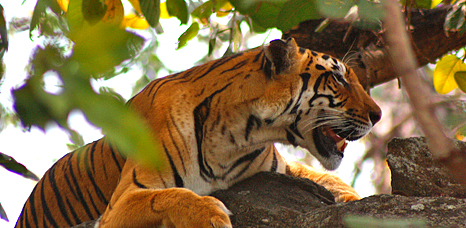 Royal Bengal Tiger (Pradeep Singh)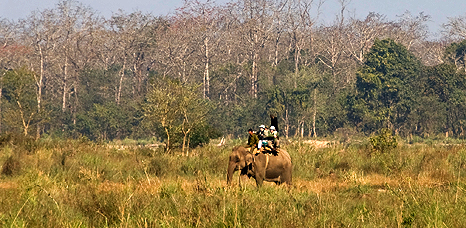 Elephant back safari, Chitwan
Tiger watching in Kanha National Park, India
At 6am the gate opened. It was beginning to get light and the air was cool as we drove into the park. The pale orange sun peeped just above the crest of wooded hills in the distance as we made our way along a sandy yellow track which cut across the plain where the village of Kanha used to stand. To the left grazed the shadows of Gaur, heads down, oblivious to our cause, but the deer, alert with ears pricked, watched nervously.
As we drove into the forest between an avenue of enormous Sal trees, their leaves produced a lime green luminescence and speckles of sunlight flecked the road. Occasionally the jeep stopped. With the engine turned off we could appreciate the sounds of the jungle even more – the hoots, the screeches, the repetitious melodies of exotic Indian birds. To our right Wild Boar rooted around on the forest floor and Black-faced Langurs straddled precariously on fine curving branches high in the canopy. Circling above against a background of blue soared a Crested Hawk Eagle and camouflaged on the branch of a red flame tree perched a pair of Scarlet Minivets. But the deer were far too relaxed for what we had really come to see.
Eventually we arrived at an open area of short grass punctuated with ghost trees. We aimed our binoculars towards their tops as the birdsong was prolific. Flame-backed Woodpeckers and smaller Pygmy Woodpeckers spiralled up the pure white trunks towards their tops whilst Magpie Robins trilled melodiously. We scanned the plain imagining that iconic face suddenly peering out from between the long grass - but alas - no luck.
By late morning the temperature had risen as the sun was beating down. It was now too hot so we left the park. Later that day we set off once again. It was still sunny and warm as we proceeded on a different track to climb a ridge with a steep drop to one side. We wound down the hill on the other side until we came to a crossroad of tracks where we stopped. Imprinted in the sand next to our jeep were the paw prints of a large cat. Then, through the chattering of Jungle Babblers, there screeched an alarm call from a deer nearby, hidden from view in the thick vegetation. Our hopes were suddenly raised and we peered eagerly into the bushes bordering the road desperate to see its prey. But soon the alarm call subsided as the doe moved away into the distance and so the jeep set off once again to continue with the search. We toured the park scouring the meadows dotted with termite mounds and noticed three Egyptian Vultures circling overhead. With the remnants of a deer's leg between its jaws a jackal trotted across our path but the light was beginning to fade as 6 o'clock approached so we made our way back to try our luck another time.
The next morning we were once again snaking along the tracks between the Sals which were just beginning to bloom. Like snowflakes their delicate white flowers drifted down upon us with their delicious sweet aroma. Our journey led us out of the forest across a large plain resembling the African bush with Spotted Deer happily pinpricking the landscape. We peered through binoculars praying for a glimpse of that elusive animal. Perhaps the late evening storm from the previous day with its slate grey sky, lightening streaks and squally winds had sent the birds and animals to sleep. Then, just ahead on the track, loped an elephant controlled by his mahout riding high on a green wooden seat. Patrolling off-road through thick tangled bushes he reported a sighting nearby on a dry river bed. The jeep turned quickly to head off in the opposite direction accompanied by a trail of dust – but, on arrival, we were too late and the female and cubs had gone.
Eventually after several hours of driving, listening and scanning we headed for the gate. But no sooner had we left the park, and just before we entered the local village, than our driver stopped to converse in his native tongue with a man in a passing jeep who was travelling in the opposite direction. He turned and pointed to the way he had come and when we heard the word 'Tiger', amidst his babbling of Hindi, our excitement grew. We drove a little way forward and there, to our delight, lay a golden-brown Tigress with bands of black stripes, gazing down at us upon the road from her shady spot on the top of a mound of large grey boulders. What a relief! We had seen our first Royal Bengal Tiger in the wild.
For further details about our 13-day 'Just Tigers!' holiday to Kanha Tiger Reserve please visit the tour webpage.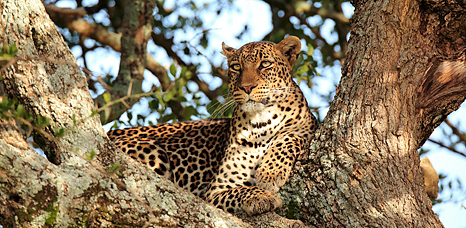 Leopard (Bret Charman)
Kenya's Masai Mara 
I was so engrossed in the preparations for going to Kenya, swotting up on birds and animals and looking at maps, I was surprised to still be able to see sheep in the field next door when I looked out of the window. I was expecting to see the wide, atmospheric expanse of the Masai Mara. Imagination populated the scene with Zebra, Wildebeest, Giraffe, Elephant and Lions.
Nothing could have prepared me for the reality of the Mara. It is an immense landscape with a huge sky. Iconic lone trees on the skyline. Then there were the animals. The sight and sound of thousands of beasts, stunning beyond words.
We got close up and personal with all of the beasts: herds of Wildebeest; Zebras making sure you got their best side. Cheetahs having breakfast, three male Lions, brothers according to the guide, dozing and grooming. It was interesting to see domestic cat mannerisms in their actions. Crocodiles in the Mara River, Hippos wallowing, a distant but viewable Rhino. Elephant families ambling right past your nose. As the week unfurled the sightings got more and more exciting. Culminating in the Leopard. Fast asleep up a tree, but a definite goose pimple moment. On the very last night, on the way back to the airport, we had a rest stop in Nairobi. Silhouetted against the night sky there was a Tree Hyrax. Thrilling right to the very end.
Although this was a Mammal Tour, gaps in between sightings were filled with birdwatching. Early on, the birds were put into three categories - hawky birds, tweety birds and ducky birds. This, as well as being very funny, was a great aid to getting your eye in on whatever had been spotted. Some of the actual names were a bit mangled in translation. The Literal Grebe caused a few brows to wrinkle until we worked out we were looking at Little Grebe. The Secretary Birds looked like they had just finished taking a letter. Vultures sitting in trees, kites soaring overhead. Small birds flashing like jewels in the sunshine. It was difficult at times to know where to look as there was always something incredible to feast your eyes on.
Our group of 15 ranged in age from 14 to 79. We all got on very well for people who were strangers to begin with. Every evening we got together to do the check list. It was interesting to hear what people in other minibuses had seen. No one missed out on anything over the course of the holiday and the check list discussions made for a lot of light-hearted banter.
Our accommodation was very comfortable. 'Glamping' is the way to go if you want the tent experience. It was a little strange at first to have a Masai guard to escort you to dinner and back in the evenings. They were so friendly and helpful. It was an opportunity for them to practise their English and us to practise our Swahili. Needless to say the Masai won that little competition in terms of range of vocabulary.
There were a few moments when I could feel a tear welling up with the sheer wonder of having such a close look into this fascinating country and its wildlife.
For further details of our 10-day 'Kenya's Masai Mara' Bargain Mammal holiday please visit the webpage.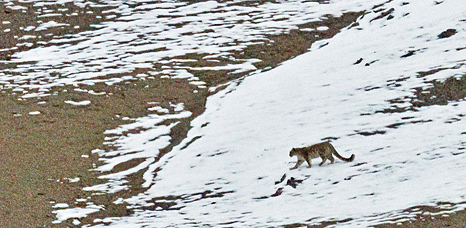 Snow Leopard (Russell Scott)
Tour leader Nick Acheson led our very successful Snow Leopard Quest in Ladakh, India this February. Here are a few excerpts from his Snow Leopard Quest diary …

Sunday 24th February
With trepidation I decided to take the group into Hemis National Park a day early, as I'd heard news of a male Snow Leopard on a kill being seen very well. In the morning there was quite heavy snow in Leh. Would we able to travel? We were delayed by the snowy roads but we left. We drove to the trailhead at Zingchen where a Golden Eagle circled auspiciously overhead. From here we made the long slog past yesterday's kill (now abandoned). We made a final push up a steep, snowy, very slippery slope from which people were watching two dozing Snow Leopards at around 800m from us. A yellowish-grey older male was asleep on the rock-face below; a whitish female above. We watched for two and a half hours and in the evening, as we prepared to leave to set up our camp, the female nuzzled the male into consciousness and the two sloped off across the scree, trailing their impossibly long, fluffy tails.
Tuesday 26th February
We ascended Husing Valley early in the morning. As we got higher up the valley we turned to see a female Snow Leopard and her 8-month old cub crossing the ridge a few hundred metres behind us. We rushed back to the viewpoint in the valley they'd entered (inasmuch as it's possible to rush at 3,500m). The female and cub were settling down in a V-shaped cleft in the hillside several 100m away. We stayed the rest of the day, enjoying a picnic lunch brought by the boys - delicious. In the afternoon the female crossed whole valley to stalk Blue Sheep on the far slope of the Husing Valley. She crossed the whole magnificent landscape in view and got to within 20m above the sheep before freezing. One sheep was clearly aware something was up, and two more peacefully grazed. There was a 20-minute stand-off before the alert sheep raised its tail in alarm and all moved down the slope with speed. The female moved to a rock and sulked on top of it. Later she crossed the whole landscape back again and called her cub, which left the V-shaped cleft above us where it had spent the whole day. Six and a half hours in the company of Snow Leopards. Utterly wonderful!
Thursday 28th February
Today we went back up the valley where we'd seen the first courting Snow Leopard pair. Saw Red Fox and Blue Sheep along the way. We didn't see the pair, but we did see a dozing (presumed young) male Snow Leopard (clearly different facially from the first male). He dozed all day in the sun, and in full view, occasionally moving position. Six and a half hours of Snow Leopard viewing again … and the male moved all of 20m! We saw him very distantly from camp on our return as he wandered off into the late afternoon to hunt.
After a full day out in the valleys, we spent the evening returning to the Husing Valley trailhead. Most went back to camp but news came of another Snow Leopard at the base of Rumbak Valley, so we rushed back up the slope, past a Woolly Hare. Fantastic views down to 200m, as this young male (almost certainly a sixth individual) peered down from the snowy ridge above us. We left him in peace and the next day left Hemis elated.
For further details about this pioneering 14-day tour or to book please visit the tour webpage.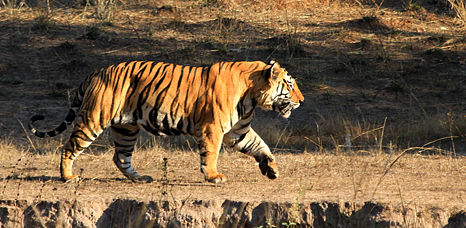 Bengal Tiger (Sue Shemilt)
Tiger watching in India
The hairs on the back of my neck have lain dormant all my life. Indeed, I wasn't really aware of their presence. Did they serve a purpose? Until recently, I hadn't given them any thought.
We were sitting in an open jeep in a peaceful forest overlooking a muddy water hole. A herd of spotted deer grazed nearby, camouflaged amongst the trees. A troop of langur monkeys were, well, languorously sitting around, feeding their babies and occasionally breaking off to drink from the water-hole. As they lifted their heads, rivulets of water ran from their chins. Some sat on their haunches in quiet companionship, like old men in a pub ruminating on the events of the day. Occasionally, there was a short burst of energy from the younger males, chasing each other up trees, trailing their unfeasibly long tails behind them. The air was full of bird song and the scent of jasmine. The intense heat of the day was giving way to a cooler, more comfortable early evening temperature.
We had been observing the tranquil scene for over an hour, occasionally remarking on a sighting of a previously unseen bird, and would soon need to leave the national park before it closed. My thoughts were on what was for dinner that evening. The langurs moved leisurely on their way, the Spotted Deer had melted away into the forest. All was calm and still. Then came a sound which stirred my neck hairs into life. A peculiar feeling – dread maybe? – drenched my whole body as my adrenal glands went into overdrive. Fight or flight ... both would have been out of the question. The sound resonated around us, growing louder and stronger and, as I discovered later, carrying for three miles.
Then, to our left, emerging from the trees into the clearing, came the top predator of the forest, all the time roaring to establish that this was his territory. I wouldn't argue with that.  He seemed to look straight into my eyes with a look of utter disdain. He ambled along at a dignified pace, pausing to defecate discreetly behind a bush, then proceeded along the dry river course, constantly roaring until he was out of sight.
We were all in a state of awe and wonder at this close encounter with such a magnificent beast, unable to articulate our feelings. I was amazed at the intensely primal effect the sound and the sight of a fully grown alpha male Tiger had on me and I still feel shivers at the memory of this incredible encounter.
For further information about our 9-day 'India - Bandhavgarh Tiger Reserve' tour please visit the webpage.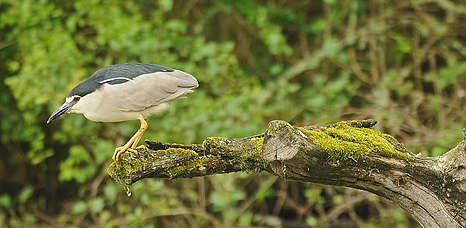 Night Heron (David Morris)
La Brenne? Where on Earth is that? I thought I knew France like the back of my hand. Ah well, the date fits, and, oh blessings, we are using the Eurostar. Our small U3A contingent met up with the leaders, Simon and David, and boarded the train. Two hundred pages and a lot of chat later we disembarked in Paris. Then train to Poitiers, followed by a bus to our centre at Mézières-en-Brenne. The hotel was delightful, with 1960s style linoleum and candlewick bedspreads, rickety stairs, rustic charm, but the showers worked, the host was charming and the food was marvellous.
The morning dawned fair. We devoured our breakfast and set out. La Brenne turned out to be a large National Park, full of woods, heathland, meadows, lakes and marshes. Distances were short, so we spent little time in the bus, but the varied terrain was a great bonus. It was not exactly a strenuous trip – physically at any rate. We strolled in a relaxed way along paths and lanes, stopping to admire butterflies, dragonflies and many varieties of orchids, in between hides or bird-spotting areas. Mentally, the effort to distinguish between warblers, orchids and insects meant that certain exertions had to be made.
There were some great highlights. La Brenne has its own orchid, growing on one grass verge only. Diligent searching unearthed a few specimens on the patch of grass that the dreaded council mower had failed to immolate. Triumph! An evening visit to a wood to track down Nightjars was lovely and spooky. A recording of their calls brought them out to circle round our heads. Breathtaking! Another amazing viewing was a Night Heron that stood on a little promontory in a small lake, a small distance from the nature centre café where we were carousing. He seemed to spend the whole day there, totally unfazed by our presence. This led to (so far) my only successful bird photo. No great avian rarities were seen, but all the expected species of bird were there in profusion. We saw lots of Whiskered Terns, Black Terns, Montagu's Harriers, Golden Orioles, a Hoopoe nest etc. Purple Herons were admired – they seem to favour tenement blocks to nest in. The most exciting fauna was a Beech Marten – road kill, alas. An argument ensued about whether to count it or not. Moth trapping was new to me. New wonders unfolded – I am hoping for a moth trap for my next birthday present.
Lunch times were to be savoured. The reserve warden (English) turned up at lunch time, his 4x4 full of goodies from the French supermarket. Wine, pâté cheese, French bread, salad, fruitcakes  … talk about Ratty's picnic hamper in the Wind in the Willows!
The last day. Relaxing over a glass of vino I unwisely noted that continuing education courses in Cambridge used to require us to write essays or do a test. Simon, our leader, leapt on the idea and he and David concocted a quiz. What a horrid trick. But I do not think anyone suffered from exam nerves. I recall quite a lot more wine going down and a lot of frivolity and, I fear, some cheating. In revenge I gave our leaders a test, by singing the 'Tit Willow' song from The Mikado. They correctly guessed the name of the bird, and gained 100% in their exam, as they did for their leadership and good humour. And so to bed.
To summarise: wonderful organisation, a lovely area to explore, lots of wildlife, a relaxing atmosphere, knowledgeable and helpful leaders, great company and a lovely area to explore. Thank you, Naturetrek.
For further information about our 8-day 'France - La Brenne' holiday please visit the tour webpage.