Wildlife & Rewilding Advisory Service
Make your wild space (be it a small urban garden or a private estate), a haven for native wildlife by booking a visit from an experienced naturalist.
If the pandemic has done one thing, it has encouraged us to focus on the wildlife on our doorstep… and to cherish it. During the past couple of years, some of our clients have asked us to provide a Naturetrek naturalist to guide them for a day (or more) on their own properties, whether this be a garden, smallholding, farm, estate or even a school or community space. Some have requested a guided natural history foray, seeking help with the identification of flora and fauna, and most have additionally requested our advice on how they might make their land more attractive to wildlife, or how they might rewild paddocks or larger expanses of land. These days have been a fantastic success, and our leaders have enjoyed them as much as our clients! This new service is headed by our very own in-house ecologist Sophie, who is also leading the rewilding of our 12-acre office grounds.
With a UK-wide team of staff and leaders 170-strong, all expert naturalists and many also experienced professional ecologists, we are well placed to offer natural history and rewilding advice across England, Scotland and Wales. It may even be possible to provide help and support from your favourite tour leader. This is an opportunity for us to offer a competitively priced service, comprehensively focused upon the enjoyment, conservation and enhancement of British habitats and the preservation and recovery of natural history.
The vast network of gardens and greenspace across the UK presents a significantly important conservation opportunity, providing habitat connectivity, food, shelter and breeding resources for a plethora of wildlife and strengthening the success of designated wildlife sites. Join us in creating a network of 'Private Reserves' across the country!
Enjoy a private wildlife foray with an expert Naturetrek naturalist:
Learn what wildlife currently resides on your property, with help identifying species
Take a closer look at your land's current value to wildlife
Consider what wildlife might be present in your local area, and how you can support it
Learn more about non-native and invasive plants and more suitable alternatives
Receive bespoke rewilding/enhancement advice suited to your garden, interests and local wildlife populations, to increase biodiversity value
Discuss ways to increase your land's carbon storage potential
Learn how to survey for various species to keep track of your increasing baseline, with your data contributing to country-wide conservation efforts
Prices start from £150 for the services of a naturalist guide for a half day, and from £250 for a full day.
Please do get in touch with Sophie to learn more or make a booking – sophie@naturetrek.co.uk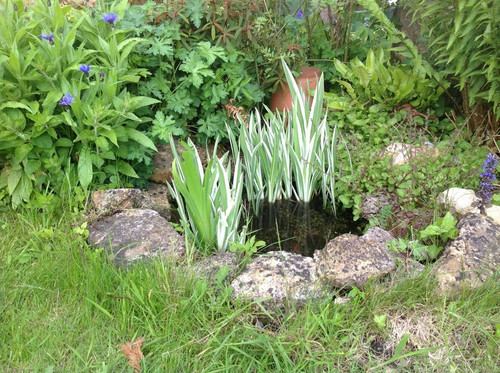 "I was absolutely delighted with the rewilding consultation. Sophie and Rob were extremely knowledgeable and enthusiastic about our project and it was clear that comes from a genuine passion for our natural world. We took a lot away from the session and are keen to continue discussing our ideas with Naturetrek. I would recommend the rewilding service to anyone who wants to make the most of an outdoor space by optimising their natural environment". A. D. (West Midlands)